Mill House Social Enterprise Accelerator Program Launch
Event Information
Location
Service One Social Enterprise Hub (Shop 1,UC Hub)
University of Canberra
1 Kirinari Street
Bruce, Australia Capital Territory 2617
Australia
Description
We warmly invite you to the official opening of the Service One Social Enterprise Hub @ UC and the launch of The Mill House Social Enterprise Accelerator Program.

We will showcase the vibrant local social enterprises that have been selected to participate in our three-month business advisory program and show off our new events, training and co-working space, the Service One Social Enterprise Hub (AKA 'the pub'). We also have an inspiring speaker from LEAD, a leading Canberra social enterprise committed to providing meaningful work for people living with disabilities.

Social enterprises are not-for-profit or for-profit investible businesses that trade in pursuit of specific social, cultural and/or environmental outcomes.
Welcome to Country:
Tyronne Bell
Tyronne Bell is a Ngunawal descendant who grew up in Yass, learning traditional culture from his father Don Bell (senior). Challenging early experiences helped shape his lifelong passion for the advancement of Aboriginal issues. Tyronne has become a strong advocate for the recognition of Aboriginal culture and language, in particular, the culture and language of the Ngunawal people.
Keynote Speaker:
Wayne Herbert, Deputy Director, People and Planning, LEAD
Wayne is a prominent, in-demand, and outspoken public speaker, presenter, advocate, and now writer promoting the rights of and opportunities for people with disability and people in the LGBTIQ community.

Wayne has undertaken a number of speaking opportunities throughout Australia on issues of disability, diversity, and human resources. Wayne's entire career is focused on assisting people with disability into employment and training. Wayne has many years' experience working within the Disability Employment Services Program (DES). He has also previously worked within the former Disability Employment Network (DEN), where he has seen the transformative difference well-paid employment can make in an individual's life. Wayne has experience in all aspects of client relations, human resources, and business administration. He has a keen interest in social and employment policy that ensures the talents and expertise of people with disability are recognised in the workforce and community more broadly. Wayne's work is focused on ensuring that full participation in both work and community life is realised.
For over 30 years, LEAD has been a leading Canberra social enterprise in disability employment sector. LEAD provides specialist disability employment services across the ACT and surrounding NSW areas. These services include DES-ESS, an Australian Disability Enterprise, RTO, community participation and transition services.
Visiting the University of Canberra
The Service One Social Enterprise Hub is located the middle of the campus in a ground floor retail area called the Hub. We are activating a space most recently occupied by Zierholtz across from Sizzle Cafe. If you get lost, just ask anyone where the 'old pub Zierholtz' is.
Please allow plenty of time to arrive as the casual parking areas are about a 5-minute walk from the Hub. There is designated disabled parking just immediately outside of the Hub.
If you are travelling by car, you may wish to enter the University via Allawoona Street which is the 'Ginninderra Drive' entrance. You will see signs for casual parking area P 17 on your right. After parking, walk towards the centre of the University along Kirinari Street. The Hub will be at the (dead) end of Kirinari Street on your right immediately opposite Sizzle Cafe.
Loading zones are strictly enforced (so don't take a chance).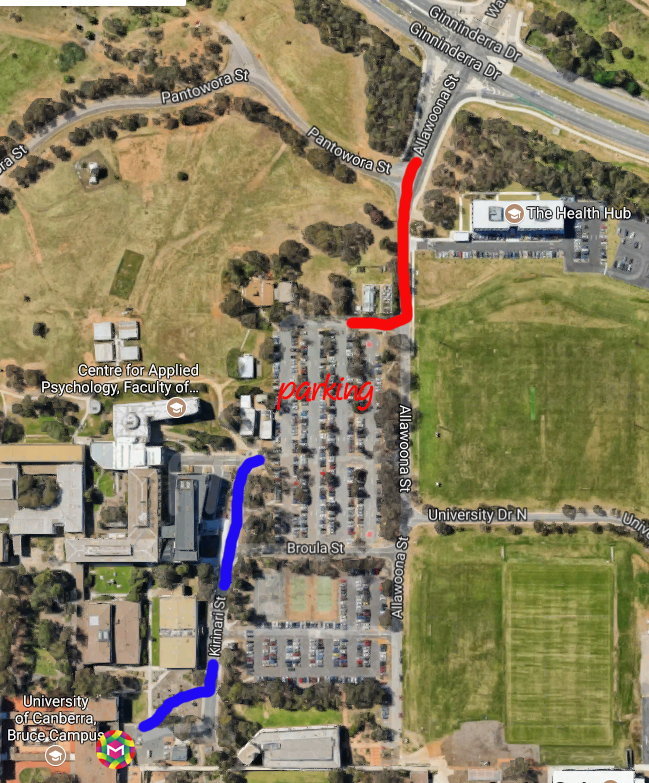 Maps for accessibility and casual parking are here.
Date and Time
Location
Service One Social Enterprise Hub (Shop 1,UC Hub)
University of Canberra
1 Kirinari Street
Bruce, Australia Capital Territory 2617
Australia