About this Event
In March, the Milky Way will present itself with a panoramic view in the early morning sky. One of the best places to view and photograph it is around the Florida Everglades. A favorite spot for many Astrophotographers.
Join Foto Dono between March 21st and 22nd in Everglades City for an opportunity to photograph the night sky. The class is limited to ten people.
FEE: $135
What's Included: Camera Settings • Creating Panoramics • Composition • Instruction • field trip • an afternoon class learning how to edit & process the photos from start to finish.
Not included: Lodging • transportation • food.
Saturday Night - Sunday Morning*
Saturday 21st
9:30 PM Meet in Everglades City - Ivey House Parking Lot
10:00 PM - Review of Equipment
Sunday 22nd
3:00 AM - Meet at Kirby Storter Park - Parking Lot
1:00 PM - Review and Editing session at the Ivey House
*Locations and times are subject to change depending on site conditions. Participants will receive updates via email.
Equipment Required: An interchangeable lens camera - either a D-SLR or mirrorless camera • a tripod • a "fast" wide-angle lens • bug spray • a red flashlight • a laptop already loaded with CC Photoshop & Lightroom. - Optional Equipment - a star tracker • remote trigger.
Be sure to RSVP soon. Only ten spots are available.
Places for an overnight stay - Everglades City Motel - The Ivey House - Burnt Lake Campground
*Fees are refundable, minus any service fees, until January 31st. After January 31st, there are no refunds. There are no refunds if the Milky Way isn't visible due to cloud cover. The excursion is a low light field trip with an opportunity to photograph the Milky Way.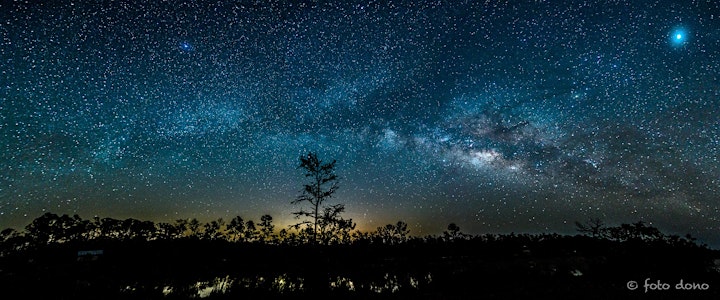 EXIF: Created with six vertical shots each at 20 seconds, f/2.8 ISO 3200. Focal length 24mm with & Tamron 24-70mm G2 on a Nikon D610. Files shot in RAW with Adobe RGB color space. Edits - Basic photo edits in Lightroom Classic with final edits in Aurora HDR 2019.