About this Event
Photographing the Milky Way isn't as tough as it seems. It just requires the right equipment and patience. Foto Dono will be hosting a field trip to photograph the Milky Way. Trying to shoot at on-location does have its challenges, mainly because of light pollution.
The main goal for the field trip is to provide experience in creating a single shot exposure or multiple exposures for the stacking of the night sky. The next step is to render in post-production with Lightroom, Photoshop, or other editing software. The optimal time to photograph is from 4:00 AM to 5:30 AM.
Timeline for Sunday Morning:
12:28 AM - Galactic Center visibility starts - Elevation : Rise
3:30 AM - Meet in the parking lot
5:26 AM - Moonrise - Waxing Crescent 9.4%.
5:40 AM - Galactic Center visibility ends - Elevation : 33.5°
5:40 AM - Head home
Camera equipment should either be a D-SLR or a Mirrorless system. Bring your widest angle lens with a 2.8 f/stop or faster. You'll need a very sturdy tripod and a remote switch for your camera. Keep in mind this is depending on the weather. So come prepared; bring a flashlight and bug spray!
Weather - This event is dependent on the weather. Clouds and rain reduce the visibility of the night sky.
Refunds - There are no refunds if the Milky Way isn't visible due to cloud cover. The class is a low light field trip with an opportunity to photograph the Milky Way.
Locations and times are subject to change depending on site conditions. Participants will receive updates via email.
Any questions call Dono (727) 741-1819 or email him at fotodono@mac.com.
"The luminous glow of light pollution prevents nearly 80 percent of people in North America from seeing the Milky Way in the night sky. That's according to a new atlas of artificial night sky brightness that found our home galaxy is now hidden from more than one-third of humanity." NPR - June 10, 2016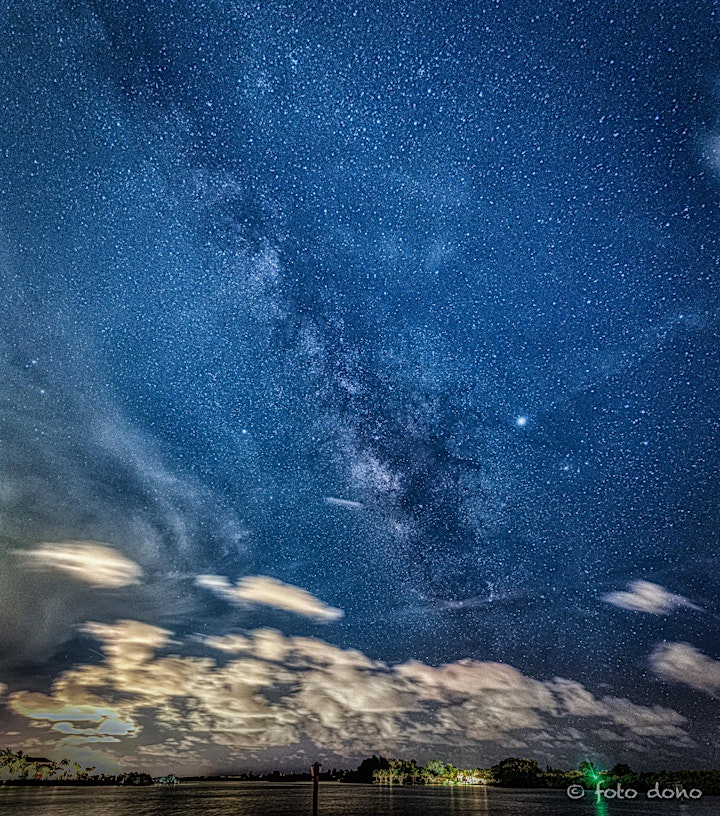 EXIF: Created with three horizontal shots each at 20 seconds, f/2.8 ISO 1600. Focal length 24mm with & Tamron 24-70mm G2 on a Nikon D610. Files shot in RAW with Adobe RGB color space. Edits - Basic photo edits in Lightroom Classic with final edits in Aurora HDR 2019.