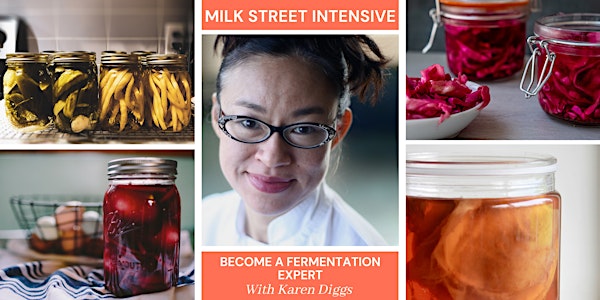 Milk Street Intensive: Become a Fermentation Expert with Karen Diggs
Join guest chef Karen Diggs for a three-part series on fermentation at home!
Refund Policy
Contact the organizer to request a refund.
About this event
NOTE: iphone and ipad users, CLICK HERE to register for class.
Our Fermentation Intensive, taught by guest chef and KrautSource founder Karen Diggs, is for anyone interested in becoming a confident and creative home fermenter. Over seven weeks and three classes, a small group of 25 students will work together and independently with Karen to learn the key techniques, ingredients, tools and flavor combinations you need to ferment everything from kraut to kefir at home. You'll come away from this Intensive course ready to tackle fermentation projects both large and small.
The three sessions are from 6-7:30 pm EST on Thursday, February 2; Thursday, February 23; and Thursday, March 9. Students are expected to attend all three sessions. If you cannot attend all three, you can still sign up. Each session will be recorded and shared with registered attendees.
In the first session, we'll talk all about lacto-fermentation, the process that transforms humble cabbage into sauerkraut and mere cucumbers into fermented pickles. We will start with a foundational kraut recipe that you'll learn to adapt and personalize according to the season and your preferences—while always maintaining essential salt and sugar ratios to ensure your ferment is safe to eat, that is. In addition to sauerkraut, you'll learn how to harness lacto-fermentation to ferment beets and apples, producing a vibrant and colorful wintry ferment. And because every drop of fermentation is culinary gold, you'll also get inspiration from Karen on how to use that brine to make purple pickled eggs.
Class two is all about koji, the friendly mold that is responsible for pantry favorites like miso, soy sauce, sake and more. You'll learn what koji is, where to source it and how to handle it with care. Karen will show you how to make shio koji, which you can think of as a kind of quick miso. Perfect in marinades, salad dressings and anywhere else you need an umami boost, you'll never want to be without shio koji once you've tasted it. You'll also learn to make amazake, a fermented rice beverage with countless health benefits. Plus, we'll pull out the kraut and beets you started pickling in the first class and collaboratively brainstorm great ways to turn them into dinner.
Our last class focuses on fermentation with a SCOBY and kefir grains. A SCOBY, aka symbiotic culture of bacteria and yeast, is essentially a home for happy bacteria and yeast whose superpowers include transforming tea into kombucha. You'll learn how to nurture and propagate your SCOBY and how to make kombucha with the alcohol content, carbonation and flavor you want. Then, you'll get a primer on kefir grains, which turn plain old milk into flavorful, gut-healthy kefir. And we'll make some recipes together that make the highest and best use of the shio koji you made at our second class.
Each group session will build on pre- and post-class work assignments supplemented by optional one-on-one communication with Karen. Assignments may include short fermentation experiments, critical thinking exercises, and / or practice developing your own unique recipes. These assignments between sessions will ensure that we can jump into more advanced learning together during the livestream classes.
Join us to become a confident and creative home fermenter!
Note: Each session includes projects, tasting, analysis and conversation. You will be sent recipes and ingredients at least one week prior to each session.
Photos from:
About Milk Street Intensives
Milk Street Intensives offer in-depth learning experiences in focused subject areas. Taught by Milk Street teachers and expert guest instructors, Intensives include multiple livestream sessions with the same small group of students. In addition to cooking at each class, students are encouraged to work on specific cooking experiments and assignments between classes. Plus, students in our Intensives have direct access to their teachers throughout the length of the course to address questions, and they can chat with fellow students about their progress. Intensives are limited to 25 students and are completely remote learning experiences.
Want to give this class as a gift? You can purchase gift cards here.
Immediately after registering, you will get a confirmation email that contains the Zoom meeting log-in information for all the sessions. At least one week prior to each session, you will receive instructions on how to prepare ingredients and equipment in order to cook along with us.
After each session, you will receive a recording of the event, as well as a packet with recipes and resources that we discuss during the event. If you have any questions about this intensive, please don't hesitate to get in touch via cookingschool@177milkstreet.com.
This intensive has limited spots, and you must register in advance via Eventbrite. One sign-up covers one device. Closed Captioning is available for this event.
Payments for Milk Street livestream intensives are non-refundable. If you find yourself unable to attend, you may transfer the ticket to someone else, but we are unable to refund fees and all payments are final.
Proceeds from livestream cooking classes, workshops and intensives support Milk Street's non-profit work with The Big Sisters Association of Great Boston, The Boys & Girls Club of Dorchester, FoodCorps and other partners.
Bonus: All attendees of this intensive will receive a one-time 15% off coupon to the Milk Street Store after each session.