This is your time! This is your season! Restoration is Here!
About this Event
~Mask Are Required~Please Wear Your Mask ~ Temperatures Will Be Taken~
~There is room to social distance~
God Is Sending Revival To Southern California!
Attend the Milk & Honey Revival - Exodus 3:16,17
2 DAYS ONLY!! DO NOT MISS THESE TWO DAYS!! Friday, May14, 2021, 7:00 PM & Saturday, May 15th at 12:00 Noon.
**God is coming to see about you! Bring the oppressed, those who are depressed, the grieving, the Widow, the Widower, the misunderstood. Are you struggling with addictions? Make your way here! Come if you have lost your way, but not your FAITH! Your answer is here!!
God is sending Prophetess Nabiha Kelly on assignment, to hand deliver your Breakthrough, your Miracle! 🔥🔥🔥
Friday, May 14, 2021, at 7:00 PM
And Saturday, May 15, 2021, at 12:00 Noon,
This is the change you prayed for! You Shall Recover All!
Attend to receive your impartation!
Book Your Hotel
We do not have rooms reserved. Make your reservations before rates increase or sell out. You can book now and pay later at most hotels. Book your hotel today!
To check Expedia for rates Click here
*Ayres Hotel Ontario at the Mills Mall - $118 per night
4395 Ontario Mills Pkwy., Ontario, CA
La Quinta Inn & Suites by Wyndham Pomona
3200 W. Temple Ave., Pomona, CA
*Holiday Inn Ontario Airport, an IHG Hotel - $111 per night
2155 E. Convention Center Way , Ontario, CA HOTEL LINK
*Country Inn & Suites by Radisson, Ontario at Ontario Mills, CA
4674 E. Ontario Mills Pkwy., Ontario, CA HOTEL LINK - $93 per night
*The above hotels are only suggestions. Feel free to do a search for hotels and rates.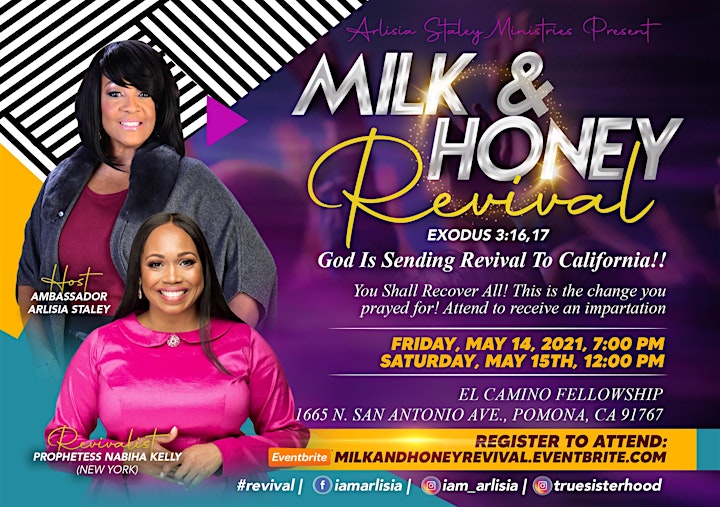 About Prophetess Kelly
Prophetess Nabiha Kelly is a prolific woman of God who has embarked the call of ministry at a delicate age. As the founder of Manifested Glory Ministries International-Nabiha Kelly Ministries International she labors in the vineyard for the Kingdom of God to be advanced, and mother of two with a vast number of spiritual children divinely given. She is a native born and raised in Brooklyn, NY of descent from Guyana in South America, she attended and excelled in the New York City Public school system, and then went on to complete her Bachelor of Arts at John Jay College of Criminal Justice. In 2005, it was prophetically spoken that it was time for Prophetess Nabiha to pursue higher education in religious studies. The Bible tells us to study to show thyself approved and in 2012 Nabiha made a huge pivotal step and graduated with a degree in Master of Divinity from Nyack College-Alliance Theological Seminary. She is currently pursuing her Doctorate of Ministry in Global Leadership at Nyack College-Alliance Theological Seminary. With great transparency and deliverance Prophetess Nabiha Kelly is the new author of "Shattered Shame and Rejection, Uncovering the Modern Day Molech", a life altering transformative book which challenges the reader to confront oneself, which deals with inner healing, emotional wounds, areas of guilt, shame and rejection we may all face at some time.
Prophetess Nabiha has been one who is called to bombard the gates of hell and to back up every contrary force that will come in the way of Gods Will through intercession, ministering the Word of God around the world, accurate prophetic "a now word", and her extraordinary ability to proclaim the Good News to all she encounters with power, authority and confidence. With heart and passion for the things of God it is a crucial element that her heart's desire is to see blind eyes open, the lame to walk, the opening of prison doors, cast out devils, and heal all that are oppressed and the captives to be set free and for all to know Jesus face to face and not through religion. Jesus Christ is real and her famous quote is "God is on the throne". Jesus commissioned us to be disciples and to do greater works in His Name. Many can describe Prophetess Nabiha as one who has a "ducks back", as she has the tenacity and vigor to overcome any obstacle faced while shaking all the things off that comes at her. Through much suffering and reigning with God the process of the "Call" has been eminent to those who are in her presence. She is transparent and bold and is shy of being timid when it comes to confronting one's destiny.
With uncompromising faith and being knocked down but not destroyed Prophetess Nabiha has always been able by God's strength and power to always stand in the midst of the fire and not look or smell burnt. She is a woman who has experienced so many trials, triumphs and the continual process of being on the Potter's Wheel. With great zeal to see the miraculous work of God through the work of the Son Jesus Christ our Savior be manifested here on earth. Prophetess Nabiha has been proved and is still proven to be one who will stand when all odds are against her. Through much "church" hurt, pain, despair and a vivid tainted past Prophetess Nabiha is a clear distinction that God's grace, favor, love, power, and anointing is able to set free, transform, deliver and catapult one for His use and is able to transcend all opposition of the nay says.
As a trailblazer and much sought-after preacher it is with great admonishing that Prophetess Nabiha is the ideal runner in this race and has been called to captivate any audience when she steps in the room with the evident anointing that is second to none given by the Gift Giver. She truly has a tailor-made calling from the Master that can't be reproduced as she is considered to be someone compared to tapestry, a beautiful fabric that has been interwoven over and over again which creates