Event Information
Refund policy
Refunds up to 7 days before event
Description
To upgrade your ticket to VIP, please visit here no later than 11:30pm EST on March 18.


—————————————


A WEEK OF WELLNESS FROM THE COMFORT OF YOUR HOME
The third annual Military Spouse Wellness Summit: Renew You
A virtual event for service member and first responder spouses.
Participate anywhere, anytime during event week.
It's virtual, so join from home or on the go. All you need is WIFI access.
Every day, for five days, you'll receive inspiration from two experts who'll reveal their secrets to a balanced mind and body. Each presentation will arrive in your email inbox via audio and video.
NO TRAVEL | NO MISSED WORK | NO CHILDCARE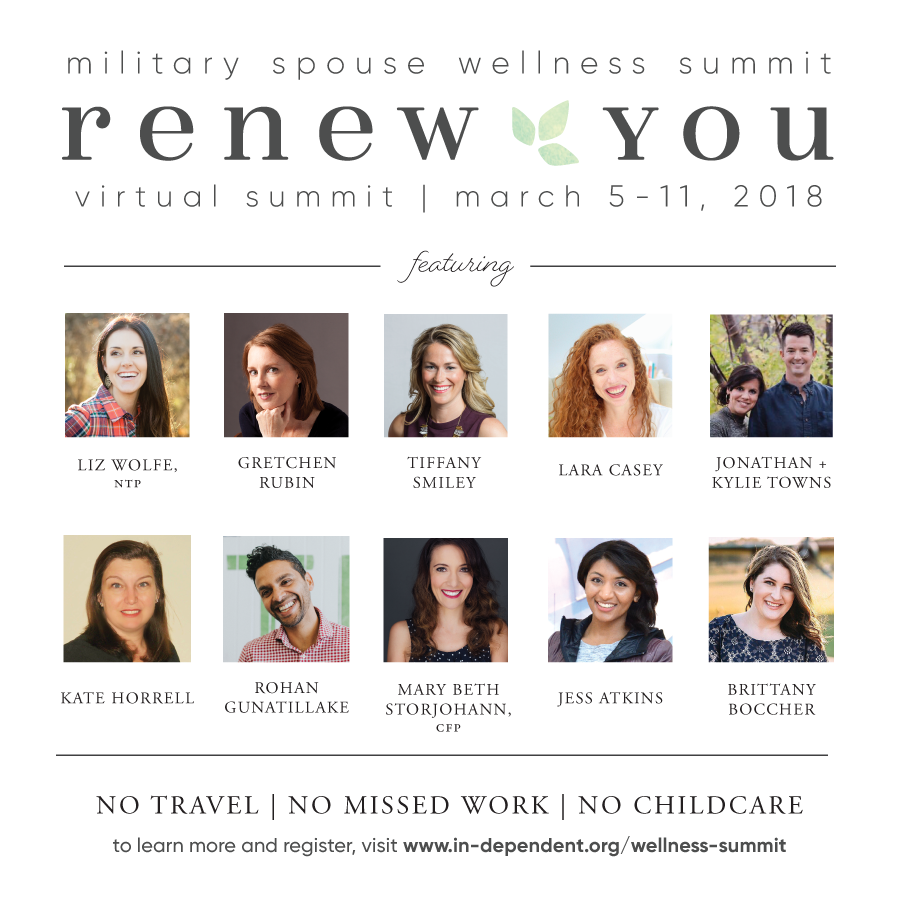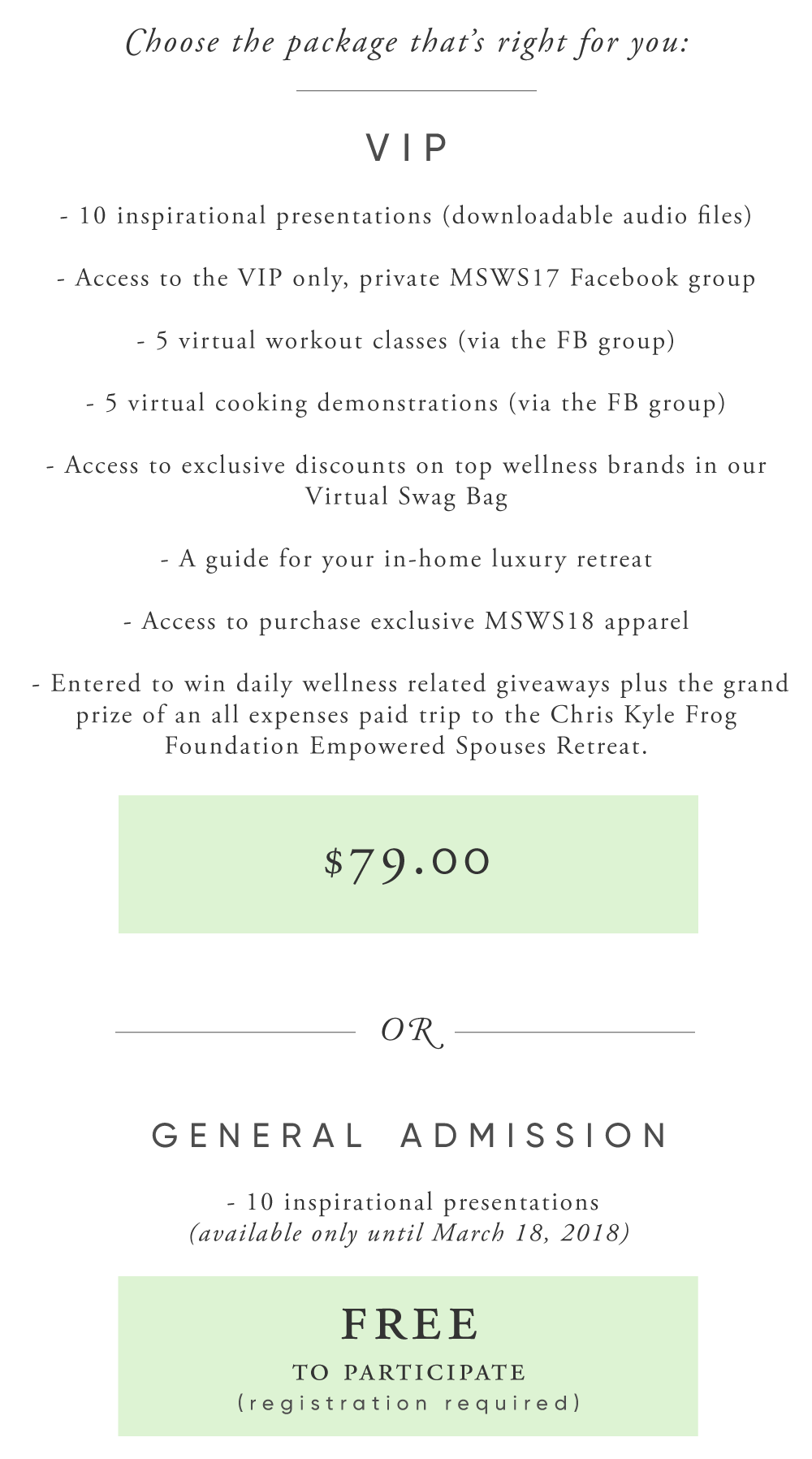 ---
The Military Spouse Wellness Summit is a nonprofit fundraiser for InDependent. A portion of EVERY VIP ticket will go to help fund the development of health and wellness programs for military spouses. THANK YOU for your generous contribution!
---
Thank you to our 2018 sponsors
Title Sponsor
Grand Prize Sponsor
The Chris Kyle Frog Foundation
Day Sponsors
Association of the United States Army
Media Sponsors
Military Officer Association of America
Breakout Session Sponsors
Wellness Resource Sponsors
Corporate Sponsors
Create/Captivate Digital Marketing
FAQs
I registered for the event but never received an email confirmation
A: Email can be so tricky, so follow these steps to find emails from msws@in-dependent.org
Are you using Gmail?

NO. See question 2

YES. Check your promotions folder. If is in your promotions folder, please drag that email over into your inbox so your won't miss the summit-week emails.

Did you check your spam/trash folder?

If it's in your spam/trash folder, please mark as not trash/spam and move to their inbox so you won't miss the summit emails. If email won't move from trash, forward it to yourself and when prompted mark as not spam.

Still not finding it?

Email msws@in-dependent.org with the email address you used to register. Also be sure to double check the spelling of your email used to register.
How can I contact the organizer with any questions?
Email us at msws@in-dependent.org with your name and the email address you used to register and we'd be happy to help you.
I want to download the interviews!
Are you a VIP registrant?

YES: You can download them at the VIP Center, which is in your confirmation email. There will also be links to download the interviews in the final day's email

NO: the ability to download is only available to our VIP registrants. You can upgrade your ticket by following the directions here.
I'm a VIP registrant, but I didn't get invited to the Facebook group.
The link to join the VIP only FB group is in each day's day's email. It is also located in the VIP Center and your confirmation email. You must request to join. Once you are verified as a VIP registrant, you will be granted access.
Date and time
Location
Refund policy
Refunds up to 7 days before event
Organizer of Military Spouse Wellness Summit: Renew You
InDependent is a 501(c) non-profit on a mission to make wellness accessible and creates opportunities for all military spouses to connect for friendship, accountability, and inspiration.
We envision a time when all military spouses thrive through connection to community and resources that results in healthy decision-making for themselves and their families.