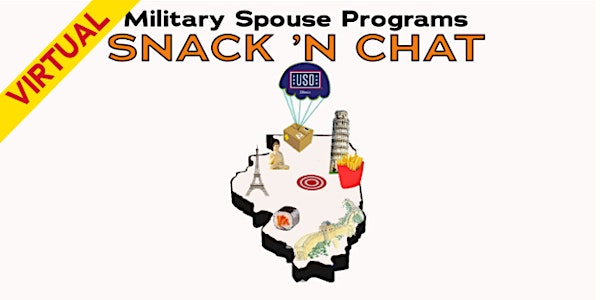 Military Spouse Programs: USO Snack 'n Chat a Coffee Connection Program
Virtually meet other military spouses while you snack around the world!
About this event
Join USO Illinois on a taste bud adventure! For this Military Spouse Program: USO Snack 'n Chat a Coffee Connections program, a box of surprise snacks will be shipped directly to you. But, don't peek when the box arrives....everyone will open the box during the live webinar on Wednesday, Nov. 30th at 8:30 p.m. (Central) to snack and chat with other military spouses. This session, your palate will be taken on an adventure to a mystery location!
This program typically "sells out" quickly, so please do not register unless you are 100% committed to attending the session. The failure to attend may require us to cancel future registrations. Please read all of the below details.
Eligibility:
Must be a spouse of currently serving Active Duty, National Guard, or Reserve military
Officer or Enlisted
Male and Female spouses
Spouses of Retired Military, IRR, DOD, and Civilians are not eligible
This event is not for service members or military youth
Must live within the continental U.S.
Program Notes:
Do not open snack box until instructed to do so during the virtual event
A day prior to the event, a link to the Zoom meeting will be emailed to your registered email address
Have your computer/tablet and webcam ready to go so you can interact with other military spouses
Click on the Zoom link (that will be emailed to you) a few minutes before the online session and get ready to snack 'n chat!
For further information, please email Carrie at: cnorwood@uso.org
Next Steps:
Prior to registration, please confirm your phone/computer/tablet is able to join a Zoom Meeting
Test your internet connection here: https://zoom.us/test
Register on this site (Eventbrite) using a personal/civilian email
Make sure your email address AND shipping address are correct
Misc:
One registration per military spouse
Use a computer, tablet or another device with internet that has a large screen for best viewing.
Must have webcam & microphone capabilities

USO's Webinar Disclaimer
o You understand and agree that — with the exception of any information that is required to register you for participation — your participation in this webinar does NOT otherwise require you to post, exchange, and/or otherwise share any personal information (e.g., your email address or LinkedIn profile URL) with the facilitator and/or other participants, and that if you voluntarily choose to provide any such information, it may not be treated as private or confidential. In addition, you understand and agree that any information, materials and/or resources shared by other webinar participants are not endorsed, guaranteed, or warranted by the USO, and that your accessing and/or use of such content is done at your own risk. By registering for this event, you agree (on behalf of yourself and any participating minor of whom you are the parent/legal guardian) to USO's Terms of Use (https://www.uso.org/terms-of-use) and USO's Privacy Policy (https://www.uso.org/privacy).
USO Notice of Filming, Photography, and Recording and the Standards of Conduct for USO Entertainment Events
o By registering for this event, you agree (on behalf of yourself and any participating minor of whom you are the parent/legal guardian) to the USO Notice of Filming, Photography, and Recording and the Standards of Conduct for USO Entertainment Events.
USO Waiver and Release of Liability: If the event involves a physical activity (e.g., yoga, cardio, etc), all registrants must electronically agree to a tailored version of the below waiver/release: o I hereby acknowledge, on behalf of myself, my heirs, personal representatives, and assigns, that engaging in [_____USO Snack 'n Chat_______________may involve potential dangers and risks, including, without limitation, injury (e.g., sprains, muscle strains), permanent disability (e.g., paralysis), and death. I acknowledge that some of these risks and dangers cannot be eliminated, regardless of the care taken to avoid them. I hereby: (1) agree to assume full responsibility for any and all risks, injuries, or damages that I sustain or aggravate by participating in ____USO Snack 'n Chat__________; (2) assume all of the foregoing risks and accept responsibility for all expenses, medical or otherwise, related to such damages or injury; (3) release, indemnify, and hold harmless the USO, its affiliates, and each of their respective officers, directors, employees, volunteers, representatives, agents, successors, and assigns, from any and all liabilities to me, my heirs, and personal representatives for any and all claims, demands, actions, expenses, losses, or damages arising out of or in any way related to my participation in these lessons and/or practices; and (4) represent that I: (a) have no medical or physical condition that would prevent me from safely participating in [___USO Snack 'n Chat_______]; and (b) have not been instructed by a health care provider to refrain from participating in such activities. I agree that it is my responsibility to consult with a health care provider prior to and regarding my participation in ____USO Snack 'n Chat______. I agree to follow all guidance and safety instructions contained within ______USO Snack 'n Chat__________, including those provided by the instructor. If I experience any pain or discomfort while participating in _____USO Snack 'n Chat_______, I will discontinue the activity, and seek medical attention, if appropriate.
I hereby represent that I am 18 years of age or older, have read this USO Waiver and Release of Liability ("Waiver"), fully understand its terms, and understand that I am giving up substantial rights, including my right to sue the USO under certain circumstances. I acknowledge that I am electronically signing this Waiver freely and voluntarily. The term of this Waiver is indefinite.