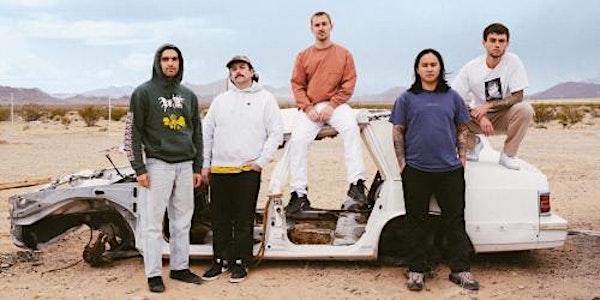 Militarie Gun // Restraining Order // New Primals
18+ $15 Doors @ 7 PM CAFE
When and where
Location
Underground Music Venue - Cafe 408 3rd Ave N Minneapolis, MN 55401
Refund Policy
Contact the organizer to request a refund.
Eventbrite's fee is nonrefundable.
About this event
Over the past few years, Ian Shelton has made a name for himself as one of the most prolific and unique minds in aggressive music, and now as the mastermind behind Militarie Gun, he's pushing himself further than ever before. The band's new dual EPs, All Roads Lead To The Gun and All Roads Lead To The Gun II, shed all sonic constraints for a menacing-yet-melodic exploration of obsessive creativity that's impossible to ignore.
Despite only being a band for a year, members of Restraining Order have spent the past decade playing in New England area hardcore bands such as Violence To Fade, Alert, Palehorse, Depths of Reality, Maniac, and Revenge. With a history of playing in bands together, Restraining Order has a clear musical chemistry and are able to write fast and catchy hardcore songs with relative ease. Hot off the heels of both their Demo and "Something for the Youth" promo cassette, Restraining Order presents their self-titled debut 7" EP for New Age Records for the summer of 2018. Restraining Order formed in January 2017 after the band members made it their New Years Resolution to start a "1982 style" hardcore punk band.
New Primals is a Noise/Dance-Punk band splitting their time between Minneapolis and Seattle, & consisting of Sam Frederick (guitar & vox), Ali Terveen (bass), JJ Monroe (Guitar), and Lars Oslund (drums). New Primals sound is best described as a cacophony of piercing sounds, disjointed guitars, and atonal melodies, which are roped together by heavy, danceable rhythms. This sound is delivered in an appropriately punishing fashion at the bands notoriously frenzied, chaotic, and confrontational live shows. With plans of full US & UK tours, scheduled during COVID days, the band can't wait to get back on the road and reconnect with their friends and fans. As Twin Cities Media puts it: "The band itself is like a bomb, the music they create is the explosion and the members are the shrapnel."
Having formed in 2016, and after years of touring, refining their sound, scaring the shit out of people, and being all-around weirdos, New Primals release debut album 'Horse Girl Energy' via Learning Curve Records in March of 2020.