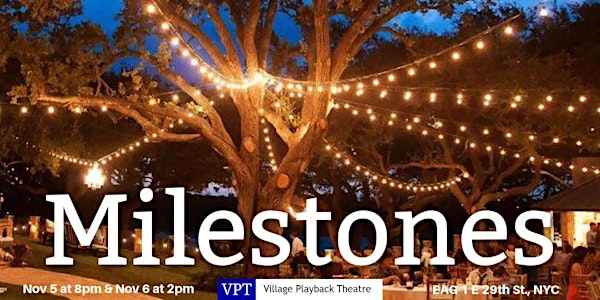 Milestones
A Playback Theatre show inviting the audience to share experiences about their milestones
When and where
Location
Episcopal Actors' Guild 1 East 29th Street 2nd Floor New York, NY 10016
About this event
Milestones are key moments in our lives. They may result from a goal or event we've set for ourselves or bestowed on us by the passage of time, like an anniversary. They can reveal to us who we've been, who we are, or want to become. We may honor, celebrate, or sometimes mourn these hallmarks to create meaning out of them.
Milestones impact us. They provide an opportunity to look at our lives and broaden our perspectives and understanding of our present. They're a mirror that shows us how much has changed or evolved and how much has stayed the same.
At our performances, we invite audience members to share stories about a moment that commemorates a milestone or anniversary in their lives. In response, our skilled performers will create an improvised enactment illuminating each story's essence, richness, and significance.
Sliding Scale Pricing
Our ticket prices are determined with our audiences in mind. We believe everybody should have access to theater, that it is not the right or privilege of a select few. Subsequently we offer 3 levels of choices:
Standard Ticket Price
Discounted Ticket Price (limited tickets available)
You Determine the Price (you purchase a ticket by making a donation in the amount you choose)
Please note that our Standard Ticket price does not cover our incurred production expenses which include paying the performers, rehearsal studios, and performance rental.
Online tickets are discounted. Tickets at the door are $35.00
We appreciate your support.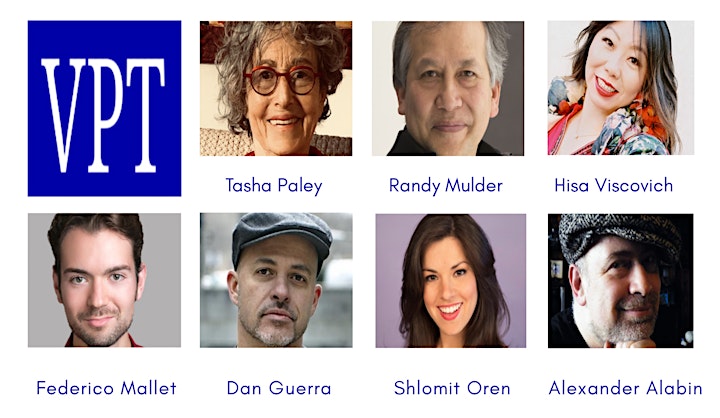 Health and Safety
The following protocols are mandated by the theatre, Episcopal Actors' Guild (EAG) for all audience members. We reserve the right to remove those who do not follow these protocols.
Everyone entering Guild Hall must:
Be Fully Vaccinated.
Everyone entering Guild Hall must be fully vaccinated with an FDA or WHO-authorized Covid-19 vaccine. You are considered fully vaccinated for Covid-19 14 days after you have received a second dose in a two-dose vaccine series or 14 days after you have received a single-dose vaccine.
EAG will not accept a negative Covid test or proof of prior infection in lieu of proof of vaccination. EAG cannot make any medical or religious exemptions to the above requirements.
Provide In-Person Verification of Vaccination.
Everyone must show proof of vaccination using your CDC Vaccination Card, NYC Vaccination Record or another official immunization record, NYC COVID Safe App (Android | iOS), the MyChart App (Android | iOS), or Excelsior Pass, photos, photocopies, and pictures saved on your phone are acceptable.
In addition to proof of vaccination, everyone 18 years or older must also present a government-issued photo ID such as a driver's license or passport. photocopies, and pictures saved on your phone are acceptable.
Wear a Well-Fitted, High-Filtration Face Mask.
Everyone entering Guild Hall must be wearing a well-fitted surgical mask or better, such as a KN95, N95, or KF94 mask, over both their nose and mouth. Performers on stage during a rehearsal or performance will be allowed to work without a mask when necessary but all other personnel and the audience must be masked at all times.
Stay Home If You Are Sick.
By entering the premises, you affirm that you are not experiencing symptoms such as fever, chills, shortness of breath, cough, fatigue, muscle or body aches, headache, loss of taste or smell, sore throat, congestion or runny nose, nausea or vomiting. You also affirm that you have not received a positive COVID-19 test within the past ten days.
Facility Precautions
Air Circulation. The Guild Hall has recently installed a commercial-grade HEPA unit, upgraded the existing mini split-system a/c units to add upper room UV disinfecting lights and an EPA registered disinfectant on the coils, and have installed a CO2 monitor.
Surface Disinfecting. Touched surfaces, such as handrails, doorknobs, and light switches will be disinfected. Common areas, like the bathroom and kitchenette, will be cleaned and disinfected. Hand sanitizer will be available throughout the space.
For detailed EAG protocols, click here.