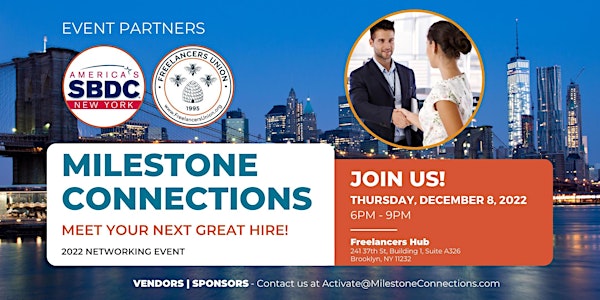 Milestone Connections
Meet your next great hire!
When and where
Location
Freelancers Hub 241 37th Street Building 1, Suite A326 Brooklyn, NY 11232
About this event
A unique networking event that allows business owners to meet and hire freelancers in one convenient location!
Meet and chat with local talent (diverse skills and specialties)
Recruit on-site (one time projects or ongoing support)
Expand your professional network (like minded-business owners)
Message for Business Owners
You're busy. You don't have time to read through hundreds of resumes and applications. And when you do find someone, they never seem to quite match up to what you're looking for.
Our Milestone Connections networking event provides a better way to hire. Business owners who connect with freelancers in person are able to make better, faster hiring decisions. Don't wait! Register today to find the perfect person for your next project.
Message for Freelancers
Now you can get the face time you need to land new clients! You'll be able to meet business owners in-person to discuss projects and learn about their needs and goals. This is a great opportunity to build up your client base and get some more exposure for your work!
If you're a freelancer looking for quality work, then you won't want to miss our Milestone Connections networking event.

Freelancers Union is working to secure a better future for independent workers. It is the largest and fast-growing organization representing the 56.7 million independent workers across the country. They provide their 500,000+ members a powerful support system and voice through policy advocacy, benefits, resources and community.
Become a Freelancers Union member and get free access to this event! Membership is free!
Small Business Development Centers (SBDCs) are the most comprehensive small business assistance network in the United States and its territories.
SBDCs are hosted by leading universities, colleges, state economic development agencies and private partners, and funded in part by the United States Congress through a partnership with the U.S. Small Business Administration.
There are nearly 1,000 local centers available to provide no-cost business consulting and low-cost training to new and existing businesses.
Small business owners and aspiring entrepreneurs can go to their local SBDCs for FREE face-to-face business consulting and at-cost training on a variety of topics. Learn more about how SBDCs are helping local businesses start, grow and thrive.
If you're looking for help to grow or fund your business, then SBDC is the perfect place for you. They offer free access to this event, so make sure to complete their intake form now and take advantage of this amazing opportunity. Don't wait, act now!
Sponsors and Vendors
SBDC and Freelancers Union have partnered to connect small business owners and freelancers in a way that will benefit everyone. As a sponsor or vendor you will have the opportunity to
showcase your products or services,
mingle with like-minded professionals, and
make valuable connections that can help scale your business.
Our Milestone Connections networking event is not to be missed - so be sure to email us at Activate@MilestoneConnections.com.com to sign up today!