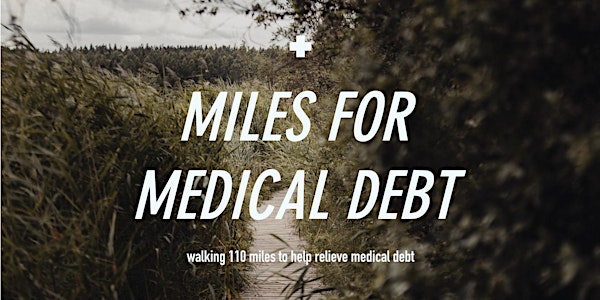 Miles for Medical Debt - 100+ Mile Walk
Funding Relief from Medical Debt One Mile at a Time.
About this event
The Walk:
My name is Alexa Suess and in May of 2022, I'm going to walk from Central Park in Manhattan to Greenport Village on the tip of the North Fork of Long Island. The goal is to walk those 100+ miles non-stop. Every mile I walk will be sponsored by individuals who are looking to improve the lives of those like myself who suffer from chronic illness and have battled extensive medical debt. Additional elite sponsors will help to fund even more good.
My Chronic Illness Story:
My name is Alexa Suess. I was 19 years old when I had my first bout of severe abdominal pain. Thinking it was just some cramping, my ER doctor sent me home with some Advil.
Six years, thousands of hours of agony, five specialists, and more than a quarter-million dollars of medical debt later, I found out that I had a rare bile duct dysfunction that caused necrotizing inflammation of my pancreas. My body was eating its own pancreas, the cause was unknown, and I was deeply in debt.
Now with a secondary diagnosis of antiphospholipid syndrome, the chronic illness journey has been long. The bills added up to just shy of half of a million dollars. The symptoms have become faithful companions in my life.
It took many years for me to pay off my medical debt. If this walk can generate enough funds to help relieve one person of their debt, that's enough. No one should have to consider healthcare costs as they decide how to manage their health. And yet, 1 in 2 people don't go to the doctor when they're sick to avoid debt. In a perfect country, we wouldn't need to have this conversation. But in America, we do.
The Charity:
For a lot of people, especially people with chronic illnesses like myself, medical debt is an incredible burden. It can cause issues with procuring housing and getting a new job. It increases the likelihood of litigation and bankruptcy and can even worsen health outcomes for many people who are already ill. (Sycamore Institute, 2021) These people coach baseball teams, run small businesses, and raise families. They're your family, coworkers, and friends.
The chosen recipient of these funds is RIP Medical Debt, an established 501(C)(3) founded to help relieve millions of their burdensome medical debt in a unique way. In the U.S., approximately 79 million people have unpaid medical bills and in many cases, that debt is not held by the hospital or doctor's office that the patient originally visited. Instead, that debt is typically bought and sold several times over to collections agencies.
When debt is sold multiple times, it's usually sold at a discount because it can be increasingly difficult for the collection agency to get paid. That represents an opportunity for RIP Medical Debt to swoop in and offer to relieve the debt with donations from individuals like you and me, meaning our dollars are that much more powerful.
How to Help:
When you're walking four back-to-back marathons, every mile counts. Sponsor a mile and help people with the heavy burden of medical debt get the relief they need to stay healthy.​ If you're a corporate entity or business, become an elite sponsor. If you're just looking to donate a dollar - please do! Every dollar counts.
I am so grateful for your donations, your love, and your support.