Description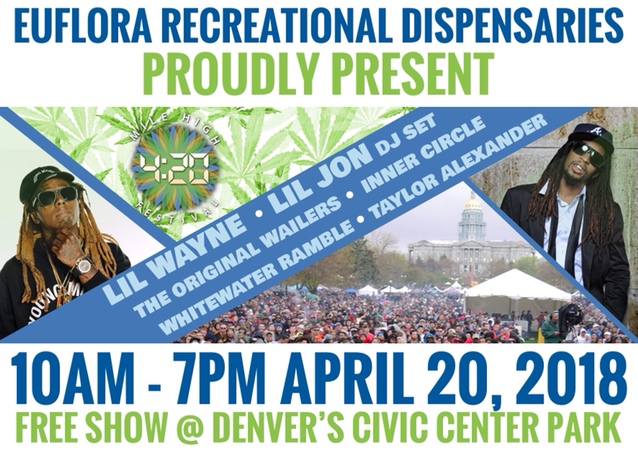 The Mile High 420 Festival is a FREE EVENT Featuring:
LIL WAYNE
LIL JON
INNER CIRCLE
THE WAILERS
WHITEWATER RAMBLE
TAYLOR ALEXANDER

FRI, 20 APR 2018 at 10:00AM - 07:00PM MDT
@ Civic Center Park, Denver, Colorado
Ages: All Ages
Doors Open: 10:00AM


OnSale: Sat, 10 Mar 2018 at 10:00AM MST
Announcement: Wed, 7 Mar 2018 at 04:20PM MST

Local Stage:
Colfax Speed Queen
Deca
Pink Hawks
RL Cole and The Hell You Say
Dirty Few
Ratt Poison
Los Mocochetes
Hosted by:
The Solution DJs
Kensho Vibes

Experience:
420 Funny Stand-Up Comedy Stage
A Cannabis Craft Marketplace
Denver's Finest Food Trucks
Craft Beer and Wine Gardens
CannaMakeADifference Charity Pavilion
Cannabis Yoga
and much more

THE MILE HIGH 420 FESTIVAL IS THE LARGEST FREE 420 EVENT IN THE WORLD!!!

This festival is completely free to attend and is open to the public. Tickets are limited so don't sleep on this one! Head over to MileHigh420Festival.com to RSVP and secure your spot.

For 2018, we are re-imagining 420 and look to add even more reasons to make this holiday a part of your Mile High Experience. The event is under completely new management by Euflora Recreational Dispensaries. As an active participant in the event, Euflora has made it their mission to change the image of this event into something that people from all walks of life feel comfortable attending. The first step in this process was hiring a professional event management company with over 12 years experience throwing large scale events in this same venue. All logistics are already mapped out and the experience that our team brings to the table is second to none. This year will have twice as many entrances (now with metal detectors/wands) and 4 times as many security personnel to ensure a safe event for attendees of all ages. Expect a fully legitimized 420 that will be well executed and professionalized as a marquee event of this stature deserves to be.

This festival is completely free to attend and is open to the public. Head over to MileHigh420Festival.com for more information on the event.