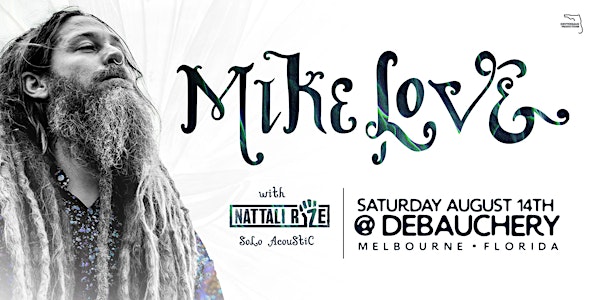 MIKE LOVE w/ Nattali Rize (Solo Acoustic) - Melbourne
Location
Debauchery
807 East New Haven Avenue
Melbourne, FL 32901
MIKE LOVE & Nattali Rize live in Melbourne
About this event
Deuterman Productions Presents: MIKE LOVE
SUPPORT: Nattali Rize (Solo Acoustic)
(Mike Love) "I was born and raised on the island of O'ahu in Hawai'i and grew up in Kalama Valley about 5 minutes from Sandy Beach. I am first and foremost a father and a husband and a son. I am a vegan. I am a spiritual person, but I'm not religious. I am a musician. Music has been an integral part of my existence since before I can remember. I can always remember singing, just singing wherever and whenever, no matter how bad I sounded, I just always loved to sing. I played a few different instruments and finally settled down on the guitar at around 16. Soon after, I started writing songs, many horrible songs. I wrote at least 50 before I actually produced one I was proud of.
(Nattali Rize) Ask her where she comes from, she'll tell you "All Directions". In line with her philosophy she claims not to belong to any nation state but to the ever evolving community of conscious thinkers and livers everywhere and anywhere in this world and realm.... Of mixed global heritage, with dominant Native American and Samoan roots, Nattali Rize is known around the world for her work fronting epic roots band Blue King Brown as well as for her unwavering commitment to using her voice and music for the global struggle toward the realization of full freedom and the movement of Truth and Justice over the systemic exploitation of the people and our planet.
Use the share tools on this event page to let your friends know where you will be. Please Print PDF ticket for entry into event or your phone email can work as well. No Refund Event. Rain or Shine Event.
21+ EVENT