Mike Kuniavsky at The Interval: Our Future in Algorithm Farming

Tuesday, May 17, 2016 from 6:30 PM to 8:30 PM (PDT)
Event Details
The Long Now Foundation welcomes
Mike Kuniavsky
(PARC, UX Designer and author)
"Our Future in Algorithm Farming"
@ The Interval at Long Now: check-in begins at 6:30; talk will start at 7:30
Our speaker's book Smart Things will be on sale and he will sign it after the talk

Join us afterwards for drinks and conversation with our speaker
The software running much of our world today, from consumer apps to industrial infrastructures, is increasingly built on systems that learn and try to predict the future. They're increasingly sophisticated and profoundly different than technologies we've ever lived with before.
In the first of a new series of talks from the team at PARC, the venerable Palo Alto research lab, UX designer / author Mike Kuniavsky will talk about what we—the intended beneficiaries of these products and services—will do while the algorithms that are supposed to understand us are on what is likely a slow learning curve.
Long Now members can access a free livestream of this event online. The studio of Edward Burtynsky is sponsoring The Interval's live audio stream in 02016. Mercury Films and Studio Burtynsky's forthcoming project Anthropocene (02017) looks at how civilization has re-engineered the world in ways that will persist into geological time. Their support enables us to stream these events for our members all over the world.

Become a member for access to live audio streams of our Seminars and Interval events.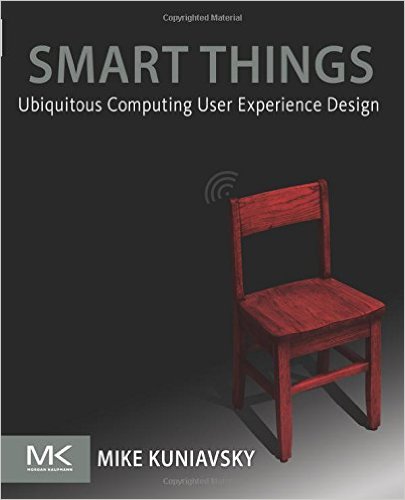 "If you've ever wondered how interface, interaction, information, and industrial design overlap, what they have to do with user experience, and how it's all affecting your life, you should read this book."
— Tom Igoe, Associate Professor, NYU, Interactive Telecommunications

PARC, a Xerox company, is based in Palo Alto, CA. They provide custom R&D services, technology, expertise, best practices, and intellectual property to Fortune 500 and Global 1000 companies, startups, and government agencies and partners. Since its inception, PARC has pioneered many technology platforms – from the Ethernet and laser printing to the GUI and ubiquitous computing – and has enabled the creation of many industries. Incorporated as an independent, wholly owned subsidiary of Xerox in 02002, PARC today continues the physical, computer, and social sciences research that enables breakthroughs for their clients.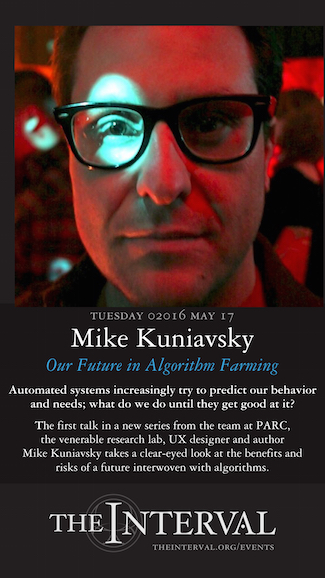 Mike Kuniavsky is a user experience designer, researcher, and author. A twenty-year veteran of digital product development, his recent projects at PARC have included designing IoT devices and services for a variety of Fortune 100 companies, and reinventing paper money.

He specializes in multi-device interactions, cloud-based service design, and design of hardware products connected to cloud-based services. His background includes design for social analytics, consumer electronics, appliances, image retrieval, RGB LEDs, and financial services.

Prior to PARC, Mike co-founded several successful user experience centered companies, including ThingM, which designs and manufactures ubiquitous computing and Internet of Things products, and Adaptive Path, a well-known design consultancy.

He is the author of Observing the User Experience: A Practitioner's Guide to User Research" and Smart Things: Ubiquitous Computing User Experience Design both of which are used as university textbooks. He holds a dual major B.S./B.A. in Computer Science and Film/Video Studies from the University of Michigan.
"Finally a book about ubiquitous computing that covers the broad challenges of designing for user experiences over a vast range of devices, device sizes from micro to meso to macro, and crucially, ecologies of devices."
— John Seely Brown, former Chief Scientist, Xerox Corporation, about Smart Things


Long Now members hear about Interval events first: become a member today
When & Where

The Interval at Long Now
Fort Mason Center
2 Marina Blvd
San Francisco, CA 94123


Tuesday, May 17, 2016 from 6:30 PM to 8:30 PM (PDT)
Add to my calendar
Organizer
The Interval at Long Now is a bar, cafe and venue for talks and other gatherings located in historic Fort Mason Center on San Francisco's north shore within site of the Golden Gate Bridge and Alcatraz. The Interval serves delicious beverages in a room full of mechanical wonders and thousands of books.
We are open daily from 10AM to midnight. Events are typically on Tuesday nights a few times a month. Tickets usually go on sale 2 weeks prior to the event. Our talks tend to sell out quickly due to our limited capacity.
Long Now members can purchase tickets before the general public.
The Interval is home to The Long Now Foundation which is dedicated to long-term thinking through projects including building a 10,000-year Clock, the monthly Seminars About Long-term Thinking (SALT), The Rosetta Project, PanLex, and Revive & Restore.