Event Information
Location
The Church of Jesus Christ of Latter-Day Saints & other locations
See below...
Description
Dearest Family & Friends,

We regretfully announce the passing of our beloved "Mike" Foimai Ralph Tesimale on January 26, 2018. As some of you are aware, Mike and his brother James Tesimale have struggled for many years with heart and kidney issues. Sadly, James died last July and Mike was hospitalized last April. On August 30th, Mike had a heart defibrillator implanted in his chest to monitor his heart 24/7 and to auto-defibrillate if it stopped or if it continued to weaken. He remained on medical leave to heal and await a heart donation. Mike was a dedicated worker at Parker Hannifin Aerospace Corporation for thirty years, this was his second family and he felt so grateful to work alongside so many dear friends. Prior to working at Parker, he served his country faithfully and honorably for four years in the U.S. Marine Corps. One week before Mike died, his third cardiologist/surgeon expressed to us his concern that "it would be nearly impossible to find a heart big enough to keep Mike alive." Yes, Mike literally and figuratively had a BIG HEART and many of us were blessed immensely by it. Both brothers passed away at the young age of 60. Mike took his final breath of life at home on January 26th, which was James's 61st birthday. We know they celebrated together joyfully with our Heavenly Parents, mother Pioa, father Talama, all our Ancestors and Legions of Angels. We still feel Mike's gentle loving spirit with us so strongly. WE ALL will miss him deeply, as well as our brother James.

Thank you so much for your messages, phone calls, emails, flowers, cards, and for the ocean of love, kindness, and generosity that has been poured out upon us… we are so GRATEFUL. Mike, James, and our entire family are truly honored and blessed by your friendship and beautiful Spirit of Aloha-Alofa.

We have lovingly arranged a few events to honor Mike and James. Those events are as follows:

MIKE'S FUNERAL SERVICE ~ Saturday, February 10th from 1pm to 2:45pm:
At The Church of Jesus Christ of Latter-Day Saints, 2150 Bonita Canyon Drive, Newport Beach, CA 92660. The church is located on the left side - do not go to the temple on the right side. The viewing and reception will follow the funeral service. Please try to carpool and arrive by 12:45pm for parking. RSVP on Eventbrite by 2/9 at 1pm.

In lieu of flowers, and if you feel inspired to, please consider making a tax-deductible donation to our non-profit organization: One Global Family Foundation, of which Mike was the co-founder and vice president since it began on 9/11/2001. Your generous donation in honor of Mike will be used towards our homeless programs, providing free wheelchairs to the disabled poor, shipping costs for humanitarian aid containers, and scholarships for orphans. Click here for our online donation campaign page. Checks will also be accepted at each event or you may mail them to: One Global Family Foundation, 1518 W. River Lane, Santa Ana, CA 92706. Email laura@oneglobalfamilyfoundation.org for local & global volunteer opportunities and/or collaborative partnerships. Thank you kindly!

POTLUCK BEACH GATHERING ~ Monday, February 12th from 1pm to 8pm:
At Huntington State Beach (near lifeguard tower #12, parking lot #7, near the volleyball courts).
ALL are welcome to join our family gathering. There will be a sacred indigenous Samoan Hawaiian Native American ceremony at sunset to honor Mike and his brother James. By the way, Mike's birth name "Foimai" means "to return". Mike will be cremated on this day, so please hold him and our family in prayer. For the sunset ceremony, bring seashells instead of flowers "to return" them home to mother ocean, just as Mike has returned home. Feel free to come & go anytime, bring whatever food items you wish to share and also bring your drums, guitars, flutes, beach chairs, blankets, warm clothing for the evening bonfire, etc… RSVP here on Eventbrite by 2/12 at 1pm.

PRIVATE SEA BURIAL CEREMONY ~ Tuesday, February 13th from 3pm to 5:30pm:
Mike's wish was to have his ashes scattered off of the Newport Coast where he loved to paddle board, surf and scuba dive. The boat seating is limited to 50, so all family members must RSVP here on Eventbrite by 2/12 at 1pm. If Mike's close friends would like to be added to the waiting list, please RSVP accordingly here on Eventbrite and you will be called on Monday by 5pm, if space is available. The address to the boat doc in Newport Beach will be provided upon confirmation. Thank you for your understanding.
2/13 UPDATE: Everyone who RSVP'd to be on the boat for Mike's burial at sea must meet up by 2pm at The Church of Jesus Christ of Latter-Day Saints, 3401 South Greenville Street, Santa Ana, CA.. Look for us in the parking lot near the entry gate. We will park our cars there and carpool to the boat doc in Newport Beach. Please be on-time. The boat ride and sea memorial ceremony will take 2 hours. Bring your sea shells to return home to mother ocean. We will catch the sunset at sea, so bring a sweater or jacket. After the burial at sea ceremony, we will return to the LDS Church for the Celebration of Life ceremony and dance to honor Mike and his brother James. This memorial program and pre-Valentine's Day celebration is OPEN TO ALL - please RSVP on Eventbrite. We are looking forward to dancing, singing and embracing you ALL!! (Text 714-723-4214 for Q&A) Website & Directions to the "White Light" boat.

CELEBRATION OF LIFE ~ Tuesday, February 13th from 6:30pm to 9:30pm:
At The Church of Jesus Christ of Latter-Day Saints, 3401 South Greenville Street, Santa Ana, CA. Please note that this church is located near South Coast Plaza, just off of the 405 fwy. ALL are welcome to join us to meet or reunite with Mike and James's family, friends, school mates and co-workers. There will be music by DJ Sukh and DJ Etuina, song dedications, dancing, singing, sharing of stories & poetry, a sacred tree planting ceremony with some of Mike's ashes, food and lots of healing laughter & hugs. This is also a pre-Valentine's Day celebration, so bring your sweetheart! :) Please RSVP here on Eventbrite by 2/12 at 1pm.

Once again, feel free to join us anytime at any of these gatherings. Simply RSVP here on Eventbrite so we have a good count for food and setup.

Thank you all from the bottom of our hearts. We believe that "Families Are Forever," and we are looking forward to our grand reunion with all of our loved ones in heaven. We love you very much.

Please use these hashtags when uploading your photos & videos relating to Mike. #MikeFoimaiTesimale #WeAreONEGlobalFamily #LoveAllUnconditionallyRespectAllServeAll

God bless us all. Aloha For Now!
Laura Lafoia Ava-Tesimale
The Tesimale & Ava Family
Cell & WhatsApp 714-723-4214
laura@oneglobalfamilyfoundation.org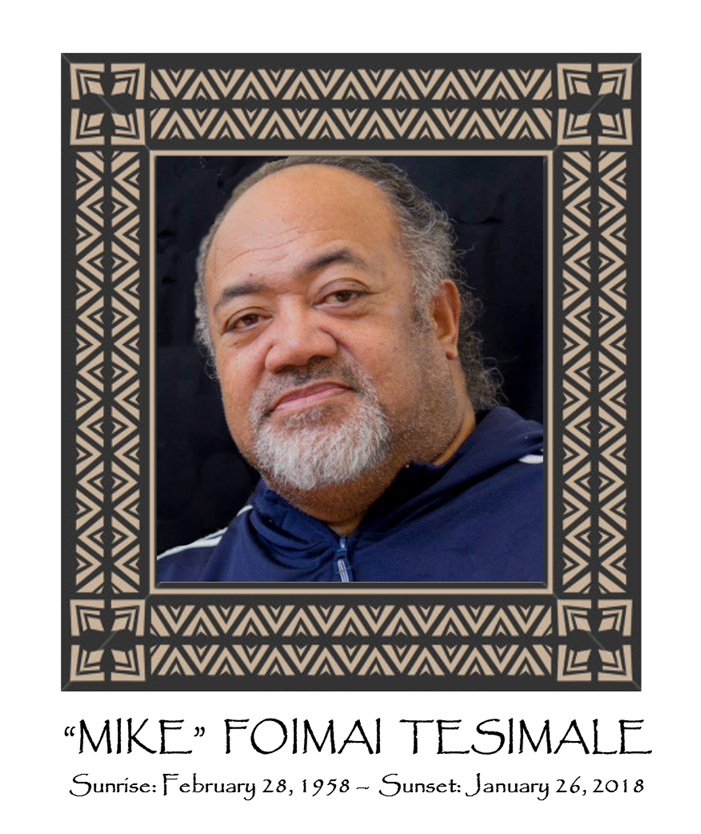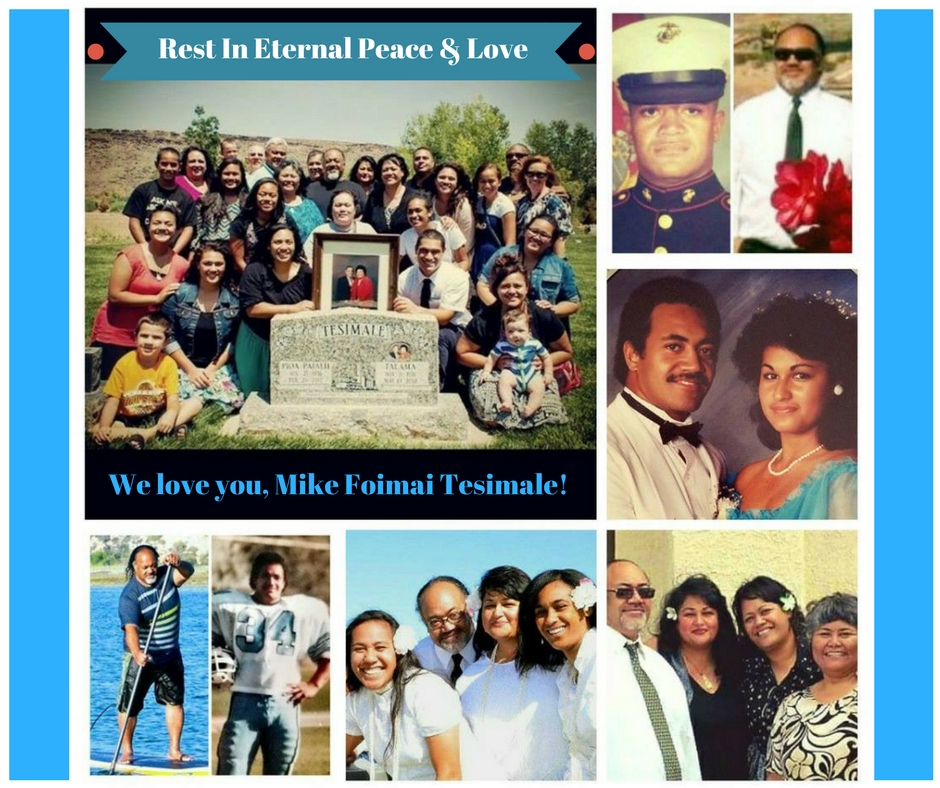 Date and Time
Location
The Church of Jesus Christ of Latter-Day Saints & other locations
See below...