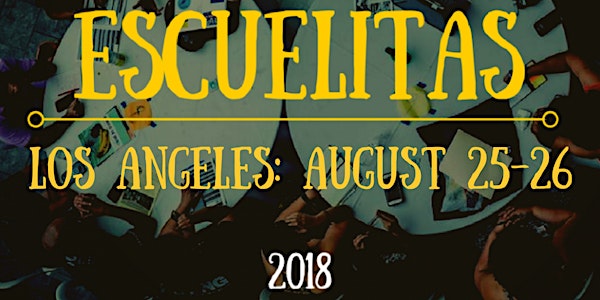 Mijente Escuelita - Los Angeles
When and where
Location
Casa del Mexicano 2900 Calle Pedro Infante Los Angeles, CA 90063
Refund Policy
Refunds up to 7 days before event
Description
Escuelitas Are Back!
Last summer, we held our first series of Mijente Escuelitas for members and potential members to deepen our analysis, grow our skills, and strengthen the community of Latinx changemakers who can take on the attacks of our time and seize the opportunities to transform our future.
We'll look at different historical and international examples of organizing, explore what it means to create political home together, identify ways to plug-in and practice concrete skills to be the movement-builders that we need.
¡Las Escuelitas están de vuelta!
El verano pasado llevamos a cabo nuestra primera serie de las Escuelitas de Mijente para lxs miembros y miembros potenciales - para profundizar nuestro análisis, expandir nuestras habilidades, y fortalecer a la comunidad de artífices latinx de cambio quienes pueden afrontar los ataques de nuestros tiempos y aprovechar las oportunidades para transformar nuestro futuro.
Observaremos diferentes ejemplos históricos e internacionales de organización, exploraremos qué significa el crear un hogar político juntxs, identificaremos formas de conectar y practicar habilidades concretas para ser lxs constructorxs de movimiento que necesitamos.
Saturday 9am-5pm
9am Breakfast / Desayuno
10am Opening & Welcome / Bienvenida
10:30am A Deeper Look: The Who/What/When/Where/Why's of Mijente
11:45am Elders Panel
1pm Lunch / Almuerzo
1:30pm Mijente Strategy for Building Power (Desde/Contra/Sin) / Estrategia de Mijente para Construir Poder (Desde/Contra/Sin)
3:45pm La Casita de Mijente: Building Political home / Construyendo Hogar Politico
5pm Close + Rest and/or Turnup
Sunday 9am- 3pm
9am Breakfast / Desayuno
10 am Opening
11am FAQ/WTF Mijente! / Que Onda Mijente!
11:30am Y Ahora Que? Taking Names, Making Moves
12:30pm Lunch / Almuerzo
1pm Skill based Dialogos:
First Impressions + Multiplication of a New Latinx Movement for Justice / Primeras Impresiones + Multiplicación de un Nuevo Movimiento Latinx por la Justicia

Radical rhetoric v. Radical campaigns: Campaigns in the Trump era / Retorica Radical v. Campañas Radicales: Campañas bajo la Era de Trump

Principles in Practice: Pro-Black, Pro-Latinx, Pro-Pueblo / Principios en Practica: Pro-Negritud, Pro-Latinida, Pro-Pueblo
3pm Close + Foto