Event Information
Location
Shanty Creek Resorts
5780 Shanty Creek Road
Bellaire, MI 49615
Description
We will kick off Friday Night with Opening Ceremonies. Our theme for the night is Michigan Jaycees: Together As One Team. Wear your best in chapter, district, and state apparel and show your Jaycee pride! Get ready for some opportunities to win prizes by showcasing your Jaycee knowledge with a little Jaycee Trivia throughout the evening.
After Opening Ceremonies stick around to see some of the best Karaoke/Lip Sync/Dance Talent in the Michigan Jaycees. Sign up will be onsite. Start practicing now to wow your friends.
Saturday morning we will start the day with breakfast and our Business Meeting. Come out to hear about what's happening across the State. After the Business Meeting please join us for our amazing training sessions to hone your Jaycee, Professional, and Personal Skills.
Saturday Night it's time to Roll Out the Red Carpet. Dress to impress and join us for dinner and awards. This show will rival the Oscars and is an event you won't want to miss. After the awards join us in the ballroom for a night of dancing and fun.
Hooded Sweatshirt Design: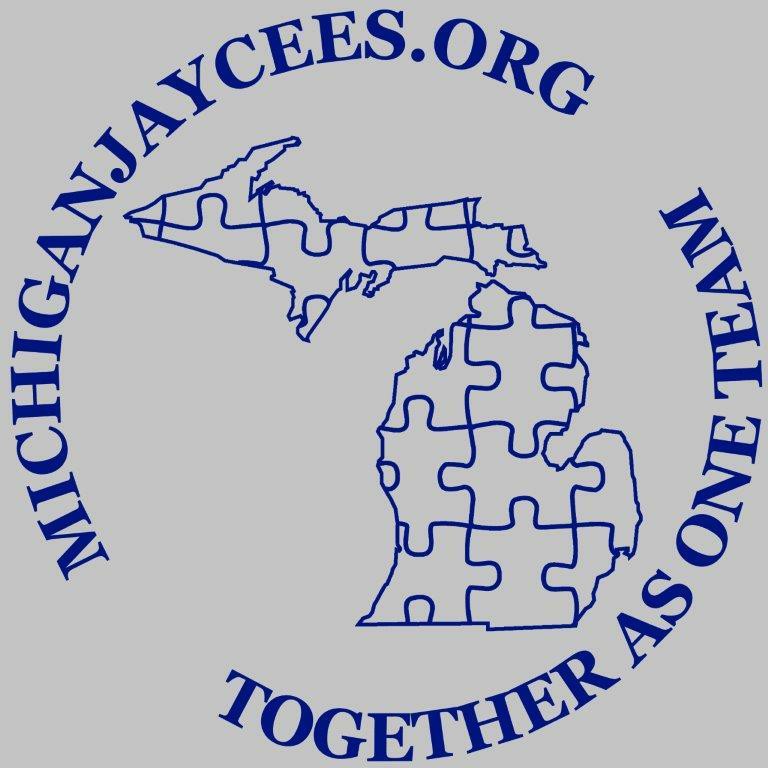 Conference Agenda:
Friday Schedule:
Friday Night Theme: Michigan Jaycees: Together As One Team. Wear your best in chapter, district, and state apparel.
12:00 PM: Finance Committee Meeting *time subject to change
4:00 PM: MIJC Board Meeting
5:30 PM: SPE Judging begins
6:00 PM: Registration Opens
7:00 PM: First timers
8:00 PM: Opening Ceremony
10:00 PM: Welcome Party: Michigan Jaycees Show Your Talent
10:00 PM: Competitions Begin
10:00 PM: Delegate Registration Opens
10:30 PM: Registration Closes and Delegate Registration Closes
Saturday Schedule:
Saturday Night Theme: Roll Out the Red Carpet - dress to impress
Saturday Business Meeting and Training Dress Code: Business Professional/Business Casual
7:30 AM: Conference Registration Opens - Delegate Reigstration Opens
7:30 AM: Breakfast
8:00 AM: Business Meeting
9:00 AM: Keynote Speaker
9:30 AM: Training Seminars Start
10:00 AM: Registration Closes
12:00 PM: Lunch Break
1:00 PM: Afternoon Training Seminars Start
1:00 PM: MIJC Foundation Meeting
2:00 PM: MIJC Senate Elections
3:00 PM: MIJC Senate Meeting
5:30 PM: Performers Reception (Invite Only)
5:30 PM: Registration Opens
6:00 PM: Cocktail Reception *cash bar
6:30 PM: Seating in Ballroom
7:00 PM: Dinner
7:00 PM: Registration Closes
8:00 PM: Awards
10:00 PM: Saturday Night After Party
Sunday Schedule:
9:30 AM: Fellowship Breakfast
10:45 AM: Team 93 Board Wrap
Hotel Information:
Shanty Creek Hotel and Resort
5780 Shanty Creek Road, Bellaire, MI, 49615
Hotel Block is open until April 4th, 2017
Please book using this link: http://reserve.shantycreek.com/?g=272346
There are two room options: Guest Room - $85 and Studio Parlour - $115
Both room options include a refrigerator and microwave
The room rate is good for 2 days before and 2 days after the conference!
Meal Info:
Saturday Breakfast: Coffee, Tea, Juice, Fresh Fruit, Bagels and Cream Cheese
Saturday Lunch: On your own - there are 3 onsite restaurants to choose from. Hotel rooms all have microwave and Refrigerator if you want to make your own lunch onsite. The Hotel Restaurant will have a taco bar lunch buffet on Saturday for $16.
Saturday Dinner: Flank Steak with wine mushroom sauce, redskin mashed potatoes, caesar salad, cheesecake with raspberry topping (this meal is GF)
*If you need a vegetarian meal, please indicate that in the registration and we can accomodate.
Training Seminar Offerings:
Together As One Team: Presidents Training with Peter Behrmann and James Hart
Session 1&2 9:30 AM (*Presidents Only)
Local Chapter Presidents - this is your time to come together with President Peter Behrmann and Presidents Coach James Hart to talk all things Presidential.
Unite and Lead: VP Training with Jocelyn Moellering and Team
Session 1 9:30 AM
This training session for local board members will focus on Civic Leadership Certification and best practices for reviewing and updating your chapter plan. There will also be a discussion on project ideas. Join Programming Vice President Jocelyn Moellering and her team for a great discussion to make your year successful!
Maverick at Work: K9 Demo with Maverick and Jennifer Mansfield
Session 1 9:30 AM
Join us as we watch our favorite K9 Maverick strut his stuff. Maverick will wow us with his talent and show us how smart he is. If you have never seen a K9 in action, you won't want to miss this training. After the demo, his partner Jennifer Mansfield will be available for a Q & A about Maverick and working with a K9.
Stand Up and Shout! with Angela Clock
Session 1 9:30 AM
Does public speaking freak you out? Do you need some tips and help in honing your skills? Join us for an interactive session to help make you more comfortable with speaking to groups and getting your message across clearly.
Getting the Most Out of Social Media with Jessica Haynes
Session 2 10:30 AM
More info on this session is coming soon! If you want to learn all about Facebook, Twitter, Instagram and more this is the session for you.
How to Keep Your Chapter Healthy with the District Director Team
Session 2 10:30 AM
Learn from your DD team how to keep your chapter healty (and we don't mean how to not spread germs). We will be focusing on how to keep your membership going strong to ensure a strong future.
The New Kind of Slavery: Human Trafficking Awareness with Jennifer Mansfield & Becky Hermann
Session 2 &3 10:30 AM
This session will teach you the facts, uncover the myths, and provide potential life saving information to help end modern day slavery and exploitation through human trafficking. With a two tier approach, attendees will discover how traffickers hunt for an exploit their victims and how law enforcement becomes involved. We will also discover how victims become survivors through treatment and the Michigan agencies that are helping survivors. This training is the first step in learning how we as Jaycees can help make a difference.
Situational Leadership with Erin McKenzie and Mike Kandah
Session 3 11:30 AM
Join Erin and Mike for a crash course in situational leadership. Have fun exploring many wild what if scenarios and how you would react to them. No worries if you make the wrong choice, this is make believe, but good practice for real world situations.
Feel Your Best: Be Your Best with Dr. Jeff Senechal
Session 3 11:30 AM
Addressing common health ailments that affect Jaycee aged individuals from a functional medicine angle. The United States makes up 5% of the world's population yet consumes over 75% of the world's medications. Learn how not to become a statistic.
We've Made it This Far! Stages of Group Development with Angela Clock
Session 4 1:30 PM
Join us for an interactive session on stages of group development and how to operate during the different stages to maximize your performance as a team. Perfect for those mid-year blues!
How to Make Friends and Build Leaders: The Tale of that Wicked Word - Recruitment
with Steve Pickelmann and Sarah Nelson
Session 4 1:30 PM
Session info is coming soon. If you have questions about recruitment or want to learn how to grow your chapter this will be the training for you.
FAQs:
What is the alcohol policy?
It is similar to most hotels. In general, if you are someplace in the hotel that can sell alcohol you are not allowed to bring your own in. So this means the lobby bar, conference rooms, ball room, break out rooms, etc.; you will not be able to bring in your own drinks. If you are suspected of drinking your own alcohol in these areas you will be asked to discard your drink.

Do I have to bring my printed ticket to the event?
No, you do not. Please be prepared to give your name and Photo ID when checking in at conference
.
Where can I contact the organizer with any questions?
Contact 2017 Chief Operations Officer Anna Versalle at aversalle@mijaycees.org
What's the refund policy?
Registrations are non-refundable
Is my registration fee or ticket transferrable?
Yes. To transfer a registration please email Chief Operations Officer Anna Versalle at aversalle@mijaycees.org with the name of the person you are transferring your registration to. It is up to the original owner of the registration to work out payment arrangement. The Michigan Jaycees will not be responsible for transferring money between parties.
Date and Time
Location
Shanty Creek Resorts
5780 Shanty Creek Road
Bellaire, MI 49615