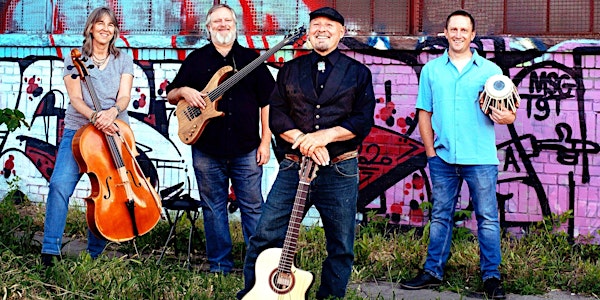 Miguel Espinoza Flamenco Fusion
ALL AGES
With opener Bill Kopper! All sales final.
Swallow Hill welcomes Miguel Espinoza Flamenco Fusion to our Daniels stage, with Bill Kopper opening!
When and where
Location
Swallow Hill Music - Daniels Hall 71 E. Yale Avenue Denver, CO 80210
About this event
Miguel Espinoza Fusion twists jazz, flamenco, Cuban and classical Indian musical forms into intoxicating journeys that thrill audiences! Described by Guitar Player Magazine as "mesmerizing", Miguel Espinoza has recorded and performed with Bela Fleck, Kai Eckhardt, Kitaro, Tuck and Patti, Rita Moreno and Ben Vareen. April 2022 saw the release of their third CD - Living in a Daydream - featuring Grammy-winning pianist and Hamonicist Howard Levy.
Miguel Espinoza Fusion performs to sold out audiences across Colorado, and were the honored winners of Denver's Westword Magazine 2019 "Best of World Music." Their first CD, Turtle Dreams, is the winner of Indie Acoustic's Best Instrumental Album of 2019 - full of original music that has been described as "colorful and vibrant", "emotional", a "stunning combination of jazz, flamenco, and subtle world music", and "sophisticated rhythmic elements…emotional, natural and organic". Their second CD, Veneta, was released in August 2020. Visually and aurally stunning, with flamenco/jazz guitar, fiery cello, riveting salsa and Indian tabla, a Miguel Espinoza Fusion show is like nothing else!
Miguel Espinoza is hailed as one of the best flamenco guitarists in the world. Described by Guitar Player Magazine as "mesmerizing", Miguel is much more than a virtuoso technician. Whether his lightening-fast fingers are skittering across the fretboard, fluttering over the sound hole like percussive hummingbird wings, or skillfully drawing achingly beautiful melodies out of the strings, Miguel's award-winning compositions create an exotic, intoxicating musical elixir of flamenco fusion-one that is as sonically exciting as it is emotionally moving. Miguel has performed both nationally and internationally at notable venues (Red Rocks and Macky Gardens, among others) and has shared the stage with artists such as Kitaro, Tuck and Patti, Rita Moreno and Ben Vareen. He has also composed and recorded music for feature films and documentaries. In addition to performing, he offers private lessons, workshops and masterclasses.
Randy Hoepker has a long career performing various styles on bass, guitar, and saxophone. He enjoys teaching jazz improvisation and arranging, coaching chamber music, and bringing unique musical experiences to audiences and performers. Randy has been the conductor of Colorado Brass, one of Colorado's top professional ensembles, and he has guest conducted ensembles in Asia, Europe, Mexico, and across the United States, including the Banda Sinfónica Juvenil de Yucatán, the Corpo Musicale di Cortina d'Ampezzo, and the Hebei Symphony Orchestra.
Dianne Betkowski has performed, toured and recorded with the St. Louis, Utah, Honolulu and Colorado Symphony Orchestras. She is also a composer whose works have been performed by the Rochester Philharmonic, and the National, St. Louis, Houston, Honolulu and Colorado Symphonies, among many other groups. Her book, How to Get To Carnegie Hall: A Weekly Music Practice Schedule, is in its second printing. Dianne is the founder and former director of Denver Eclectic Concerts, now known as MAS-Eclectic. She and her Flamenco Fusion colleagues have recently started a unique music camp, Urban Arts Music. In addition to performing with MEFF, Dianne enjoys teaching cello, performing and coaching chamber music, and inspiring musicians of all levels.
Andy Skellenger plays Indian tabla as well as cajon. As a tabla player, Andy is one of only a few westerners to earn a place among the ranks of Hindustani Classical musicians. He is also one of the foremost builders and players of the cajon in the United States. He has shared the stage with All India Radio "A-Rated Artists" Indrajit Baerjee and Samir Chatterjee, top Iranian musician Davood Azad, DJ Cheb I Sabbah, Ayla Nereo, award-winning vocal ensembles from the Denver School of the Arts, the Boulder Chorale, andmany others. Andy is a regular member of numerous ensembles in the Denver-Boulder area, including The Matt Skellenger Group, Fortunato, Jam Key Jam, The Sheela Bringi Ensemble, and Miguel Espinoza Flamenco Fusion
Mario Moreno is a drummer and percussionist, born in Torreón Coahuila Mexico. He moved to Colorado at the age of 17 and joined Denver's music scene as a dancer at the age of 18. Soon after, he began percussion lessons at the age of 19 with Thomas Ball. By then, both music and dance were of equal interest to him for the next 4 years . At the age of 23 he met a drum teacher, Juan Ordóñez, who influenced him to focus his talents on music. After hard work and practice, Mario started to be recognized by Colorado local musicians and eventually had the opportunity to play with popular Latin Bands such as Oro Sólido - Merengue Band and El Gringo De La Bachata. He had the opportunity to play a live performance at Red Rocks Amphitheater in Colorado with Jyemo Club in 2017. Currently Mario plays with Miguel Espinoza Flamenco Fusion and Jyemo Club, and he has also started his own YouTube Channel related to drum and percussion content, Mario Moreno Drums.