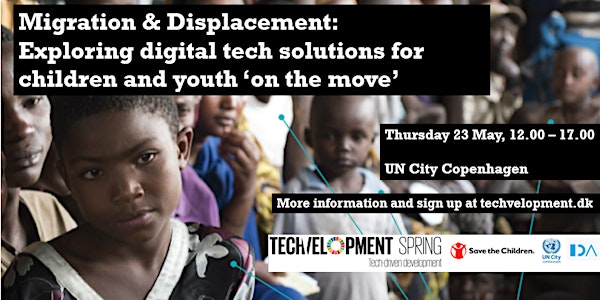 Migration & Displacement: exploring tech solutions for children on the move
Location
UN City
51 Marmorvej
2100 København Ø
Denmark
Exploring digital technology solutions for children and youth 'on the move'
About this event
Approximately 36 million of the world's displaced people are children – a number that has doubled within the past decade. The rise in child displacement worldwide is occurring across a rapidly changing technological landscape. Children and youth will continue to be the most likely displaced and the most disproportionately impacted by crisis unless innovate initiatives are designed to support forcibly displaced children and their families.
Humanitarian actors are increasingly turning to new digital technologies and innovations like blockchain, biometric-verification devices, predictive analytics and remote sensing to engage with displaced populations on the move. Harnessing the power of the digital revolution represents a massive opportunity for humanitarian and development actors to broaden an understanding of the risks and challenges faced by children on the move.
This seminar brings together innovators, digital technology experts, humanitarian aid practitioners and academics to take stock of the current technological developments for children and youth on the move. We invite participants to join a critical reflection on the ethics, impact and evidence of existing and emerging digital technologies to address challenges of providing mental health and psychosocial support (MHPSS) and providing quality education for displaced children and youth. Participants will explore both the opportunities and limits of digital technological innovations to address the rights and needs for children and youth on the move.
Programme
11.45 – 12.00 Security and registration into UN City
12.00 – 12.30 Sandwich lunch
12.30 – 12.35 Welcome to UN City and TechVelopment
Lars Peter Schaumburg-Levy, Head of the UN City Public Diplomacy & Communications Office
12.35 – 12.40 Introduction to the event
Alice Moltke Ladekarl, Senior Innovation Advisor, Save the Children Denmark
Session 1: Setting the scene
12.40 – 13.00 The global situation for children and youth on the move
Steve Morgan, Director of the Migration and Displacement Initiative (MDI), Save the Children
Experience being a child in emergency settings: next steps for next generation
David Karorero
Session 2: Opportunities and risks for digital tech
13.00 – 13.15 Promising technologies for populations on the move: presentation of findings and recommendations from MDI report and Save the Children's broader displacement innovation agenda
Josiah Kaplan, Research Advisor, Migration and Displacement Initiative (MDI)
13.15 – 13.30 Exploring ethics, rights and child safeguarding
Kristin Sandvik, Professor in Humanitarian Studies, University of Oslo
13.30 – 13.45 Q&A for session 1 & 2
Session 3: Co-creation opportunities and challenges
13.45 – 14.00 Co-creation in the education space
Charley Wright, Connected Learning Specialist, UNHCR
14.00 – 14.10 Providing digital insights to NGOs in humanitarian settings
Pinar Okur, Senior Humanitarian and Development Advisor, Upinion
14.10 – 14.30 Coffee break
Session 4: Dilemmas of digital tech in context
14.30 – 15.00 Digital tech solutions in education for children and youth – examples from Save the Children
Luke Stannard, Education and Technology Advisor, Save the Children Norway
Human-centred design for engaging children and youth refugees – examples from Sky School
Mia Eskelund, Co-founder and Co-executive Director, Sky School
Key considerations for developing MHPSS digital technology for children and youth on the move
Leslie Snider, Director, Global MHPSS Collaborative for Children and Families
Session 5: Exploring digital tech solutions to address the challenges for children on the move
15.00 – 16.00 Workshops - focus on MHPSS, Education and Ethics & Human Rights
16.00 – 16.50 Presentation of workshops and Q&A
16.50 – 17.00 Closure and networking
Practical information
This seminar will be held in English.
Participation is free of charge, but registration is required. Please use our online registration and sign up no later than 21 May 2019 at 12.00.
Participants must bring photo ID and go through security to get access to the UN City. Names used during registration will be shared with UN City for security reasons.