Event Information
Location
Microsoft Tech Center (June 3) & General Assembly (June 4-5)
Description
About 400,000 people are detained over their immigration status every year – twice as many as those held in federal prisons on criminal charges such as murder, sex offenses and extortion.

U.S. policy has evolved over the years to treat many immigrants as criminals. And the immigration enforcement and detention system raises questions similar to that of the criminal justice system: Are people of color being racially profiled? How does enforcement affect police-community relationships? Who is making money from this mass incarceration?
Join us and help uncover the trends and stories hidden in the data at Migrahack, an innovative immigration data hackathon organized by the Institute for Justice & Journalism.
Our FREE training and hackathon weekend in downtown Chicago, JUNE 3-5, will bring together journalists, developers, designers, nonprofits and community members. We'll teach you how to use tech tools to analyze and visualize data to translate policy and numbers into journalism stories. We'll form diverse teams to create projects to be shared in social media and traditional media.
WHAT'S IN IT FOR YOU?
FREE training in data visualization and storytelling tools
Mentoring from top trainers including David Eads of NPR Visuals/Free Geek Chicago, Wilson Lievano of the Wall Street Journal, Darryl Holliday of City Bureau and Lucio Villa of the San Francisco Chronicle
Connecting with other people passionate about social justice and technology
Creating projects that will influence public debate about immigration and the criminal justice system
CASH PRIZES! We have $5,000 to give away for the best projects.
Training, food, data and prizes -- we'll provide them, but space is limited. WE HAVE SOLD OUT OF TICKETS FOR COMMUNITY ORGANIZERS AND NONPROFITS. LIMITED TICKETS AVAILABLE FOR JOURNALISTS AND PROGRAMMERS ONLY.
Check out our projects at previous Migrahacks.
Register for both the Training Day & Hackathon
Friday, June 3, 2016

@ Microsoft, 200 E. Randolph Drive #200, Chicago
8:30 a.m. to 5 p.m. Data visualization workshops. Our Migrahack mentors will introduce you to the latest data viz tools. We'll have a whole host of fun learning activities for you to try out -- data mapping, interactive journalism tools, infographics, data animation and more. Check out the full agenda here.
5 p.m. MIXER, DINNER and the RACE BEGINS! We will be forming teams during the mixer as well as brainstorming project topics for the weekend.
Saturday, June 4, 2016
@General Assembly, 444 N. Wabash, 5th floor, Chicago
9 a.m. to 9 p.m. The fun continues with an all-day hackathon. Work with your team to produce your amazing project! We will provide food and drinks.
Sunday, June 5, 2016
@General Assembly, 444 N. Wabash, 5th floor, Chicago
9 a.m. to 12 p.m. Continue working and eating. Teams will pitch their projects starting at 11 a.m.. Pitches are limited to three minutes per team.
The only skills you'll need are your enthusiasm and willingness to have a great time at our hackathon. If you know a few programming languages, this event is for you. If you have a desire to learn mapping, basic programming, data animation, or interactive graphics, this event is for you as well.
Check out our data library to inspire project ideas. We'll keep adding data up until the beginning of the hackathon. All data is in CSV, Excel or Google spreadsheets.
Goals:
Create teams with at least one programmer, designer and a journalist, nonprofit staffer or community member. The goal for each group is to build data visualizations projects -- maps, infographics, videos. A good goal for the weekend is to produce 560x400 pixel application that can be embedded into any web page or shared on social media. Check out past projects.
We're looking for:
Journalists

People with an understanding of programming and development workflow (UX/UI visual designers, desktop application developers,mobile application developers,backend and front end gurus, realtime application experts)

Community members interested in transforming and innovating information about immigration and justice system issues

Anyone with energy and enthusiasm for the Hacks/Hackers mission, which is to rethink and invent the future of media through inspiration, education and collaboration between journalists and technologists
Migrahack is an open invitation to anyone interested in migration issues, the justice system, technology, accountability and the stories behind numbers.
Visit our website for more details:
Follow us:
Questions?
Email: ijj@justicejournalism.org
Organizer:
The Institute for Justice & Journalism, a nonprofit based in Berkeley, Calif., seeks to strengthen journalism about social justice issues by organizing trainings, funding story projects and fellowships and developing digital tools.
Event sponsor:
The Four Freedoms Fund, a collaborative fund of NEO Philanthropy, seeks to secure the full integration of immigrants as active participants in our democracy.
Event partners:
General Assembly, a global education company, teaches 21st-century skills like user experience design, web development, digital marketing, product management and data analytics through events, multi-hour workshops and part-time and full-time courses in an education-to-employment approach.
Microsoft is a leading technology company that helps people and businesses throughout the world realize their full potential. Microsoft Technology Centers help people envision, design and deploy solutions to address the toughest business challenges.
InterWorks is an all-in-one IT and data consulting firm based out of Stillwater, OK with consultants and offices positioned globally. With years of experience, InterWorks maintains strategic relationships with industry leaders like Tableau Software, Dell and an extensive network of partners.
Chi Hack Night is a free, weekly event in Chicago to build, share and learn about tools to create, support and serve the public good.
Northwestern University Knight Lab is a team of technologists, journalists, designers and educators working to advance media innovation and education.
*** By registering and entering your email, you are agreeing to receive email communications from the event organizer, sponsors and partners.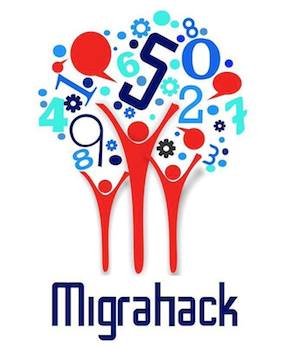 Date and Time
Location
Microsoft Tech Center (June 3) & General Assembly (June 4-5)