Description
Migos
at Muse Event Center in Downtown Minneapolis during the BIG GAME weekend!
Muse Event Center is located in the heart of the North Loop in Downtown Minneapolis
Muse Event Center, the three level top event destination in the Minneapolis North Loop just a few short blocks from US Bank Stadium, is playing host to one of the world's biggest performers: Migos.
Muse is a state-of- the-art 10,000 square foot event center built for performances in a grand ballroom with a mezzanine level providing incredible site lines. The venue has theater quality lighting, sound, staging, and production, and it is unprecedented to see acts of this caliber in an intimate setting such as Muse Event Center.
Paying with cash? Stop by
Union Rooftop
and purchase them in person with cash!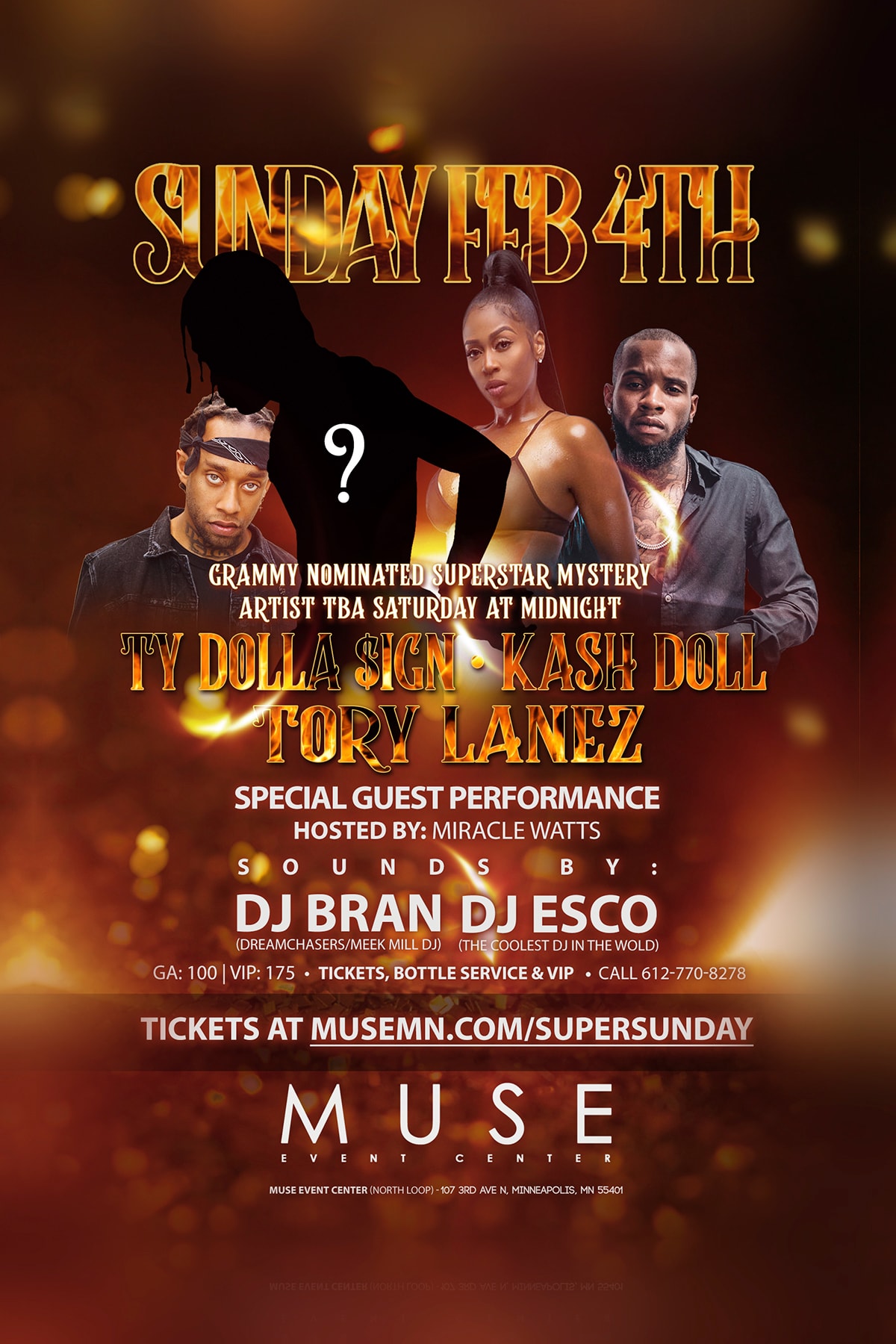 This event is 21+ - IDs are required for entrance.
General Admission Tickets Available
VIP - Open Bar Tickets Available
VIP Bottle Service Packages Listed Below
*Bronze* - VIP Bottle Service - 21+
4 Admission Tickets - 1 Bottles of Premium Vodka - 1 Bottle of Premium Tequila - 1 Bottle of Premium Cognac - 1 Bottles of Champagne *Taxes & Fees Added
**Silver** - VIP Bottle Service - 21+
6 Admission Tickets - 2 Bottles of Premium Vodka - 1 Bottles of Premium Tequila - 1 Bottle of Premium Cognac - 2 Bottles of Champagne * Taxes & Fees Added
***Gold*** - VIP Bottle Service - 21+
8 Admission Tickets - 3 Bottles of Premium Vodka - 2 Bottles of Premium Tequila - 1 Bottle of Premium Cognac - 3 Bottles of Champagne- *Taxes & Fees Added
****Platinum**** - VIP Bottle Service - 21+
10 Admission Tickets - 3 Bottles of Premium Vodka - 2 Bottles of Premium Tequila - 1 Bottle of Premium Cognac - 4 Bottles of Champagne *Taxes & Fees Added
*****Diamond***** - VIP Bottle Service - 21+
14 Admission Tickets - 4 Bottles of Premium Vodka - 2 Bottles of Premium Tequila - 1 Bottle of Premium Cognac - 5 Bottles of Champagne *Taxes & Fees Added
No refunds will be given for this event