Description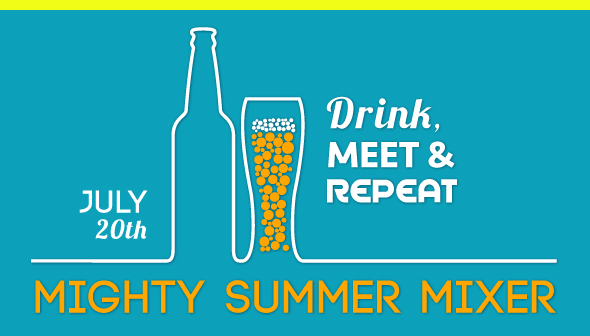 Not going to lie, we LOVE a good mixer and every year the Mighty Summer Mixer gets better. So, no surprise, we're doing it again!!


This year we'll be joining forces and cross pollinating the awesome folks from Boulder Startup Meetup, Caffeinated Mornings, Women Who Startup, Analyze Boulder, and (of course) SheSays Boulder. We can't imagine a better time than HH in July for a cold one in good company with these killer communities.
There are no rules or expectations, but please...don't come with "selling" in mind.
This is about connecting and building community. Great things (including business) are bound to come from that wellspring of goodness. ;D

So plan to have a drink or two, meet great people, and feel free to start any conversation with "How can I help you?" or chat about some of life's great questions.

Let's raise glass together!

WHAT TO EXPECT
Casual vibe.
Awesome drinks & foods (for purchase)
Interesting folks with mad data, startup, & creativity skills.

WHEN & WHERE
JULY 20th
5:30-7:30pm (happy hour ends at 6pm)
@ The Bohemian Beirgarten



THANKS TO OUR SHESAYS BOULDER SPONSORS

IBM - Food & Drinks
SoftLayer is proud to support SheSays Boulder, and offer the Catalyst incubator program as a perk to its members. Learn about the server credits, mentorship, and connections that are included in Catalyst.
Boulder Digital Arts - GOLD SPONSOR
For 10 years, BDA has been a community-powered resource for people who create things. Whether you work in film, photography, design, technology or business, we seek to empower your creative process with membership, education, events, community and collaboration. They're happy to support SheSays and offer members awesome discounts! --WE <3 BDA!!
TapInfluence is the leading influencer marketing automation solution for brands and agencies.We make it easy to build, execute, and maintain successful influencer marketing programs.
Siren Vid - Video Production & Content Creation
Siren Vid is a Boutique Video Production Company that specializes in bringing artistic vision to commercially based video content in the form of Brand Story's, Interactive Videos, Product & Event Videos. From concept to completion, we work closely with our clients to ensure the final product is not only a direct reflection of their vision, but are emotionally compelling and have a cinematic flair.
Galvanize Boulder - Event Space
Galvanize is a network of modern campuses and co-working spaces where you can learn the skills, knowledge, and network you need to make an impact. Learn. Work. Grow.