Description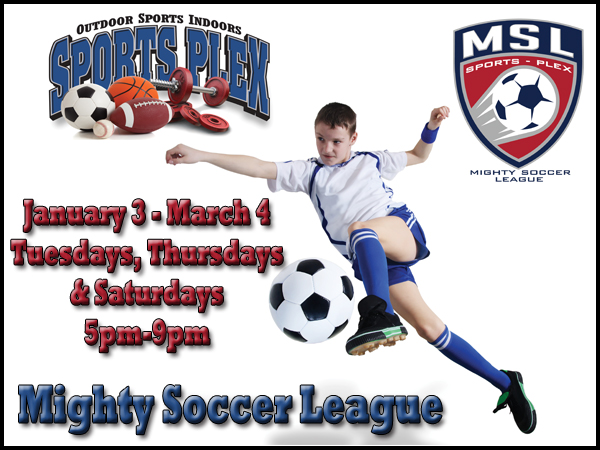 The Mighty Soccer League Advanced is a youth league to develop and strengthen skills to play Soccer.

The MSL provides a fun, safe and competitive learning environment that enables players to improve their technical skill while playing 8v8 or 9v9 games indoors! Sessions include proven skill development strategies that combine athletic, technical and tactical skills that lead to continued success on the field. Following a skills/mobility warm-up, players will select teams and play games on the full field. ALL players are welcome to join! The league is open to INDIVIDUALS and TEAMS. Call (406-208-9724) or e-mail (microsoccer1@gmail.com) Steve Gertsch should you have any questions.
This league will take place Tuesdays, Thursdays and Saturdays from 5-9pm and the final Saturday March 4th will be the Mighty Tournement at 10am

Shin guards are mandatory and rubber cleats are recommended.
Cost for participation is $75.00
Each player will receive a jersey and full instruction and education on each aspect of Soccer such as kicking, passing and shooting.
Lifetouch is the official photographer of the MSL and will conduct all team and individual photos during the season.
Deadline for registration is Monday December 26thth so we can order jerseys in time for he first week of games
*no refunds will be given after December 18, 2016. Any eventbrite refund comes with a processing and jersey fee deducted.