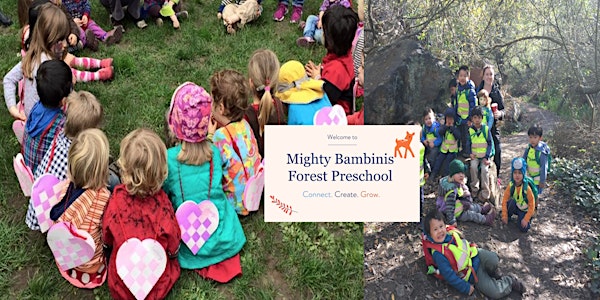 Multiple dates
Mighty Bambinis - Southern Marin Forest Preschool - Open House
Mighty Bambinis Forest Preschool is now enrolling for Summer and Fall 2022. Nature-immersion, Reggio, child-centered preschool
Date and time
March 13, 2021 · 9am - January 21, 2022 · 2:30pm PST
About this event
What is Mighty Bambinis Forest Preschool?
A nature-immersion preschool where children thrive in connection with others and nature; create and learn through play and project-based inquiry; and grow in self-knowledge and confidence.
AND a community where parents learn positive, connection-based parenting approaches and support each other during the preschool years and beyond.
Join us to learn about our program, meet our director Evelyn, and how to enroll.
One of our current families (both parents are psychologists) said it best.
"Thank you so much for creating such a wonderful environment for my daughter and all the children. That they are comfortable and at home is just obvious! Thank you for your journals at the end of each day! Your work reminds me of this quote from Bessel van der Kolk: "If you feel safe and loved, your brain becomes specialized in exploration, play, and cooperation; if you are frightened and unwanted, it specializes in managing feelings of fear and abandonment."
--
What set's Mighty Bambinis apart?
~Expert teachers focused on connection. Our teachers have Masters and Bachelors in Education and Art who have taught at San Francisco's best Reggio and Project-based programs including La Scoula. Teachers are trained in Positive Discipline, Hand in Hand Parenting, RIE Foundations, Mindsight Institute (Dan Siegel Whole Brain Child), and more.
~Convenient locations, rich ecological habitats. We meet in Mill Valley at easy to access incredible habitats including oak forests, estuaries and marshes.
~Parent Education program and Community Events. That means we foster community through family thoughtful get-togethers during seasonal celebrations and outside of school informal playdates and larger events like camping trips. We also have a robust parent education series for families taking you through an 8 month journey (1 night a month for 8 months) to learn and develop skills, problem solve and workshop with other families and build a long-lasting community of supportive like-minded families for the preschool years and beyond.
~Consistent & Safe Care - Our program is outside and small cohort. All teachers are vaccinated. We believe that forest school is the safest place for children during this pandemic, not to mention the best classroom to spark their love of learning, nature and authentic connection to others and themselves. In the event of poor air quality, we're one of the only forest preschools with a backup indoor location.
Preschool Program
Monday - Friday 9am - 1pm
1, 2, 3, 5 day openings
Ages: 3 to 6 years old
Potty trained required
Where: Mill Valley parks
---------------
Meet our Director, Evelyn
I am very fortunate to be the director of our small, mixed-age preschool where I get to blend the best of best of connection-centered, project-based and democratic early childhood philosophies. Each day we strive to practice and embody respectful, loving relationships where children, parents and teachers are seen, heard and valued. We are honored to see the world through the wondrous, present eyes of children - as scientists experimenting with and discovering the world.
I have spent the past 17 years helping children construct their own understandings and lighting a life long passion for learning. In addition to directing and teaching at Mighty Bambinis, I'm honored to have served the Bay Area early childhood community as CCSF Child Development Faculty, former Wonderschool Mentor Teacher and Advisor, and Early Childhood Matters parent education workshop facilitator.
I have a Masters in Education, California Multiple-Subject Teaching credential with an Elementary Math Emphasis, Early Childhood Education Site Supervisor Permit, and a BA in Communication from UCSD.
Learn more about our amazing teachers! https://www.mightybambinis.com/about-us