| | |
| --- | --- |
| MIG Welding Intensive Gift Certificate | |
Event Details
Welding For the D.I.Y. kind.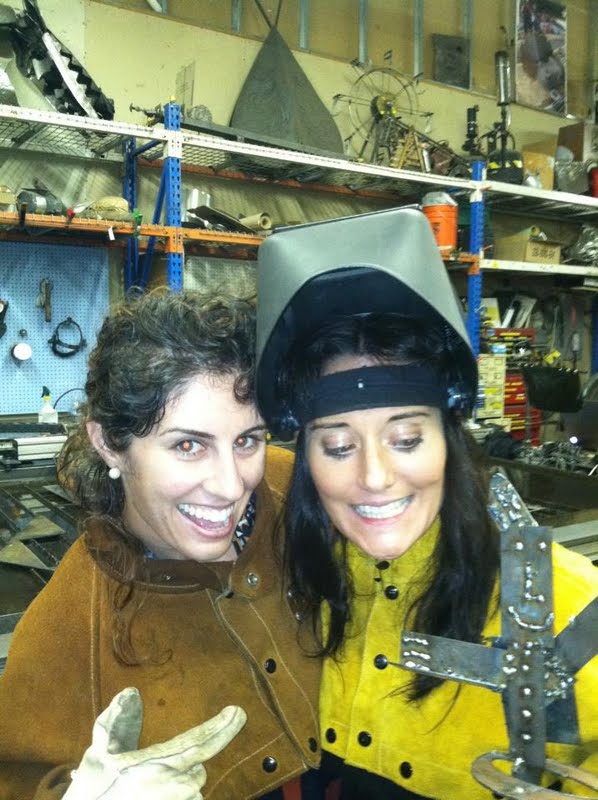 Welding For the D.I.Y. Kind: MIG Welding
Most Saturdays: 10:00 AM to 3:00 PM (PT)
1300 S. Dearborn, Seattle, WA  98144
"Dynamite Class"
5 out of 5 stars, Ian Klein, Seattle, WA
"Rusty Is Radical. Great experience, great instructor!"
5 out of 5 stars, Mackay Cadell, Seattle, WA
IMPORTANT: Day of, please come dressed in natural fabrics like cotton (no synthetics) and heavy closed-toe shoes.
Metalwork is a lot like having super-powers! This five hour MIG welding class is designed to familiarize you with the required equipment and establish your confidence so you feel comfortable welding on your own. You will be introduced to different machines and can expect to walk out of the class ready to weld safely and independently. The workshop fee includes all shop materials and equipment; just show up.
This class is for complete beginners, no prior experiance is necessesary.
The small class size allows us to provide specific and focused instruction, if you are not a total novice you will be learning more advanced techniques.
MIG welding (also called Metal Inert Gas or GMAW) is the easiest type of welding to learn. We strongly reccomend students begin with MIG welding on steel before attempting other more difficult processes like TIG (tungsten inert gas) or oxy-acetylene or arc (stick) welding. 
Instructor Bios: Rusty Oliver is an artist and instructor with fifteen years of professional welding experience. He is certified for Structural Unlimited welding, and runs a high-end fabrication business. Rusty welds and works every conventional metal and has taught casting, machining, blacksmithing, electronics and foundry-work. Rusty has taught hundreds of students, including adults and youth. His students recommend him for his ability to explain how to make professional welds quickly and effortlessly. Rusty has instructed at the Coyote School students, Pratt Fine Arts Center, and South Seattle Community College.
Chris Tran is a Union Ironworker and artist, currently completing a degree in Construction management at UW. She is also studying 3-d printing and teaching Industrial Curriculum at South Seattle Community College Duwamish Campus. Chris is an outstanding instructor, and she especially enjoys teaching beginners how to weld.
Welding is for everyone, and All Metal Arts welcomes people of every age, gender, sex, nationality, creed, tax bracket and whatnot. We teach in a space that is safe in every way so that we can take creative risks.
Questions? Email contact (@) allmetalarts.com
Save This Event
Organizer
Rusty is the business owner of Hazardfactory, he is also Rusty Oliver. He does all his own stunts.