About this Event
¡Hola amigos!
Horizon Rider Entertainment welcomes you to the 1st annual Midwest Taco & Tequila Festival! We are so excited for you to attend one of the biggest festivals in the Midwest at the newly renovated River's Edge! Here are some of the main attractions of the festival:
• Admission includes FREE tequila cocktail or beer (21+), access to pools, water slides, mini golf and volleyball.
• Taco trucks
• Dessert trucks
• Roasted Corn
• Full lineup of music (lineup shown on flyer below)
• Beer tent sponsored by La Doña Cerveceria
• Tequila tent sponsored by Los Osuna Tequila
• Local vendors
• Kids area/games and prizes
• Mariachi River Duck Race along the Apple River (details under image below)
• Tubing along the scenic Apple River (can be purchased at www.AppleRiver.com)
• Camping packages (can be purchased at www.AppleRiver.com)
• Official after party begins at 9PM at The River's Edge Event Center featuring AKKO and DJ Swurve.
We'll see you there!
www.MTTFestival.com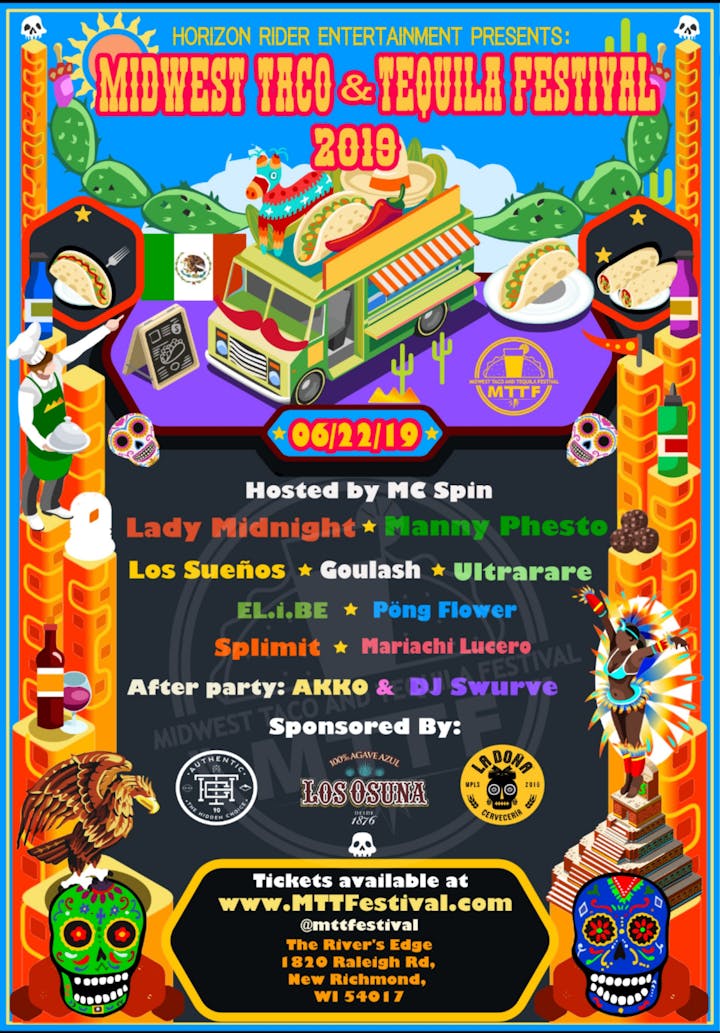 Official Music Lineup for the Midwest Taco & Tequila Festival 2019!
The 1st annual Mariachi Duck River Race will be taking place along the Apple River on Saturday, June 22nd! There will be 3 rounds throughout the day (2pm, 4pm & 6pm). Participants pay $2 to register a Mariachi Duck that is labeled with a number. 40 person cap per round. On the count of "3!" participants will throw their duck from the designated starting point into the river and the epic race begins. There will be a designated end point that is netted off where 1st-3rd place ducks will be retrieved. Winners will receive a prize!