Midwest Lindy Fest 2013

Ends Monday, May 13, 2013 at 3:00 AM
Who's Going

Loading your connections...
3 of your friends are going.
Share it to get more people on board!
Share

Sara Haughty
San Francisco, California

Luke Picard
London, United Kingdom

Rick Vespucio
Florence, Italy
Event Details
NEW:

Level 1 crash course in lindy hop added.

Instructors
Nick Williams
Nikki Marvin
Todd Yannacone
Pamela Gaizutyte
Jon Tigert
Heather Ballew
Alain Wong
Gen St. Lo

Bands
Gordon Webster
Patty and the Buttons
Robert Bell
Details
N i c k  W i l l i a m s  a n d  N i k k i  M a r v i n
His successes include World Lindy Hop Champion, US Open Swing Dance Champion, American Lindy Hop Champion, National Jitterbug Champion, International Lindy Hop Champion, Ultimate Lindy Hop Showdown Champion, American Classic Balboa Champion and California Balboa/Swing Champion. He is also an accomplished choreographer and has been featured on the hit television show So You Think You Can Dance. As an instructor, he is known for his ability to break down movements and technique to create a fun and light-hearted learning environment. His true love of music and dancing will forever inspire him to learn, teach, and grow. In 2004 and 2010, Nick was honored to be recognized by the California Swing Dance Hall of Fame. Read more about Nick Williams at his website.
Nikki Marvin is a woman of many talents. Wife, mother, and ATOMIC Ballroom owner by day, Champion Lindy Hopper by night! Nikki travels the world teaching, performing and competing.
In 2007, Nikki was a featured performer on ABC's hit show Dancing with the Stars and in 2009 she was a featured dancer for Katy Perry's music video Thinking of You. Nikki is also a prominent member of one of the largest Swing Dance scenes in the world as well as an organizer of the Orange County Swing Dance Club, 24 Hour Cancer Dance-A-Thon, Inspiration Weekend, and founding member of the all female dance troupe the ATOMIC Cherry Bombs. In November 2010, Nikki was inducted into the California Swing Dance Hall of Fame!
Read more about Nikki Marvin at her website.
Nick and Nikki are both members of the performance dance troupe Hot Club Stomp. To find out more about HCS, please visit: hotclubstomp.com
L a u r a  G l a e s s  a n d  M i k e  R o b e r t s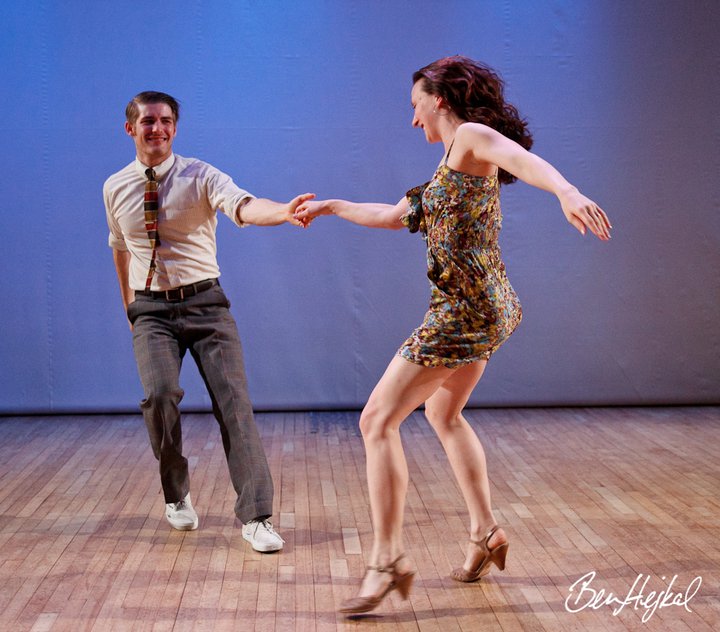 Laura and Mike feel incredible joy while they are dancing, and it infects everyone around them. Like some kind of crazy joy-plague. That is why they dance as often as humanly possible and travel all around the globe competing, teaching and just plain social dancing for the fun of it: because they want to bring about world peace through the power of dance. They have a healthy dose of competitive titles, but, more than that, their inspiring, enthusiastic approach to Lindy Hop and Blues invigorates their students and the dance floor. Plus, they're totally married. How cute is that? Laura and Mike share a teaching company, The Lindy Project with Scott Angelius, where they teach Lindy, Swing and Blues to the Austin locals. More about Laura More about Mike
T o d d  Y a n n a c o n e  a n d  
P a m e l a  G a i z u t y t e
Todd Yannacone is one of the most recognizable names on the swing dancing circuit today. He has won countless championship titles from the most prestigious competitions around - The American Lindy Hop Championships, The Ultimate Lindy Hop Showdown, The U.S. Open Swing Dance Championships, The National Jitterbug Championships, The Rhythmic Arts Festival, Lone Star Championships, The International Lindy Hop Championships, Lindy Focus - to name just a few.Todd has been inducted into theCalifornia Swing Dance Hall ofFame, and has been interviewedfor articles by Swing DancerMagazine as well as variousother publications. He teachesvernacular jazz, balboa, lindy hop, and other vintage swingdances both locally and internationally, and lovesspreading his passionfor social dancing. He has been afeatured instructor, performer, and judge at camps, workshops,and competitions the world over- from the legendary Herräng Dance Camp in Sweden to Asia,across North America, all overEurope, and everywherein between. He specializes in connectionand musicality, which is apparent every time he steps onthe dance floor.He has worked with dance andmusic legends alike, and frequently can be foundperforming and competing withthe acclaimed dance troupe towhich he belongs, the SilverShadows.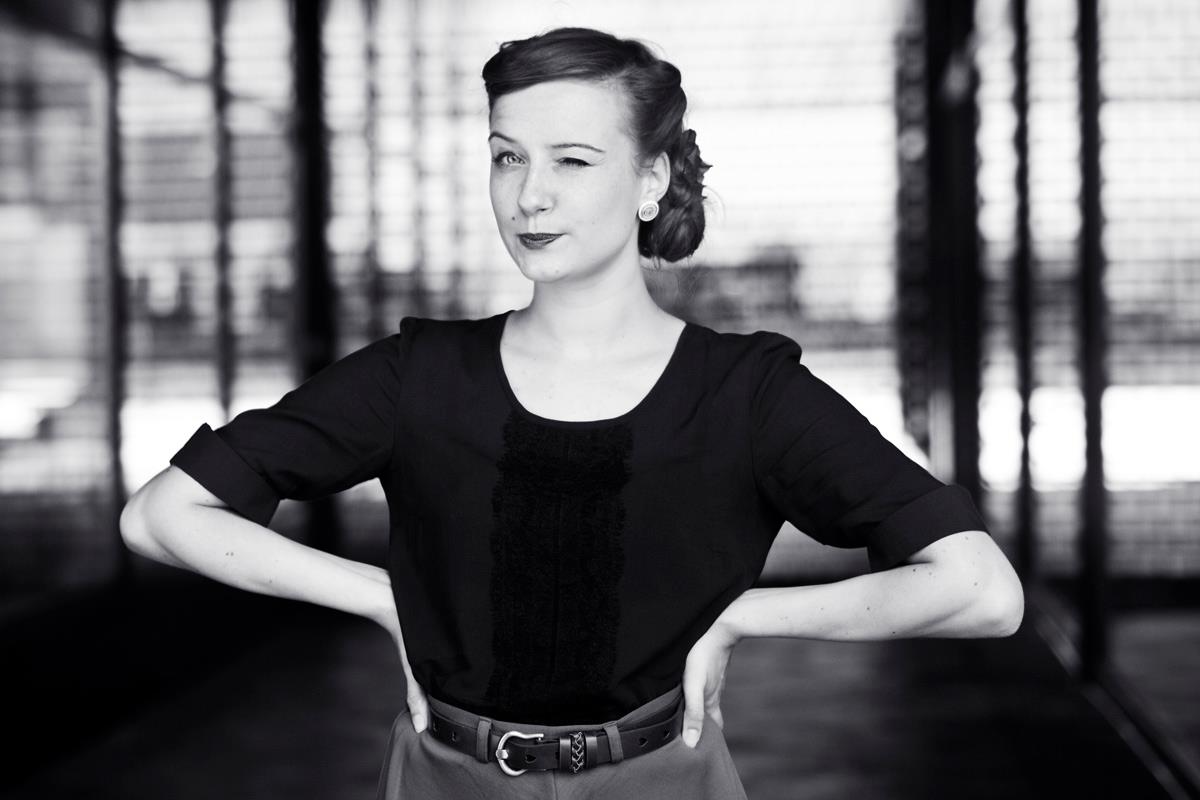 Pamela is based out of Vilnius, Lithuania and found Lindy Hop like many of the youth in Lithuania - in streets, clubs and on the internet. She was noticed immediately after she started - after one year she was already teaching others. Pamela says of her love of dance, "Dawn Hampton once said: 'I dance, because I can't help myself." This saying fits me as well".
E m e l i e   a n d   R e b e c k a   D e c a V i t a
Due to an injury, Emelie and Rebecka will not be able to join us this year.
A l a i n  W o n g  a n d  G e n  S t .  L o
Alain Wong has been swing dancing for more than 10 years, contributing to the thriving Montreal scene through the McGill Swing Kids and Cat's Corner, a swing dance school where he still teaches today. This guy loves to dance, and does it well, emphasizing musicality and improvisation both in his social dancing and in the classes he teaches. Oh, and he's won a few things here and there: 1st place in the advanced Jack and Jill at the 2012 Canadian Swing Championships and the Advanced Strictly Lindy Hop competition at the International Lindy Hop Championships 2011. Check Alain throwing down at ULHS last year: http://www.youtube.com/watch?v=zKyUL79hEls        

Gen St. Lo is a Lindy Hop nut. A dancer since 2005, she's danced just about everywhere you can imagine, picking up accolades and hardware all over the place, including Strictly Lindy wins at Lindy Bout, Boston Tea Party and Swing A Dance, as well as a recent Advanced Jack and Jill victory at Beantown Camp. Also she's a two time Canadian Team Champ, dancing with Swing Connexion. Oh, and maybe she's pulled down a second-place at Camp Hollywood with her team. Oh, and also a second-placing at ILHC. So she's a big deal, okay? When she's not representing Canada, Gen teaches regularly in Montreal, and travels extensively through Canada sharing her love of the dance and her positive attitude with audiences all across the Great White North. Here's Gen performing with Anaïs Sékiné at Montreal Swing Riot 2013. Pretty bomb: http://www.youtube.com/watch?v=oXh9gXJPJ7k
J o n  T i g e r t  a n d  H e a t h e r   B a l l e w
Jon Tigert is a nationally recognized Dancer, Choreographer, and Teacher in the Swing Dance community. He has performed with numerous other dancers and musicians across the country, including debuting Lindy Hop at Jacob's Pillow Dance Festival with Swing FX. Since 2009, he has been teaching and performing around the country as well as for Naptown Stomp, the premiere swing dance organization in Indianapolis. Outside of dancing Jon is a young but accomplished singer/actor, and above all else, Jon is an advocate of the arts, and loves what he does, and hope to spread that joy to audiences and students throughout the nation. Read more about Jon at his website.
Heather Ballew has always been drawn to music and movement. For two years she taught ballroom, latin, and swing dancing at World of Dance in Denver. A regular competitor at events around the country, Heather has performed and competed with Denver's champion swing dance troupe, 23 Skidoo, and has been an instructor at Beantown Summer Camp, Balboa Rendezvous, Rock That Swing, and Provence Swing Festival. She holds titles from Camp Jitterbug, ILHCs, Camp Hollywood, All Balboa Weekend, and Canadian Swing Championships, but her proudest dance achievement to date has been organizing and growing a group of mighty fine dancers in her hometown. She is known for her personal investment in her students' success and is a popular instructor in greater Denver for Lindy Hop, Blues, and Balboa. Read more about Heather at her website.
Musical Guests
G o r d o n W e b s t e r
Midwest Lindy Fest is pleased to present Gordon Webster as the headlining musician for 2013 Pianist Gordon Webster is one of the most sought after musicians in the lindy hop world. His tremendous musicianship and passion, supported by his first-hand knowledge of social dancing, have inspired lindy hoppers at hundreds of dance events worldwide. Drawing on influences as diverse as Fats Waller, Count Basie, Oscar Peterson and Gene Harris, Webster serves up a smorgasbord of styles unified by one characteristic: irresistible danceability. One of the most active and versatile musicians on the scene, Webster maintains ongoing collaborative relationships with a diverse array of jazz/blues and lindy hop luminaries, and is an associate mmber of one of the most popular traditional jazz bands on the U.S. lindy hop scene, the Cangelosi Cards. You should check out Mr. Webster's websitefor more information on him and his music!
P a t t y  a n d  t h e  B u t t o n s
The Buttons formed in the fall of 2008 when accordionist/vocalist Patrick "Patty" Harison returned to his midwestern home. Having been raised in the Minneapolis music scene, he knew just the guys to call. For the past 3 years, Patty had been traveling extensively with Loose Marbles and Panorama Jazz Band out of New Orleans, LA. With Panorama Jazz Band he appeared at many notable festivals including The New Orleans Jazz & Heritage Festival, French Quarter Festival, Veracruz International Jazz Festival and others. The Loose Marbles have been all over the world and back playing street corners, theaters, festivals, plantations, parks, squats, caravans, riverboats, ferries and various other locales to great aplomb. He also spent a year in New York studying and playing with some of the worlds finest musicians. While in NYC, he also founded the Baby Soda Jazz Band which features some off the finest young "hot" jazz players in the world. The Buttons is a continuance of Patrick's love of hot rhythm and happy feet. Patty's eclectic taste gives the band diverse influences including New Orleans Traditional Jazz, Western Swing, Gypsy Melodies, Dust Bowl Ballads, Jug Music and 1930's Popular Song. The core instrumentation of accordion, clarinet, guitar and bass is light and swift, but also beautifully melancholy and lush when it needs to be. The band also performs as a six piece with drums and fiddle for larger affairs. Patty, mostly known as an accordionist doubles as the bands vocalist. His voice is inspired most by the old time hollers and croons from the dawn of recording once described as "Tom Waits meets Rudy Vallee." More than anything, The Buttons is a group that is always enjoying themselves... Which seems to give audiences permission to do the same.
T h e  T w i n  C i t i e s  H o t  C l u b
The Twin Cities Hot Club (TCHC) represents Minnesota in the burgeoning revival of gypsy jazz originally popularized by Django Reinhardt, Stephane Grappelli and the Hot Club of France. They recreate not only the famous la pompe that distinguishes this romantic brand of acoustic jazz but also gypsy bossanova, musette, bolero, and swing. TCHC perform this timeless deep-rooted music that is physical, alive and speaks directly to the heart. TCHC formed in September of 2004 and have been sharing their expressive, "hot" style with audiences ever since. The group has been featured on KBEM Jazz 88.5fm, Minnesota Public Radio, and has received rave reviews in Vintage Guitar Magazine, Acoustic Guitar Magazine, the Twin Cities Jazz Society Newsletter and the Minneapolis Star Tribune. Notable performaces include: author Michael Dregni's book release Django the Life and Music of a Gypsy Legend, Twin Cities Hot Summer Jazz Festival, Ultimate Lindy Hop Showdown, Midwest Lindyfest, Minnesota Sur Seine with Dorado Schmitt, Minnesota State Fair and the Uptown Row Django Jazz Festival to name a few.
The Primary Venue
Dancer's Studio Event Center
DS Event Center is one of the best venues for dancing in the twin cities. For the workshops and evening dances we searched everywhere for a space where the wood floor would be real, not rented, and the air conditioning would be...well effecitive. Dancer's Studio ballrooms have beautiful hardwood flooring, the ambiance of openness, natural lighting from large windows during daytime workshops, and excellent A/C. The facility is equipped with state-of-the-art sound systems, professional lighting and spacious multi-stalled restrooms. The adjacent parking lot can accommodate up to 500 cars, and the building has on-site security. There is even a water fountain with filtered water for refilling water bottles. This venue has it all for a weekend full of dancing.
Additional Venues
Saint Paul Student Center Theater
The show will be in the same theater as last year. U of M St Paul Student Center Theater at 2017 Buford Ave St. Paul 55108
River Boat Cruise
Anson Northrop River Boat: 21+
Join us on Thursday, May 9 for a very special trip down the Mississippi River aboard the Anson Northup, a faithful reproduction of the steam ships from an earlier era. This very special river boat cruise includes a live Jazz Band and local legends Patty and the Buttons. Reunite with friends, make new acquaintances, watch the riverbank glide by and spend an early evening dancing on Old Man River.

This boat ride is hosted by Midwest Lindy Fest Productions. This same weekend they are gathering from across the US in the Twin Ciities to celebrate swing dancing. Friday through Sunday a couple hundred swing dancers will perform, compete, and learn from internationally known instructors. With an emphasis on the social dancing and workshops, Midwest Lindy Festival has grown over 10 years into the premiere swing dancing event for the Midwest.
Thursday night's river boat cruise is a leisurely meet-up. If you hope to catch a glimpse of some dancing you'll have to get up close to the band. Last year this part sold out so it is unclear if we will be making tickets available to the public at this time. You don't have to dress up, but you're welcome to if you want. We're boarding at 6:30 PM and the boat leaves dock at 7PM. The views of the city are gorgeous from the river and the music will set the mood of an earlier era. You don't have to be a swing dancer to appreciate a great time on the Mississippi River.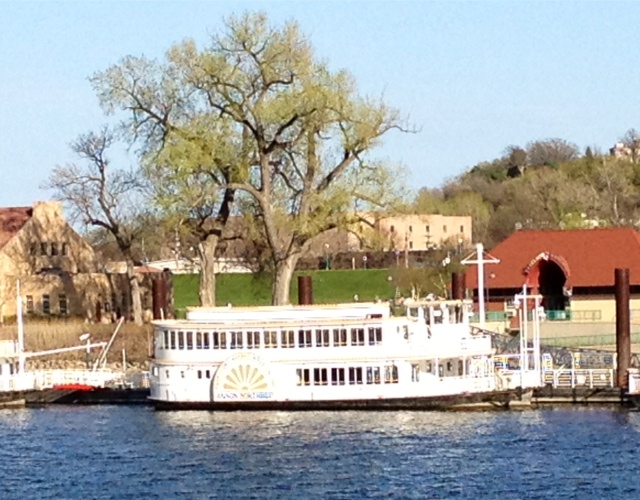 Patty and The Buttons.
Disclaimer:
The University of Minnesota is not endorsing or sponsoring the activities 
conducted by Midwest Lindy Fest Productions on the University of Minnesota 
campus. The relationship between the University of Minnesota and Midwest 
Lindy Fest Productions is solely that of licensor and licensee.
When & Where

Multiple Venues, See confirmation email

Saint Paul, MN


Ends Monday, May 13, 2013 at 3:00 AM
Add to my calendar
Organizer
Midwest Lindy Fest Productions