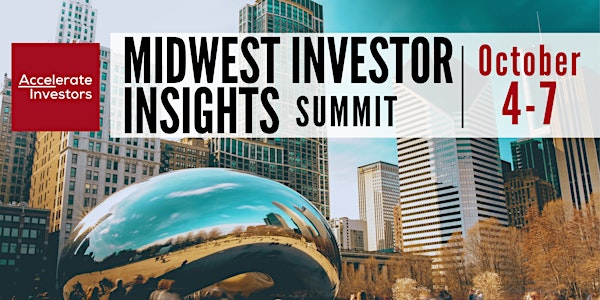 Midwest Investor Insights Summit
Join Midwest Allocators, investment managers, and other industry stakeholders for discussions on topical investment themes.
Refund Policy
Contact the organizer to request a refund.
About this event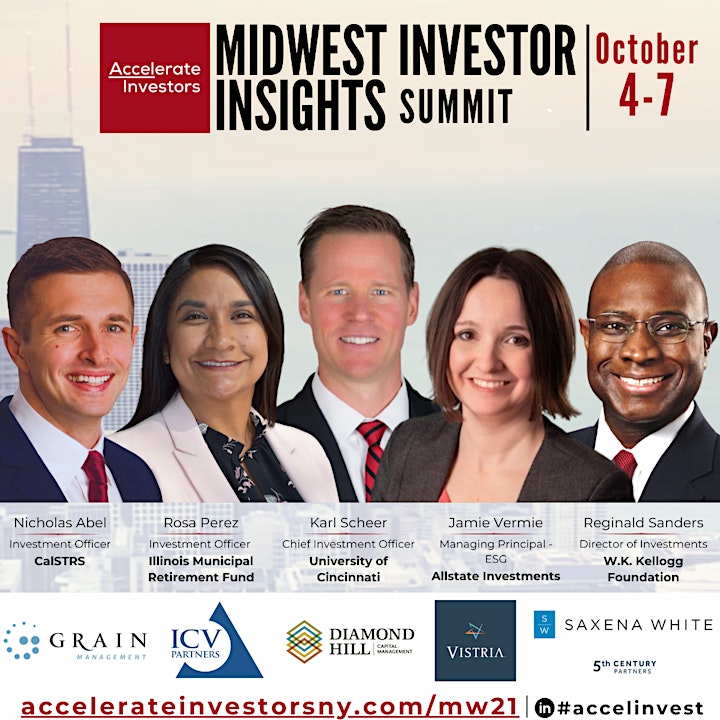 See website for confirmed speakers & updated agenda.
Working Agenda
Mon. | Oct. 4
4:00 PM - 5:00 PM
Asset Owner Roundtable Discussion
(Asset Owners Only)
5:00 PM
VIP Networking Session
(Asset Owners + Sponsors - Invitation only)
Tues - Thurs. | Oct. 5 - 7
3:30 PM - 5:00 PM
Daily Panel Discussions + Q&A
Topics:
Infrastructure and ESG
Much Ado About Inflation
How are Investors Approaching Net Zero?
Investing in Underrepresented Founders
Investment Opportunities in Cybersecurity
Thurs. | Oct. 7
4:45 PM - 5:45 PM
Networking Sessions (Included in All Access Pass)
Networking - Choose Two Tracks (meet in 30-minute sessions with different allocators )
Speaking and sponsorship opportunities available for conferences.
Please fill out your info here and you will be contacted: Sponsor.
Contact us with any questions at hello@accelerateinvestorsny.com
Midwest Investor Insights Summit Advisory Committee
JOHARA FARHADIEH Chief Investment Officer Illinois State Board of Investment
MARQUES HIGHLAND Director Diamond Hill Capital
REYNOLD MARTIN Managing Principal - Infrastructure & Energy Allstate
REGINALD SANDERS Director of Investments Kellogg Foundation
KARL SCHEER Chief Investment Officer University of Cincinnati
2020 Midwest Investor Insights Summit Asset Owner & Allocator Participants:
Allstate
Baltimore City Fire & Police Employees' Retirement System
Battelle
Chicago Teachers' Pension Fund
Crewcial Partners
Employees' Retirement System of the City of Kansas City
Illinois State Board of Investment
Marquette Associates
New York City Pension Funds
Public Employees Retirement Association of New Mexico
Service Employees International Union
University of Miami
University of Cincinnati
Weinberg Foundation