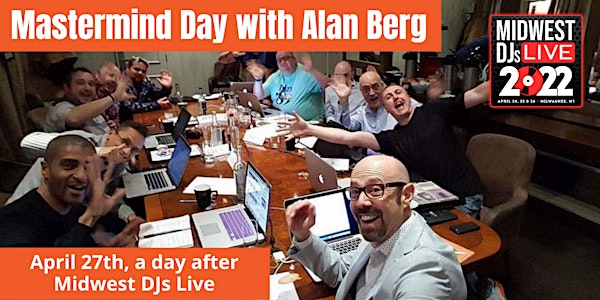 Midwest DJs Live Sales Mastermind Day with Alan Berg CSP
Ready to work ON your business? Join me for a special Mastermind Day, the day after Midwest DJs Live!
About this event
Are you ready to transform your wedding/event business? Come to this exclusive, one-day Sales Mastermind Day with industry expert Alan Berg CSP, right after Midwest DJs Live - learn how to implement the ideas you'll hear at the conference.
This is not presentations, it's diving deep into your communications, marketing and sales.
To keep this conversational, it's limited to 10 businesses (up to 3 people per business depending upon which ticket you buy). Will yours be one of them?
What is a Sales Mastermind Day?
It's a collaborative learning, and consulting session, where up to 10, success-minded businesses, spend the day discussing common sales and business challenges, concerns and techniques, and actually starting to apply those ideas, while you're there. Your guide is Alan Berg CSP, the leading international speaker and expert on the business of weddings & events.
"I've been consulting with Alan for a few years now, however I feel that the intensive day was a whole different approach to the learning experience." -  Raul Chiriboga, Ultrafonk Entertainment, Union, NJ
What kinds of things will we discuss?
Closing more Sales; handling email inquiries; website tips; getting the most out of your advertising; branding; pricing, following up, and more. You could hire Alan privately, but that would cost you many, many times more than sharing the cost this way.
How many people can I bring?
Depending upon which ticket you get each business can have 1, or up to 3 people attending. This keeps the group small enough to make it more conversational, a feature that previous attendees love. Everyone has ideas, and the goal of the one-day Mastermind is to share, with each other. There's a great saying "None of us, is as smart as all of us."
"You have a gift for reading people and knowing how to make them feel successful and empowered." - Ashley Backs, Hello Lovely, Liberty, KS
Lunch is included - so we can get the most out of our time together.
=============================================================
How much does it cost? It's only $795 for 1 person, or $996 for 2 or 3 people from the same business, and it includes lunch.
Full Payment or Easy Payments - You can pay in full now or you can pay in 3 installments, 1/3 now and then 2 more payments before the event.
What should I do next?
If you want to be one of the 10 businesses to participate, click the Green TICKETS Button at the top to reserve your seat!
Have more questions? Here are 3 ways to get more info:
Visit Alan's Website
Call/text Alan directly 732.422.6362
Email Alan: Alan@AlanBerg.com
Organizer of Midwest DJs Live Sales Mastermind Day with Alan Berg CSP
With more than 25 years in sales, marketing and sales management, Alan Berg has been called "The Leading International Expert on the Business of Weddings & Events". He's a Certified Speaking Professional™, the highest earned designation conferred by the National Speakers Association, and one of only 37 Global Speaking Fellows worldwide!
Alan is a featured presenter every year at major industry conferences in North America and internationally. He has extensive sales, sales management and marketing experience ranging from publishing two wedding magazines, to Vice President of Sales and Education at The Knot and now, in addition to public speaking and consulting with venues, caterers, entrepreneurs and local businesses, Alan is also a contributing Education Expert for WeddingPro, the leading source for wedding business education from The Knot World Wide. He also speaks and consults for websites in Ireland, Dubai, India, Australia, the UK, as well as countless venues, hotels, bridal shops, planners, entertainers and more.
Alan has presented on 5 continents, in 14 countries, 5 of them in Spanish, and is the author of the books "If your website was an employee, would you fire it?", "Your Attitude for Success", "Shut Up and Sell More Weddings & Events!", "Why Don't They Call Me? – 8 Tips for converting wedding & event inquiries into sales." and his latest book "Why Are They Ghosting Me?" – all are available in English and Spanish!
Alan speaks to thousands of entrepreneurs and business professionals every year through webinars, live presentations and on-site sales training.
For more information on Alan's website review and consulting and/or sales training services; to get a copy of his books, or to have Alan speak for your company, group or association visit www.AlanBerg.com, contact Alan@AlanBerg.com, text, or call 732.422.6362, international enquiries +1 732 422 6362.