Midwest DJ & Urban Music Conference III

Saturday, May 22, 2010 from 11:00 AM to 8:00 PM (EDT)
Event Details
The Core DJs Presents
THE MIDWEST DJ & URBAN MUSIC CONFERENCE III
May 22nd
At The Duke Energy Convention Center - Downtown
525 Elm Street
Cincinnati, OH 45202
RESERVE YOUR ROOM TODAY AT OUR SPECIAL RATE!
$89 a Night
Host Hotel:
The Hyatt Regency - Downtown Cincinnati
151 W. 5th St
Cincinnati, OH 45202
*Across the street from The Duke Energy Convention Ctr*
CALL NOW FOR YOUR SPECIAL RATE!
888-421-1442
Or LOG ON TO
http://resweb.passkey.com/go/emid
SCHEDULE OF EVENTS:
___________________________________________
Saturday May 22nd 2010
11am-6pm Registration
Duke Energy Center - 2nd Floor
APZ Entertainment Presents:
"Erica P Listening Suite" Hosted by DJ Dimepiece
Room 233
12p-1pm
**Exclusive Giveaways for DJs*
_____________________________________________
*Rooms 230-232*
"Power Player Panels" Powered by Vitamin Water
   1pm-5pm
1pm -1:45pm "Marketing & Branding" Panel
2pm - 2:45pm "How to Work A Record 101" Panel
3pm-3:45pm  "Radio & Records" Panel
4pm - 4:45pm "Music Business 101"
5pm - 5:45pm - "The Artist Meets The DJ" Panel
6pm - 7pm - "Who's The Best in The Midwest" Artist Showcase
REGISTER NOW!
CONFIRMED PANELISTS
Dave Otto - CEO of Dave Otto Printing & Entertainment Graphics 
Tony Neal - CEO of The Core DJs
Derek "The Bigg DM" Jurand - VP of Core DJs/Programming
TJ Chapman - CEO of TJs DJs
Janiro Hawkins - Co CEO of The SEA's, Managment, PR
Drew Rives - Def Jam/Island Def Jam Records
Colby Colb - Program Director / WENZ Cleveland, OH
So Sincere - Publicist / Public Relations
Le'Deanna Brown - CEO of Leak Magazine
Dorian "Lil D" Washington - Manager of Static Major / Ray J / Core Digital / Managment & Consulting
J Alexander - Program Director - 107.9 The Beat - WTBF Lexington, KY
DJ SKNO - Core DJs - Core DJ Radio/Syndication/Dayton, OH
First Lady Khris Raye - Asst. Program Director/ Music Director/ Afternoons / WTLC Indianapolis
La Ronn Harris - Atlantic Records
Bigga Rankin - National DJ / VP of CTE / RNR / Team Bigga Rankin
Cory Sparks - Concrete Magazine *Memphis*/S.I.T. Marketing/Promotions/Consulting 
SImone Party - Program Director, Midday Personality / WIZF Cincinnati, OH
Kermit Henderson - National Music Distribution/Artist Marketing & Promotions/Music Retail Expert/Kermit Henderson, C.O.O.
Jerome Kemp - Label Exec/A&R/GLC Manamgment
GLC - National Recording Artist
DJ Q - B96 Louisville, KY / Core DJs/ Shadyville DJs
Dorian "Lil D" Washington - Static Major Manager/ Label & A&R / Consulting
Judy Jones - CEO of JJ Entertainment / Consulting
Tim Gerard - Program Director B96 / Magic 103 Louisville, KY
Quincy "Big Heff" Taylor - ITW Marketing / Ohio Hip Hop Awards / Marketing & Promotions / Consulting
DJ Woody Woods - Program Director - 98.7 WRVZ - West Virginia 
Young Yonny - Grammy Award Winning Producer "Say Ahh" Trey Songz f. Fabolous
Janie Jennings - CEO of Industry Works
Marlo Martin-Jackson - CEO of Double M Management
DJ G-Spot - CEO of The Entourage DJs, Mixer for Power 92 Chicago
Mac Niff - Super Producer of Garnett Ent, 50 Cent
DJ Drizzle - Hittmen DJs, Congo Records, Beat Gang
Allen Cartwright - CEO of Stremelyne Media
Fate Eastwood - Super Producer for Yo Gotti, All Star, Letoya Luckett
Lucky "The Promo King" - Co-CEO of Twenty4Seven Magazine, The Entertainment Group, Jus Promotions, Heatspinners Radio/DJs
SPECIAL THANKS TO OUR SPONSORS: Dave Otto Printing, The Core DJs, I'm So Cincinnati LLC, Vitamin Water, Guitar Center, M-Audio, Rane Corporation, Radio-One Cincinnati
*MORE TO BE ADDED!*
YOU DONT WANT TO MISS THIS!
ITS BAAAAAAAAAAAAAAAAACK by popular DEMAND!!
The Midwest DJ and Urban Music Conference III

The Midwest DJ and Urban Music Conference will be the biggest industry event to hit the Midwest by far. DJ Dimepiece and The Core DJs our spearheading the event to join the Midwest with the urban music industry's top tastemakers. This will be the 3rd Midwest DJ and Urban Music Conference to be held in Cincinnati, Ohio May 21st-22nd. The 1st & 2nd conference had over 400 DJs and Artists during its entirety.
This third time around, The Midwest DJ and Urban Music Conference expects to have even more in attendance throughout the 2-day conference. The goal is to provide an opportunity for attendees to gain knowledge and build a network of relationships to take their careers to the next level. As we all know, its all about who you know to get you where you want to be. Then its what you know that will keep you there.
The Midwest DJ and Urban Music Conference is definitely the place to give attendees both of those elements. This will be an event where DJs, unsigned artists, independent labels, producers, models, independent magazines and media can come GET CONNECTED, GET EXPOSURE, and NETWORK with Major Label A&R's, Major Label Representatives, well known DJs and MORE!
The Midwest DJ and Urban Music Conference is bringing the industry to the masses! If you have the desire to take your career to another level and be exposed to the industry's best, then plan on attending The Midwest DJ and Urban Music Conference and REGISTER TODAY!!!
To REGISTER, log on to:
www.midwestdjurbanmusic.eventbrite.com
For info and past photos on The Midwest DJ & Urban Music Conference, log on to:
www.myspace.com/midwestdjurbanmusic
FOR SPONSORSHIP INQUIRIES CONTACT:
info.midwestmix@gmail.com
765-DYM-TIME
Come experience true NETWORKING, GET CONNECTED, GET KNOWLEDGE!


HAVE YOUR NOTEBOOKS READY TO TAKE NOTES! WITH OUR

"POWER PLAYER PANELS"

INCLUDING A&R'S OF MAJOR LABELS

RENOWN MIXTAPE AND RADIO DJS

LABELS

TV Media and Video Vixens, MODELS!

AND MORE TOP TASTEMAKERS IN THE URBAN MUSIC INDUSRTY!!!!

This is something you DONT WANT TO MISS!!!

We are bringing the Indusrty to YOU!!! SO Take ADAVNTAGE!!!!!!

LOG ON TO WWW.MIDWESTDJURBANMUSIC.COM TO REGISTER NOW!



WE WILL BE HAVING A FEW SLOTS OPEN FOR
ARTIST SHOWCASE SO ACT NOW!!!!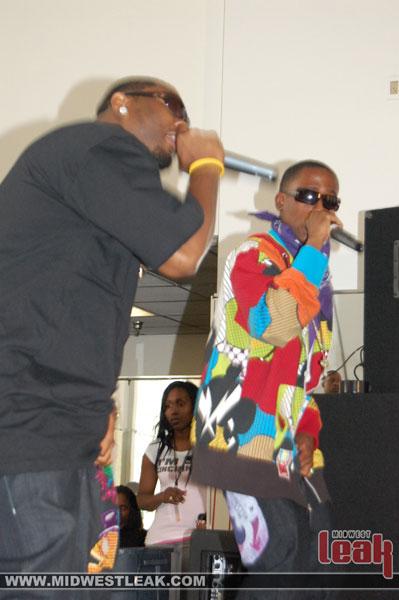 Artist Showcase Slots consists of the following:
*2-4 Minute Slot on Artist Showcase
* Song slot on the Official Conference Mixtape
*Completed feedback sheets from Artist Showcase Panelists
**Admission to Conference is NOT included in 'Artist Showcase' Package**


SEND SERIOUS INQUIRIES TO info.midwestmix@gmail.com
http://MidwestMix.com
 
SEE YOU THERE!!!


THE MIDWEST DJ AND URBAN MUSIC CONFERENCE III



TWO NEW ELEMENTS ADDED!!!!
THE PRODUCER BEAT BATTLE "BATTLE OF THE BEATS"

"WHO'S THE BEST IN THE MIDWEST?" MC BATTLE!

SIGN UP NOW @
WWW.MIDWESTDJURBANMUSIC.EVENTBRITE.COM

SCHEDULE OF EVENTS COMING SOON!


CONFIRMED GUEST AND PANELISTS COMING SOON!

REGISTER NOW!!

When & Where

Duke Energy Convention Center
525 Elm Street
Cincinnati, OH 45202


Saturday, May 22, 2010 from 11:00 AM to 8:00 PM (EDT)
Add to my calendar