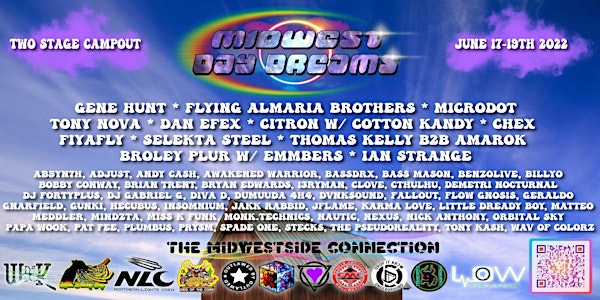 Refund policy
Contact the organizer to request a refund.
Eventbrite's fee is nonrefundable.
3-Day Campout Festival - Canned Food Drive
About this event
We are very excited and proud to finally announce our 1st Campout & Canned Food Drive:
Midwest Daydreams! 21+ Event
We are doing this Old Skool Style, here is the checkpoint Call (773) 417-0069 when you are 25 minutes from https://maps.app.goo.gl/Ju9UWAN1jJqYEa337 Book your hotels near this address. We'll have staff bringing people to and from the event from this checkpoint. We'll also be purchasing all our supplies from here. We've gotten permission from the Walmart Supercenter to use their parking lot. People can safely park here in the back of the lot. They would just like people to purchase $10 worth of camping supplies, don't forget your Canned Food Donations, and place your receipt in the front window of your vehicle.
June 17-19th near the Wisconsin-Illinois border, One hour from O'Hare international airport.
Artists:
Gene hunt * Flying Almaria Brothers * Microdot * Tony nova * Dan Efex * Citron w/ Cotton Kandy * Chex * Fiyafly * Selekta Steel * Thomas kelly b2b Amarok * Broley Plur w/ Emmbers * Ian strange
Ab5yn7h, Adjust, Andy cash, Awaken Warrior, Bassdrx, Bass mason, Benzolive, BillyO, Bobby Conway, Brian Trent, Bryan Edwards, 13ryman, Clove, Cthulhu, Demetri nocturnal, DJ Fortyplus Dj Gabriel G, Diva D, Dumuuda 4h4, Dvnksound, Fallout, Flow gnosis, Geraldo, Gnarfield, Gunki, Hecubus, Insomnium, Jakk Rabbid, Jflame, Karma love, Little dready boy, Matteo, Meddler, Mindzta, Miss k funk, Monk Technics, Nautic, Nexus, Nick Anthony, Orbital sky, Papa Wook, Pat fee, Plumbus, Prysm, Stecks, The Pseudoreality, Tony Kash, Wav Of Colorz
We are releasing the address by email the day before to people who purchased tickets only.
MC performances by Spade One
Photography provided by: DeWook Dewook.com
Lighting and visuals brought to you by: Flow Gnosis, Freakuency Productions & Mfktz
Merch by Little dready boy Productions
We're the MidwestSide Connection.
The MidwestSide Connection is a Massive Wisconsin, Illinois, and Michigan Multi-State, Multi-Crew, Multi-Stage collaboration between Strange Luv Productions, Northern Lights Crew, KOTC, RBC, Outlawed by Outlawed, Groove Mechanics Collective, Drop it Kr3w, and Low Frequencies.
Attendance and camping spots are limited! This will be the first of many great things from us this year. We do it for the love of the Community and a deep appreciation and love for the Electronic music scene.
The Address will be provided on an individual basis with a receipt from Eventbrite.
Everyone is encouraged to bring 1 or more Canned Goods
$10 Donation for a Campsite (up to 4 people)
$30 Donation for a Weekend Pass (Eligible for camping)
$20 Donation for a Saturday Pass, arrival time as early as 10 AM
All Donations for tickets are final and no refunds will be given
Carpooling strongly encouraged
No Carry-in Alcohol Allowed,and No illegal drugs allowed whatsoever. Bring drinking water, there is no running water or showers on-site, and hotels are within a 15-minute drive.