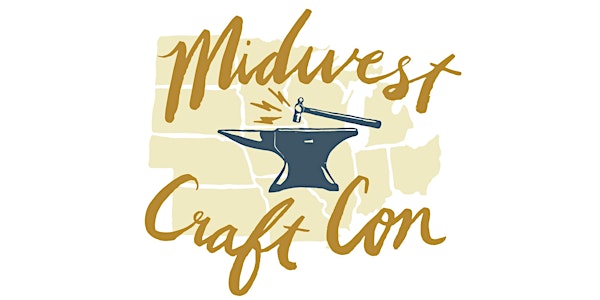 Midwest Craft Con 2018
When and where
Location
Embassy Suites Dublin 5100 Upper Metro Place Columbus, OH 43017
Description
The Midwest Craft Con is a three-day retreat for mid-career crafters, makers and creative business owners. The conference will include inspirational keynote addresses, thought-provoking panel discussions, hands-on workshops and business-focused breakout sessions from experts from Ohio, the Midwest and beyond. But it won't be all work: You'll make new friends at our evening mixers, explore our trade show and network with makers — it'll be a weekend-long retreat with your best craft buddies. We hope you can join us!
Our keynote speakers for 2018 are the Crafty Chica herself, Kathy Cano Murillo, knitter and TV host Vickie Howell and cartoonist and pug parent Gemma Correll!
Breakout sessions will include expert advice on everything you need to know about running your small business, from marketing and social media to legal and accounting advice to ideas for stoking your creativity. See the full schedule here. Speakers joining us in 2018 include Stephanie Dyke, Betsy Greer, Mei Pak, Alison Rosen, Tara Swiger, Kim Werker and Adrienne Wiley! See the full speaker lineup here.
When is it?
Midwest Craft Con will be from Friday afternoon to Sunday afternoon, Feb. 16-18, 2018, at the Embassy Suites Dublin, about 20 minutes north of downtown Columbus, Ohio. You can buy full weekend tickets or day passes online until Feb. 14, or get your ticket on site at the con!
What's included?
Three days of sessions, panels and keynote speakers, plus fun maker-centric activities and ample socialization time. Your ticket to Midwest Craft Con gets you 24-hour access to the Embassy Suites. The Embassy Suites offers free breakfast and a happy hour every day, and parking is free, too! We will provide lunch. You're responsible for paying for your own room.
When you register, we'll send you a confirmation email with a link to reserve your hotel room. We highly recommend staying on site, as events will go late into the evening, and our contract is contingent on our people booking rooms. We've negotiated a special price of $99 for attendees, and you must book through the hotel reservation link by Jan. 25 to get this rate. We'll also invite you to join our private Facebook group for Midwest Craft Con attendees, where you can find someone to share a room with if you're coming on your own!
Midwest Craft Con is created for mid-career crafters and creative businesspeople who have a few years of experience running a small business and who want to improve on it. Alongside the keynote talks, breakouts and panel discussions, this year we are also offering a track of hands-on crafting workshops that are included in your weekend ticket. See the full schedule here.
For people who are new to Columbus, Ohio, we're offering a number of bus tours of essential crafty stores in the city, sponsored by the Greater Columbus Arts Council!
Help out a fellow maker!
Consider giving a dollar or two to our scholarship fund to help out a crafter who can't afford this awesome experience on their own right now. Your donation is tax-deductible!
What else do I need to know?
We aim to make this conference inclusive and fun, so please read our Code of Conduct that we expect all attendees to adhere to.
Where can I contact the organizer with any questions?
Check out our website here for more details about us and our event, and you can email us at midwestcraftcon@gmail.com.
Is my ticket transferrable?
If you purchased a ticket but can no longer join us, tickets are transferable but not refundable. You can post your ticket for sale in the Facebook group, and you can transfer the ticket yourself to the new holder from within your Eventbrite account, but please notify us of the transfer for our records. There is one exception: If you are invited to speak at the conference but already bought a ticket, we will happily refund your ticket. (We provide conference admission, hotel accommodations and an honorarium for invited speakers.)