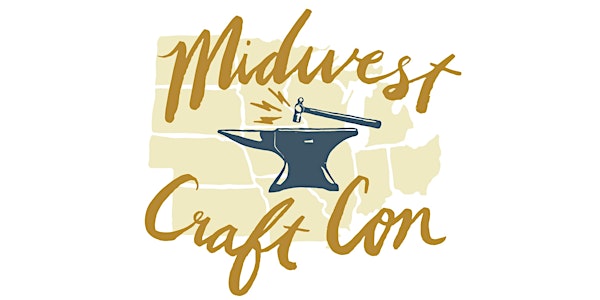 Midwest Craft Con 2017
When and where
Location
Hyatt Regency Columbus 400 N High St Columbus, OH 43215
Description
The Midwest Craft Con is a three-day retreat for mid-career crafters, makers and creative business owners. The conference will include inspirational keynote addresses, thought-provoking panel discussions, hands-on workshops and business-focused breakout sessions from experts from Ohio, the Midwest and beyond. But it won't be all work: You'll make new friends at our evening mixers, explore our trade show and network with makers — it'll be a weekend-long retreat with your best craft buddies. We hope you can join us!
Our featured speakers for 2017 are illustrator Yao Cheng, designer Chris Glass and printmaker Jen Hewett!
And we now have more great speakers lined up who will be coming to Columbus from across the Midwest and across the country! See the full lineup and the speakers' bios here:
Olivera Bratich: Make Love to Your Customers
Caroline Creaghead: Taxes Don't Have To Suck
Stephanie Dyke: Project Management Strategies; Goal Setting that Sticks
Esther Myong Hall: Applying for Grants as an Artist
Mei Pak: Instagram Hashtag Research; Email Marketing for New And Repeat Sales; Creating Profitable Membership and Subscription Products
Allison Rosen: Quickbooks for Crafters; Price Point Checkup
Kiffanie Stahle: Defeating Copycats
Thea Starr: How to Say No
Tamia Stinson: Think Like an Art Director
Tara Swiger: Creating a Customer Path 2.0; Developing Business Confidence
Annal Vyas: lawyerly stuff TBD!
Lesley Ware: Getting a Book Deal
The Wonder Jam: Getting Rid of Impostor Syndrome
When is it?
Midwest Craft Con will be from Friday evening to Sunday afternoon, Feb. 10-12, 2017, happening at the Hyatt Regency in downtown Columbus, Ohio.
Note: Although online ticket sales end at noon on Thursday, Feb. 9, we will have day passes available for purchase on site at the Hyatt.
What's included?
Three days of sessions, panels and keynote speakers, plus fun maker-centric activities and ample socialization time. Your ticket to Midwest Craft Con gets you 24-hour access to the Hyatt. Note that you'll be responsible for paying for your own room and meals aside from a few mixers we'll host.
When you register, we'll send you a confirmation email with a link to reserve your hotel room. We highly recommend staying on site, as events will go late into the evening, and our booking the hotel's public spaces is contingent on having our people book rooms. We've negotiated a special price of $139 for a double and $169 for a quadruple. We'll also invite you to join our private Facebook group for Midwest Craft Con attendees, where you can find someone to share a room with if you're coming on your own!
Midwest Craft Con is created for mid-career crafters and creative businesspeople who have a few years of experience running a small business and who want to improve on it. Sessions and panel discussions will focus on topics such as marketing, content strategy, finances and legalities, accounting and bookkeeping, creative strategy and the creative life.
We'll be offering a few select workshops on Friday before the conference starts — details and registration for those will be released in the fall.
Help out a fellow maker!
Consider giving a dollar or two to our scholarship fund to help out a crafter who can't afford this awesome experience on their own right now. This donation is tax-deductible, thanks to our partnership with Crafty Mart, a a 501(c)3 non-profit corporation.
What else do I need to know?
We aim to make this conference inclusive and fun, so please read our Code of Conduct that we expect all attendees to adhere to.
Where can I contact the organizer with any questions?
Check out our website here for more details about us and our event, and you can email us at midwestcraftcon@gmail.com.
Is my ticket transferrable?
Tickets are nonrefundable, but you can transfer your ticket up to one week before the conference. There is one exception: If you are invited to speak at the conference but already bought a ticket, we will happily refund your ticket. (We provide conference admission, hotel accommodations and an honorarium for invited speakers.)