Description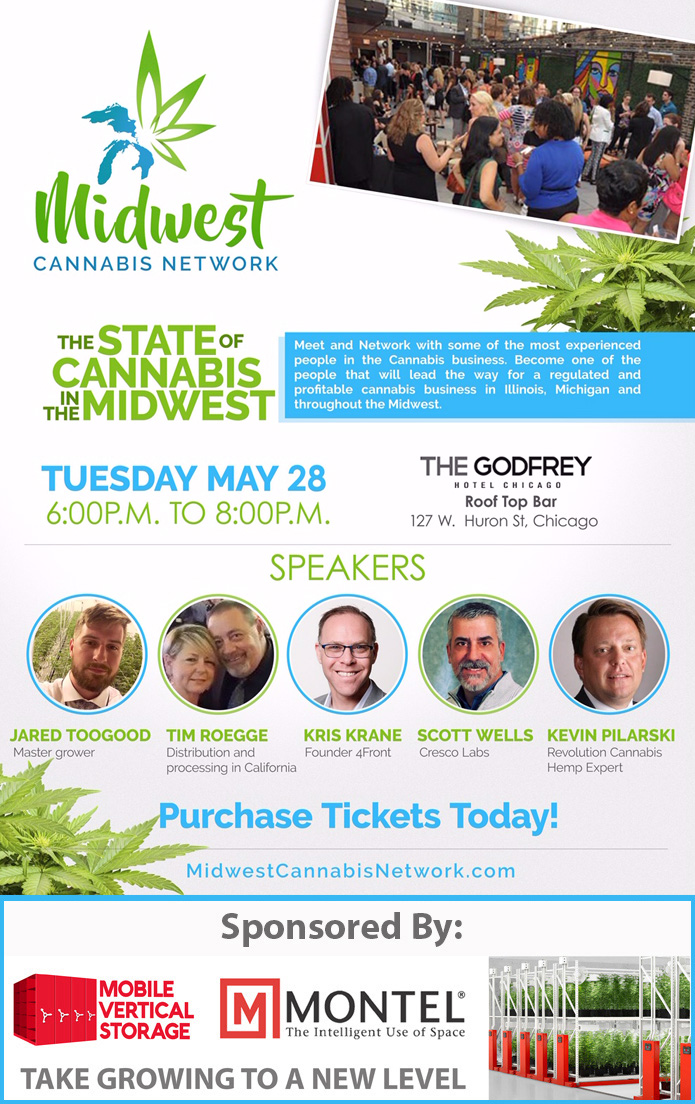 Midwest Cannabis Networking events for anyone interested in learning about or becoming a part of America's fastest growing industry.
Our networking event will feature speakers that are leading the way in the industry here in the Midwest. This includes operators, investors, management teams and entrepreneurs that have participated in other markets as they have gone from unregulated "black markets" to regulated industries that have driven job growth, stimulated local economies and provided a fertile ground for career growth.
Please join us for an hour of presentations from industry leaders followed by a happy hour on one of River North's premiere rooftops where you will be able to meet not only the speakers but other like-minded industry supporters.
Speakers starting at 6:30 p.m. We will then go to the rooftop bar for drinks and some great networking.
We have a great lineup of speakers:
Kris Krane, founded 4Front in 2011 and now serves as president of 4Front. Prior to forming 4Front, Kris served as director of client services for CannBe, a pioneer in developing best practices within the medical cannabis industry. Kris has dedicated his career to reforming the nation's misguided drug policies, having served as associate director of NORML from 2000 to 2005 and executive director of Students for Sensible Drug Policy from 2006 to 2009. He currently serves on the National Cannabis Industry Association board of directors.
Scott Wells, Cresco Labs Vice President of Talent Acquisition
Kevin Pilarski
Chief Commercial Officer
Revolution Enterprises
Kevin is the Chief Commercial Officer for Revolution Enterprises, a vertically integrated medical marijuana company. One of his responsibilities is helping to grow the industrial hemp industry in the Midwest. Revolution's intention is to facilitate the growth of the hemp industry by providing a market for hemp flower, grain and straw so farmers have a place to sell their crop. Revolution has been formulating CBD flower and extract under the Illinois Medical Marijuana Program over the last four years and believes it can help grow the CBD market in the Midwest.
Jared Toogood from Toogood Consulting - master grower who has run operations in AZ, WA and is doing design work for grows in MI, MD and Puerto Rico.
Tim Roegge - founder of California Sap and Desert Zen and a partner in Natural Ventures. Had license for distribution and processing in California that he sold to Chemesis, pubco. Tim has won more than 20 Cup awards for processing in CA and is one of the most awarded companies in California product competitions.
Tickets include a complimentary cocktail
Check out photos from our past events
Purchase your tickets early as the price will go up.
More info at: http://www.midwestcannabisnetwork.com
More Inforamtion about how to double your grow space with mobile storage systems please check out our sponsors website: MobileVerticalStorage.com