Description


Suit up and chill out on the ultimate summer adventure: a day of BYOB river tubing on Indiana's Tippecanoe River, complete with an outdoor all-you-can-eat taco bar and round-trip transportation!
Pack up your cooler and spend the day relaxing on the river and drinking with your crew. After tubing, chow down on tacos with all your favorite fixings at a private pavilion in a park. There, you can play volleyball, basketball, and even tackle a slip 'n' slide. This isn't just river tubing: It's a certified celebration of all things summer.
Get $10 off per person on a group of 4 or more! Simply choose your date and select the Group Discount ticket type.

Rally your summer squad and save! Dates sell out fast.
THE DETAILS
Sport a bathing suit and water shoes and head downtown to 60 W. Ontario, where the Midwest Adventures crew will be waiting to check you in. It's about a 2hr 15 min ride on a luxury coach to Riverside Rentals in Winamac, Indiana where we'll pick up our tubes and hit the water.

WHAT YOU GET
• Round-trip transportation from downtown Chicago

• Lazy river tubing ride
• All-you-can-eat taco bar
• Private pavilion with volleyball, basketball, slip 'n' slide, and more
• Midwest Adventures staff to guide you
• *Rent a raft for your cooler available for $10 cash on site
WHAT TO BRING
This trip is BYOB, so bring a cooler stockpiled with your favorite drinks and snacks. Please note that no glass is allowed on this trip. Floating rafts for your coolers are available to rent for $10 cash on site.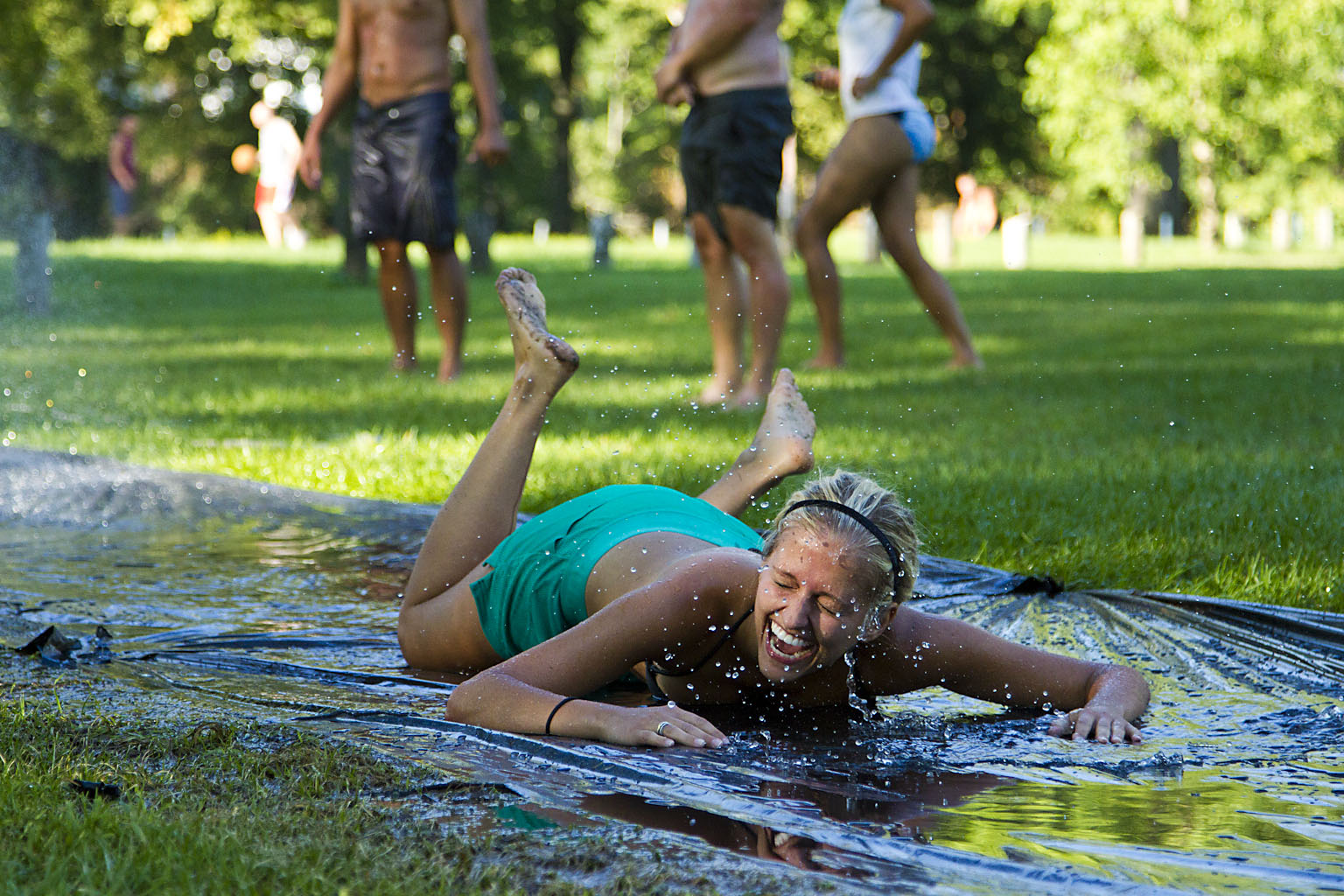 ---
FAQs
Transportation and Parking
Q: What are my transport/parking options getting to check in and loading at 60 W. Ontario?
A: Pick up location at 60 W. Ontario is walking distance from a variety of CTA bus and train lines. Public parking, for a fee, located on the corners of Ohio / Franklin and Franklin / Erie. Hotels near pick up also offer public parking.
Q: Can I purchase a ticket and use my own transportation?
A: No. Due to the nature of our tour and under no circumstances are you allowed to provide your own transportation. No exceptions. Ticketed guests will be checked in at loading only and checked out at departure in Chicago. A purchased ticket will not be honored for any party who uses alternate transportation.
21 and UP
Q: Are there ID requirements or an age limit to enter the event?
A: You must be 21+ to attend and valid photo ID is required as proof of age, no exceptions.
Weather
Q: What happens if it rains?
A: You get wet. This is a rain or shine event. No refunds due to inclement weather. See cancellation policy for event cancellations.
Alcohol and Other Policies
All bags boarding charter will be checked before admittance and zero alcohol will be allowed in the cabin of the charter on the way to Indiana. Rentable floating tubes for your coolers are available for $10 cash once we arrive to Indiana.
Q: What can I bring to the event?
A: On charter to Indiana food and non-alcoholic beverages are permitted in the charter cabin. (Alcoholic beverages can be brought for the afternoon but MUST be stored under the cabin and NOT consumed in the cabin on the morning charter to Indiana) Coolers are allowed but MUST be stored under the cabin of the charter at all times.
Q: What can't I bring to the event?
A: No glass items allowed at any point during the day. No personal floatation devices or tubes are allowed (all necessary tubes and life vests are provided). No pets. No one under the age of 21 years old will be permitted under any circumstances.
Additional Policies

Q: Are bathrooms available during the tour?
A: There are public bathrooms 1. In stores and restaurants near loading zone at 60 W. Ontario 2. On the bus 3. The scheduled rest area (if requested) 4. Riverside Rentals, 5. Wimmamac Town Park. It is recommended the bus bathroom is ONLY for emergencies.

Q: What do I do with personal belongings during the event?
A: We recommend bringing as little as possible and carrying all valuables with you during the day. The bus will be locked or secured by a chauffeur at all times during the day should you choose to leave anything on the bus. All personal items are your responsibility.
Q: Where can I contact the organizer with any questions?
A: hello@cannonballproductions.com
Sold Out
Q: Are tickets available if it says sold out under a date and time?
A: Tickets are no longer available if it states sold out at a certain date and time. Once we reach our maximum ticket capacity we have no option to oversell. If you would like a ticket to a sold out event we recommend keeping an eye on our ticketing page or posting on craigslist.
Transfers
Q: Is my registration/ticket transferrable to another person?
A: Your ticket IS transferable to another individual 21+. No name change on the ticket/reservation is required. To do this, please email your ticket to the person replacing you, have them check in under your name and send them the link to the participation waiver every participant must sign.
Q: Is my registration/ticket transferrable to another event date and time?
A: Your ticket is NOT transferable to another date/time after 24 hours from purchase (point of sale). If you are no longer able to come on your scheduled date and time you have the option to gift or sell your ticket to someone else.
Refunds
Q: Is my purchase refundable?
A: Midwest Adventures honors refund requests that are madewithin 24 hours of purchase (point of sale). Refunds will not be given, under any circumstances, after the initial 24 hour purchase period. No full or partial refunds are given to customers who miss an event. Canceled tours will be fully refunded.
Q: How do I request a refund if I purchased a voucher through a third party like Groupon, LivingSocial, etc?
A: Each third party vendor, such as Groupon or LivingSocial, have their own terms and conditions for refund. You must contact their customer support to request your refund. If your purchase (point of sale for ticket) was not made directly through our ticketing site the refund will be issued through the third party where your purchase was made.
Cancellations
Q: What's the cancellation policy?
A: If your tour is cancelled, ticket holders will be notified by the email address given to Eventbrite when ticket was purchased or reserved.
More questions? Please contact Tristan at 708-794-8515. Cheers!
---
TOUR SCHEDULES
Choose from 2 different departure times.
*10:00AM BUS SCHEDULE (CST)
9:30AM - Arrive and check-in at 60 W. Ontario
10:00AM - Bus departs for Winamac, IN
12:00PM - Lazy-river tubing
3:00PM - All-you-can-eat taco bar/pavilion time
4:30PM - Drive back to Chicago
7:00PM - Arrive back at 60 W. Ontario
*All logistics approximate and subject to change day of the tour.
*11:30 AM BUS SCHEDULE (CST)
11:00AM - Arrive and check-in at 60 W. Ontario
11:30AM - Bus departs for Winamac, IN
1:30PM - Lazy-river tubing
4:30PM - All-you-can-eat taco bar/pavilion time
6:00PM - Drive back to Chicago
8:30PM - Arrive back at 60 W. Ontario