Description
MIDWAYVILLE!
JOIN US at SoMa StrEat Food Park EVERY FRIDAY for an evening of fun-filled, carnival-fueled merriment, DJ's, entertainment and immersive theater.
Food Trucks!

DJs! Live Bands!

Circus Acts!

Carnival Games!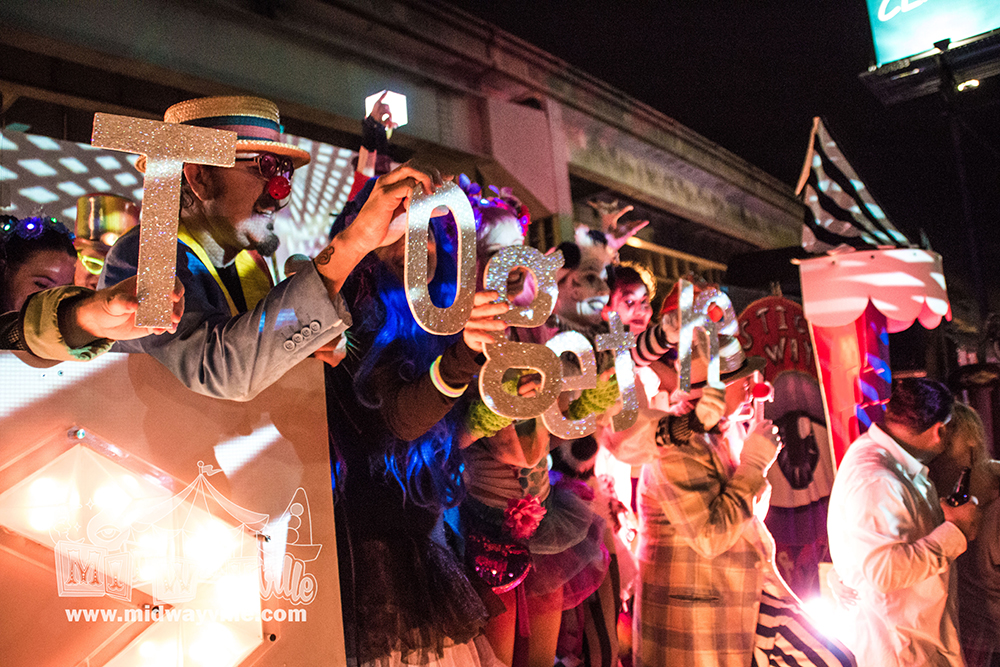 PLAY our live-action, analog video game and bring Midwayville to life by interacting with Midwayville citizens, earning STORYBUCKS and spending (un)wisely!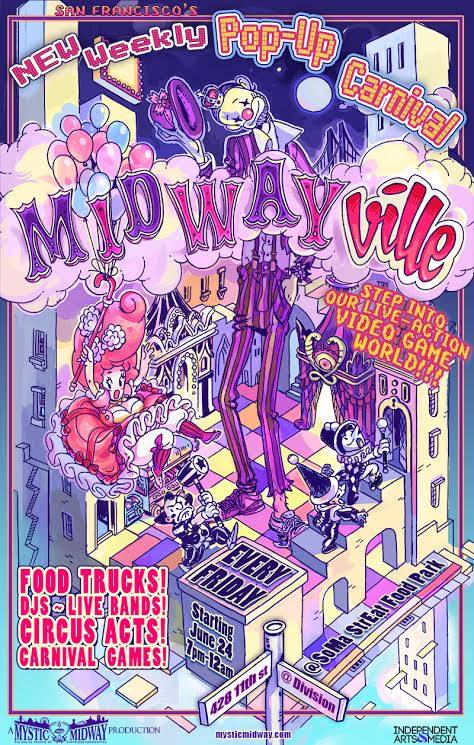 SOME OF OUR AMAZING TALENT:
NICO SALAZAR (MEOWWOLF) artist, designer
H. P. MENDOZA (COLMA THE MUSICAL) composer, musician, chiptune artist
CODY GIANOTTI (DISNEY SHANGHAI) composer
DJ FACT 50 (EDWARDIAN BALL) composer, DJ
PARADOX POLLACK (ALIEN FIGHT CLUB, THOR, THE AVENGERS, I AM LEGEND) actor, producer, and movement director
MYSTIC MIDWAY ENSEMBLE (EDWARDIAN BALL, LIFE IS BEAUTIFUL, BURNING MAN) mixed reality social theater troupe
MAIN ATTRACTIONS:
MIDWAYVILLE ALLEY: Share stories with the Hobo Kings!
MINGLETRON 9000: Meet & mingle experience, hosted by a robot!
KLOWNTOWN: Get crazy at the Goofy Golf Gong Show!
THE HAUNTED FOREST: Do you dare visit the Grumpy Goblins, Mr.Nobody's Shooting Gallery and the Haunted Castle?
FEATURED PHILANTHROPY OF THE WEEK:
Point of Interest (POI), invites participation from the homeless and unemployed youth population in San Francisco to participate in creative arts, social journalism and performance workshops on location during the development and run of the Midwayville show. The youth will have several opportunities to engage the public: by offering items for sale within the gamified environment, by displaying their original videos as part of performances, and by becoming part of the performance ensemble every weekend.

--
Brought to you by THE MYSTIC MIDWAY ENSEMBLE and BARRON SCOTT LEVKOFF, Creative Director of MYSTIC MIDWAY and the creative force behind SPOOKEASY, THE LAGUNITAS BEER CIRCUS.
--

Grab a bite and a drink with some friends, or bring the whole family along, even the dog! We are also available for corporate team building and other private events throughout the week.