Midtown Jazz Mingler & Culinary Festival

Multiple Dates
Event Details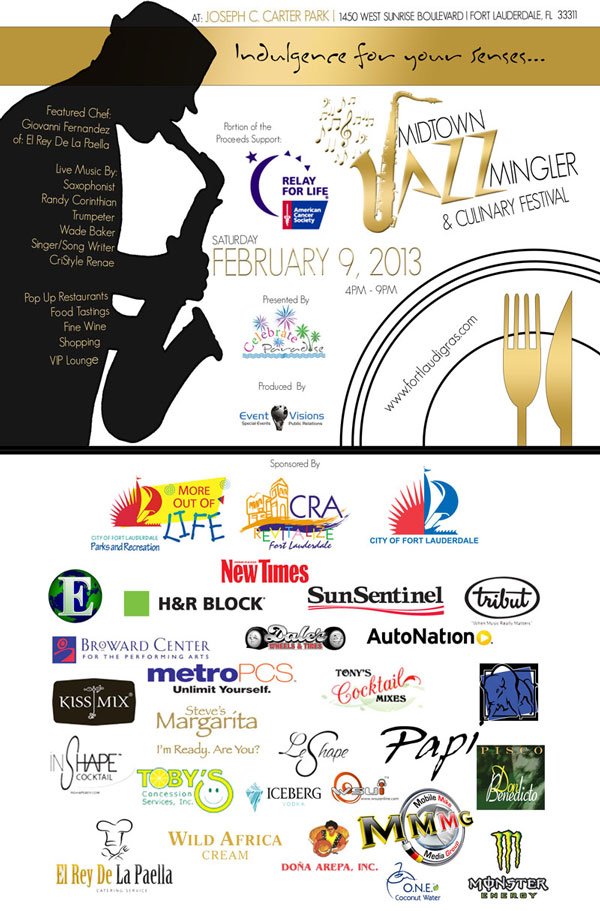 Midtown Jazz Mingler & Culinary Festival kicks off its second year on this saturday, February 9, 2013 from 4PM - 9PM.  The first event is a special preview of a new tradition of  tasteful blends of music and fine culinary.  All accredited media is welcome to enjoy complimentary VIP access (Valued at $100). General Admission is free, VIP Tent Access (includes complimentary food tastings, complimentary cocktails and liquor, preferred seating, and much more) is $100.
Music Apparel Brand, Tribut Apparel (www.tributapparel.com) sponsors the 2nd Annual Midtown Jazz Mingler and Culinary Festival, produced by Celebrate Paradise, Inc. (www.fortlaudigras.com) and Event Visions Consulting (www.eventvisions.com)  at the Joseph C. Carter Park in Midtown Fort Lauderdale, occurring every 2nd Saturday, from February thru September, 2013.  Tribut Apparel's own, Manuel Oliver (a.k.a. Urbano) along with their artistic staff will produce custom designed high quality commemorative Midtown Jazz Mingler & Culinary Festival Men and Women T-Shirts to be sold at all 8 events.  The price of each shirt is $25, and a portion of the proceeds from sales will be donated to the American Cancer Research's project, "Relay For Life."  
The Midtown Jazz Mingler and Culinary Festival kick-off event on Saturday, February 9, 2013 features Jazz Artists: CriStyle Renae, Trumpeter: Wade Baker & Band, and Saxophonist: Randy Corinthian & Band.  The event also, features award winning Chef Giovanni Fernandez with his famous paella. 
As a special treat, children and sports lovers can meet their favorite NFL players such as, Lionel Dalton, Ericht Rheet, Benny Blades, Lorenzo White and Derrick Roberson.  
Midtown Jazz  Mingler  & Culinary Festival  focuses on bringing art and culture to the Community of Midtown located in the Fort  Lauderdale  Northwest Section. Our intention is to reinvigorate the historical and cultural character of Midtown/Sis trunk through partnerships with organizations such as the City of Fort  Lauderdale  Housing Authority and Fort Lauderdale's Midtown Business Association, local Chambers of Commerce as well as local and state tourism boards, etc. 
A portion of the proceeds earned from the Midtown Jazz  Mingler  & Culinary Festival will be donated to the  Orange Bowl Committee   who has  proven  to be a respected advocate the improvement of programs focused on our youth and   Relay for Life a subsidiary of the American Cancer Society   who are the number one organization for all cancer Awareness in adults and children.
About the Musicians Performing
Wade Baker - www.wadebaker.com
Children and adults alike, respond to Wade Baker's energy and talent. Part of the next generation of excellent jazz artists from Central Indiana, Wade Baker is actively engaged in maintaining the great tradition of JAZZ. From the Midwest to Florida, South Carolina, Chicago, and New York, Wade Baker has been "wowing" audiences in over 200 performances per year for the past five years. His debut album, Profilin' is available on iTunes and Amazon.com.
CriStyle Renea www.cristylerenae.com
Soul. Passion. Power. CriStyle Renae embodies them all. Singer. Songwriter. This South Florida native's magnetic vocals are infused with a special soulfulness that comes naturally. R&B has been in her "DNA" for as long as she can remember. Her love of music began in childhood where she was largely influenced by legends Isaac Hayes, Luther Vandross and The Isley Brothers. She strives and soulfully achieves her goal with each live performance, to evoke the same feelings that she gets from her favorites, Anita Baker, Rachelle Ferrell and Donny Hathaway -  "you watch these tremendous artists give, what I consider to be, master classes in singing and performing...I stay inspired by watching them." CriStyle is an artist whose soul reflects the same love, light and warmth that resonate in her vocals. Her forthcoming album, Signature Of Love, is brimming with heartfelt lyrics and melodies. CriStyle's debut single Why Me received rave reviews. CriStyle is making her indelible mark on the music world, don't miss it!
Randy Corinthian www.rcmusicgroup.com
Saxophonist, Producer, and Songwriter, Randy Corinthian is CEO of RC Music Group, a full service music and entertainment company based in South Florida. With degrees from Florida A&M University and Florida State University, Randy continues to solidify himself as a reputable source in the music industry.
Randy's charismatic, scintillating personality and musical style; as well as his dual personae as a master improviser and vibrant entertainer has led to international success, with music featured on MTV's Making The Band, Rock Dinner, Jersey Shore, and True Life. Randy Corinthian's music has also been featured on BRAVO TV's Millionaire Matchmaker. His greatest accomplishment to date is the release of his highly anticipated debut album Bittersweet, which is available on iTunes, Amazon.com and at www.reverbnation.com/randycorinthian.
Recently honored by Legacy Magazine as one of South Florida's 40 under 40 Black Leaders of Today and Tomorrow for 2012; Randy Corinthian's music industry contributions exude promise, and set the stage for even greater things, as his soulful sounds inspire a diverse and sophisticated audience, even as Randy continues to excel and rise to new heights.
 A portion of the proceeds benefit, American Cancer Society, RELAY FOR LIFE.  
For General Inquiries, Partnership, Vendor Opportunities, Contact: 
Brian@eventvisions.com
or
Sabrina@eventvisions.com
or
shanna@eventvisions.com
All Media Inquires and Credentials, contact:
Carol@eventvisions.com or Carol@carolmoda.com
Where

Joseph C. Carter Park
1450 West Sunrise Boulevard
Fort Lauderdale, FL 33311


Multiple Dates
Add to my calendar
Organizer
Event Visions Consulting
A full service company that bridges Public Relations, Event Production & Management and brand marketing through a combination of the latest technology and the creative aptitude needed in today's competitive and rapid changing business environment.
Our mission is to coordinate innovative events that utilize strategic partnerships and integrate sustainable products and services to better our community socially, economically and culturally all while providing clients with top notch service to best promote their brands.
Since 1990, Brian Z. Guertin, now President/CEO of EVC has specialized in special event planning, event production and project event management by delivering expert integration of the major business disciplines, through his many consulting projects in various industries. We enable our clients to better inform, entertain, sell to, train, motivate, and reward their target audiences. Due to our fluency in English & Spanish, as well as affiliations with language translation specialists, our portfolio of clients is both culturally and geographically diverse.
EVC has extensive experience on both coasts, including Maine, New Hampshire, Massachusetts, Rhode Island, New York, California and now Florida. In addition to the US, we have widespread experience south of the border in various cities of Mexico, including Playa del Carmen and Cancun, along with Puerto Rico and to the country of Honduras with events & screenings in San Pedro Sula, Tegulcigalpa, El Progresso, Roatan and La Ceiba.
EVC is continuously seeking new and innovative methods to better accommodate and solidify our client and strategic partner base. We focus on business to business opportunities paired with community outreach to make a difference with every event. Strategic Alliances are key to growth and we have been working with the most active local, national and international businesses and charitable organizations to create new exposure and outreach opportunities that will benefit our area culturally and economically. A new force has emerged with the upper echelon of government and world leaders since the formation of Oil Visions, Inc energy consulting and commodities brokering firm "Visualizing the Future of Energy" as well as the Challenge of Change environmental foundation formed with former Venezuelan Minister of Energy/OPEC President Erwin Arrieta. Satellite Art Events was created to promote artists from around the world and bring new artistic events and exhibits to our community. Brian served 7 years on the Board of Directors and as Chairman of the Fundraising Committee for ECOMB-Environmental Coalition of Miami & the Beaches as well as the Board of Directors for Lincoln Road marketing/Merchants Association.
Midtown Jazz Mingler & Culinary Festival