Description
Clyopatra Couture is a journey ….. a journey in cultural couture that began in London, United
Kingdom, when I first launched my first fashion line and began the first Afrocentric Bridal
exhibition which won Keeper of Heritage Award, presented by Susan Taylor of Essence
Magazine.
On December 03, 2016, Clyopatra Couture wowed DMV with the launch Of Sheba Collection
which set up Clyopatra Couture as a fashion brand to be reckoned with. This launch earned us a
place in the DC fashion week plus an invitation to present at the highly acclaimed New York
Fashion Week in September 2017, Stampede Fashion show as well as participation in various
fashion shows with a Distinguished KMP Award for Innovation and Fashion Trendsetting.
'On June 23, 2017, with gratitude, I am excited to share with you the continuation of this journey
at the Midsummer Madness The Tribe Collection'…… says Ifeoma Onyia the Designer/Creative
Director.
Clyopatra is the offspring of a unique intercontinental marital bliss: its the harmonious marriage
of Continental African fashion with European and American influences. It captures a new world
where Motherland meets the West, delivering a visual infusion of elegance, sophistication,
beauty and authenticity. Clyopatra Couture brings you the the opportunity to combine seasondefiant
African prints with familiar Denim jeans, laces, recreating the Kente, Isi-agu, Aso-oke prints into lycra, chiffon, Cotten Jersey, polyester, silk mix to name but a few.
The Tribe Collection offers a range of ready to wear plus custom designs ranging from Swimwear/trunks to denim to evening gowns to mens wear ensembles.
I welcome you to the world of Clyopatra Couture's Midsummer Madness - The Tribe Collection. …. dare to be different!!
The Event:
Midsummer Madness - The Tribe Collection by Clyopatra Couture is a continuation of this
journey to further showcase not only the collection but to bring awareness to other organizations
and companies amongst the elites of the DMV (DC Maryland and Virginia) community and
beyond.
TRIBE AWARD:
The name TRIBE, is a social division in a traditional society consisting of families or communities linked by social, economic, religious, or blood ties, with a common culture and dialect. all in the Art world are menbers of the Tribe hence at this event, awards will be given to some celebrities in the "Art World" in recognition of their contribution to this industry - Fashion, music, theater to name but a few.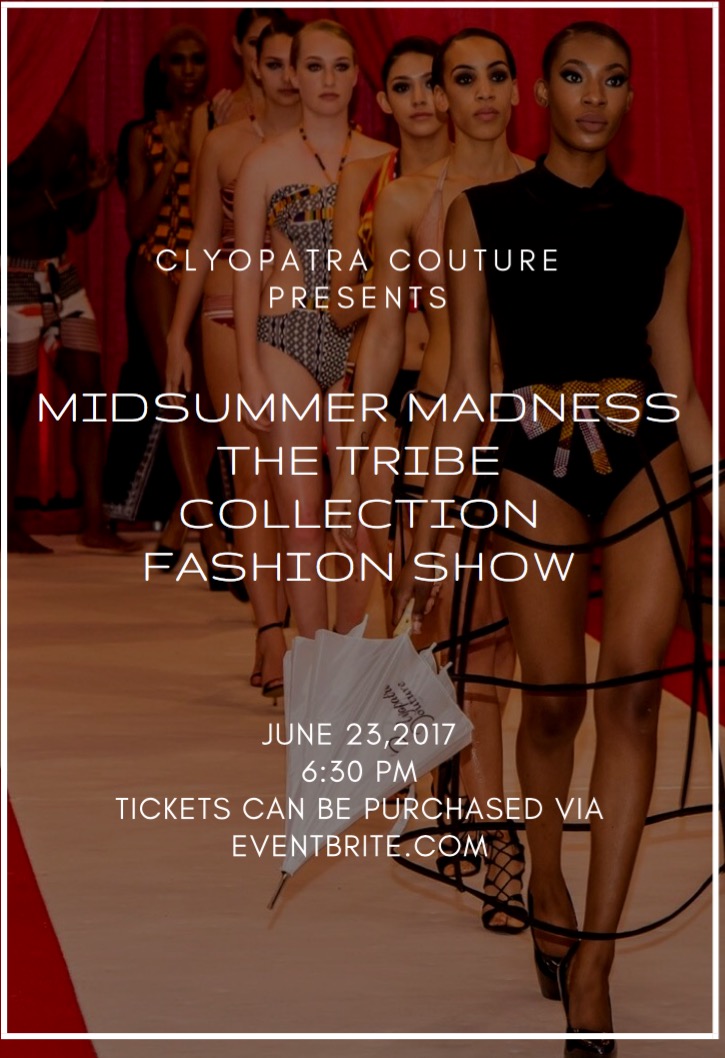 WHAT TO EXPECT:
Midsummer Madness The Tribe Collection Fashion Show will be hosted by our very own Ms CHARDELLE MOORE of FOX45 Baltimore TV Personality and Producer!!!!
Special quest appearances from Hollywood, Nollywood celebriteis and DMV Heavyhitters.
Musical performances by American and African Artists
Some light refreshments
Details:
Date: June 23rd, 2017
Doors open at: 6.30 pm. Show starts at: 7:00 pm to 9:30 pm.
Attendees: 100-150 attendees, including The Media International & Local, Bloggers, Fashion
Icons and State Reps.
Demographics: Fashion Forward 18yrs and up plus a wide range of folks representing
different ethnicities.