Prepare thyself for an experience that will take you to new dimensions to the beat of a mighty drum. Midsummers Fairy-Tale is back!
About this event
An Interactive Social Experience Awaits
Armored warriors fight for glory, mystical beings run amok, and high energy top notch musicians from a variety of genres rule the stage.
Come and get lost in dance to the thrilling Celtic drums, watch in awe of the Indie, Celtic, and Folk bands, be a part of amazing stage shows that will keep you on the edge of your seat, and entangle yourself with otherworldly entertainers and beings.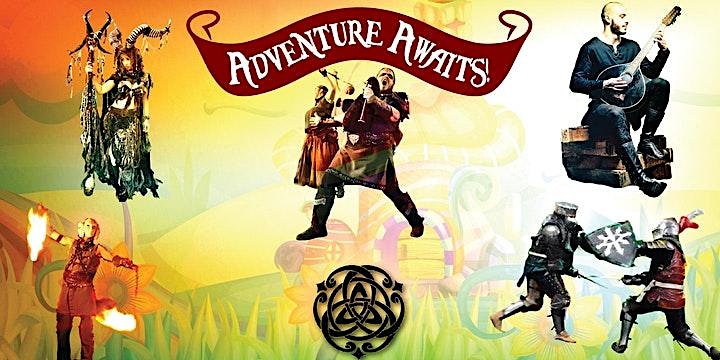 Amazing Celtic/Indie/Folk Fusion Artists
Come and lose yourself in dance to the tribal drums...
We have amazing folk bands, indie artists, world musicians, and, of course, Celtic music. Come and lose yourself in the music at the main stage!
Saturday
-----------------------
The Milk Carton Kids
The Tossers
Young Dubliners
Old Sea Brigade
The Hunt's
Brother Angus
Adam Hurst (Worldcello)
The Pikeys
Sunday
-------------------------
Mipso
Beta Radio
Jessica Malone
Adam Hurst
Black Eyed Dempseys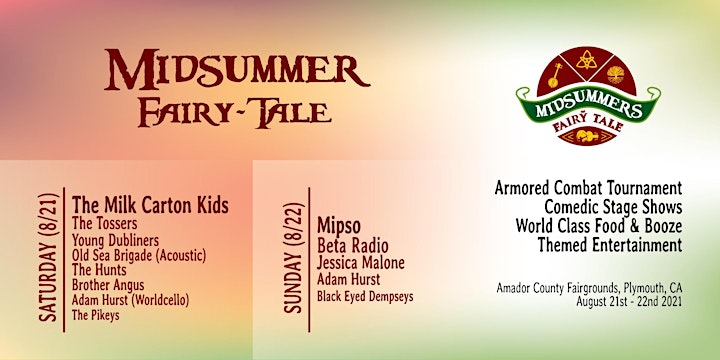 Amazing Foods, Craft Brews...
Kingdom Concession, and the Auburn Odd Fellows bring a bountiful and delicious array of themed foods and drinks for your delight.
Kingdom Concession will have a variety of themed foods (Giant Turkey Legs, Meat Pie's, Highland Burgers, and elvish sweet fried dough to name a few)
Auburn Odd Fellows will have a variety of meads, wines and beers from local breweries.
------------
Official menus: https://kingdomofharron.online/midsummer/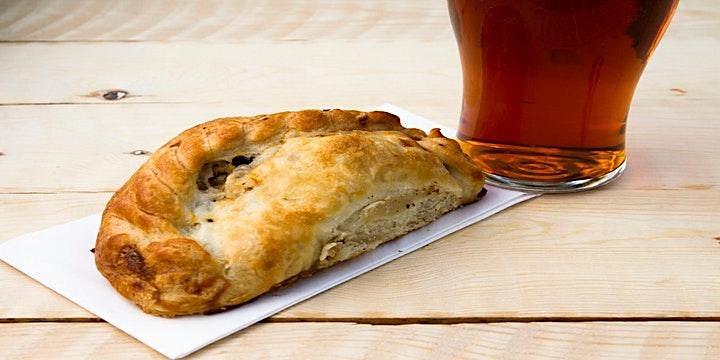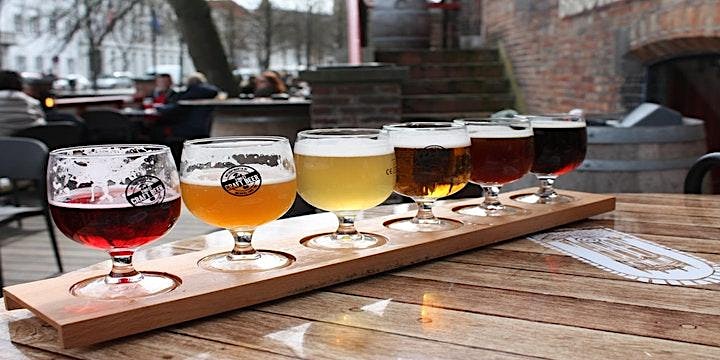 Wicked Stage Shows, Mesmerizing Characters, Interactive Experiences...
Come and be a part hilarious themed comedy, witness wonderous talent, be a part of the experience.
Comedy/Stage Show Schedule to be released
Laugh, cry, sit on the edge of your seat at our wonderous variety stage!
Arena Schedule to be released
Armored Combat, Archery, War demonstrations, the arena will tantalize your senses!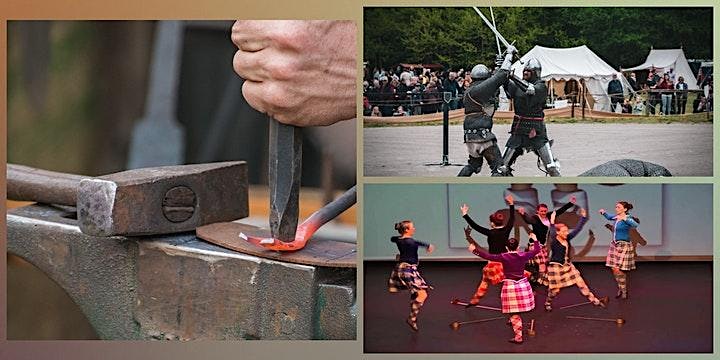 Crystal Wands, From The Aerie Mystery Box...
The Kingdom has many amazing gems available for your consumption!
Crystal Wand Pack:
The crystal wand pack comes with a premium, charged, hand copper wire wrapped crystal wand made with hand carved ironwood, or rosewood. A single spherical gem in wire copper wrap. Also included is a merchandised swag bag!
The spherical gem wands available (The wand chooses you) are as follows:
Amazonite: Amazonite helps to increase self-confidence and prosperity.
Garnet: Increases productivity. Promotes prosperity. Helps to visualize exactly what you want in life then helps you get up and get it.
Pearl: Helps develop wisdom. Brings out inspiration. Helps to balance and heal all chakras.
Rose Quartz: Puts you in touch with your higher self. Enhances awareness of your true self. Helps you to communicate with your spirit guides. Aids in the attraction of love
From The Aerie Mystery Box:
Over $175 dollars worth of themed products (similar to this box we have done in the image below, but randomly chosen) for $99.99 wonderful high quality themed products for an amazing price. Get one for your group, or yourself now!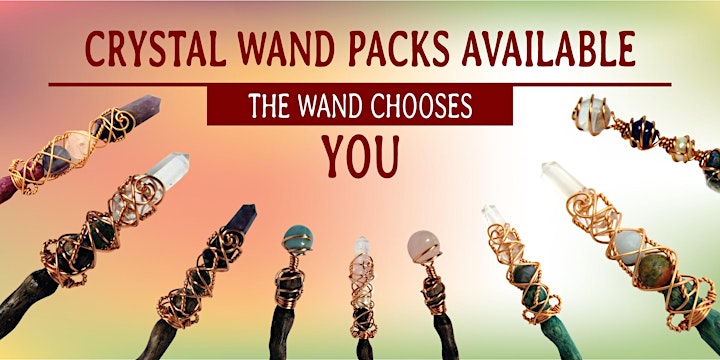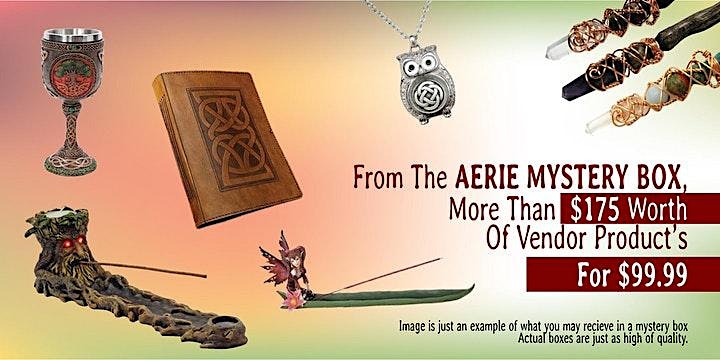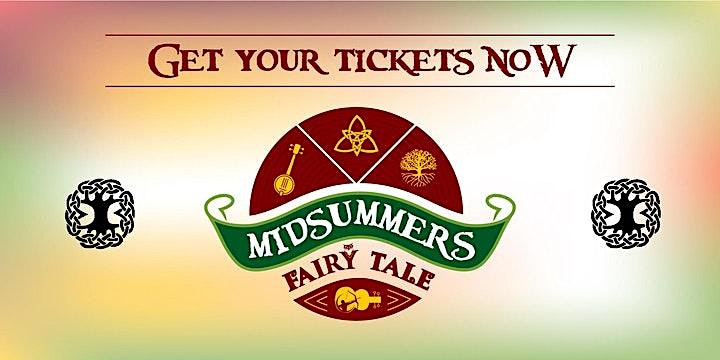 For camping:
Please call the fairgrounds at 209-245-6921
Legalities
By purchasing tickets, you agree to the following linked contract:
COVID-19 Compliance:
We have formed a Covid-19 Safety Committee with certified Covid Compliance Officers, to help protect you, keep up with current guidelines, and create a safe experience for everyone. We will keep you updated, with any updates or changes to the ways that we can produce the event.
By purchasing tickets you also agree to the following:
I HEREBY RELEASE, WAIVE AND FOREVER DISCHARGE ANY AND ALL LIABILITY, CLAIMS, AND DEMANDS OF WHATEVER KIND OR NATURE AGAINST KINGDOM OF HARRON AND ITS AFFILIATED PARTNERS AND SPONSORS, INCLUDING IN EACH CASE, WITHOUT LIMITATION, THEIR DIRECTORS, OFFICERS, EMPLOYEES, VOLUNTEERS, AND AGENTS (THE "RELEASED PARTIES"), EITHER IN LAW OR IN EQUITY, TO THE FULLEST EXTENT PERMISSIBLE BY LAW, INCLUDING BUT NOT LIMITED TO DAMAGES OR LOSSES CAUSED BY THE NEGLIGENCE, FAULT OR CONDUCT OF ANY KIND ON THE PART OF THE RELEASED PARTIES, INCLUDING BUT NOT LIMITED TO DEATH, BODILY INJURY, ILLNESS, ECONOMIC LOSS OR OUT OF POCKET EXPENSES, OR LOSS OR DAMAGE TO PROPERTY, WHICH I, MY HEIRS, ASSIGNEES, NEXT OF KIN AND/OR LEGALLY APPOINTED OR DESIGNATED REPRESENTATIVES, MAY HAVE OR WHICH MAY HEREINAFTER ACCRUE ON MY BEHALF, WHICH ARISE OR MAY HEREAFTER ARISE FROM MY PARTICIPATION WITH THE ACTIVITY.
ASSUMPTION OF THE RISK. I acknowledge and understand the following:
Participation includes possible exposure to and illness from infectious diseases including but not limited to COVID-19. While particular rules and personal discipline may reduce this risk, the risk of serious illness and death does exist;
I knowingly and freely assume all such risks related to illness and infectious diseases, such as COVID-19, even if arising from the negligence or fault of the Released Parties; and
I hereby knowingly assume the risk of injury, harm and loss associated with the Activity, including any injury, harm and loss caused by the negligence, fault or conduct of any kind on the part of the Released Parties.
MEDICAL ACKNOWLEDGMENT AND RELEASE.
I acknowledge the health risks associated with the Activity, including but not limited to transient dizziness, lightheaded, fainting, nausea, muscle cramping, musculoskeletal injury, joint pains, sprains and strains, heart attack, stroke, or sudden death. I agree that if I experience any of these or any other symptoms during the Activity, I will discontinue my participation immediately and seek appropriate medical attention. I DO HEREBY RELEASE AND FOREVER DISCHARGE THE RELEASED PARTIES FROM ANY CLAIM WHATSOEVER WHICH ARISES OR MAY HEREAFTER ARISE ON ACCOUNT OF ANY FIRST AID, TREATMENT, OR SERVICE RENDERED IN CONNECTION WITH MY PARTICIPATION IN THE ACTIVITY.
As a participant, volunteer, or attendee, You recognize that your participation, involvement and/or attendance at any Kingdom Of Harron event or activity ("Activity") is voluntary and may result in personal injury (including death) and/or property damage. By attending, observing or participating in the Activity, You acknowledge and assume all risks and dangers associated with your participation and/or attendance at the Activity, and You agree that: (a) Kingdom Of Harron Productions (b) the property or site owner of the Activity, and (c) all past, present and future affiliates, successors, assigns, employees, volunteers, vendors, partners, directors, and officers, of such entities (subsections (a) through (c), collectively, the "Released Parties"), will not be responsible for any personal injury (including death), property damage, or other loss suffered as a result of your participation in, attendance at, and/or observation of the Activity, regardless if any such injuries or losses are caused by the negligence of any of the Released Parties (collectively, the "Released Claims"). BY ATTENDING AND/OR PARTICIPATING IN THE ACTIVITY, YOU ARE DEEMED TO HAVE GIVEN A FULL RELEASE OF LIABILITY TO THE RELEASED PARTIES TO THE FULLEST EXTENT PERMITTED BY LAW.
Organizer of Midsummer Fairy-Tale - An Indie Music & Faire Fantasy Experience
Kingdom Of Harron Productions Hails from the central valley of California, formed as a production company in March of 2018, they have been growing with strides with unique, family friendly, and all around fun events throughout Northern California. From the Obscure, to Cowboys, to Knights in Armor, they have a wide range of events promoting imagination, creativity, and the pursuit of dreams. The Magic Lies Within!