Midnight Marathon Truck n' Train 2014

Sunday, April 20, 2014 at 9:00 PM

-

Monday, April 21, 2014 at 1:00 AM (PDT)
Event Details
This is the 2014 Event Please see Midnight Marathon Truck and Train 2015 Page
---------------
1) This ticket is to transport your bicycle (no trikes, tandems, nor recumbents) from Boston to Southborough for the Midnight Marathon Bike Ride. THIS IS NOT A TRAIN TICKET! You will need to buy your own commuter rail train ticket for the normally scheduled 11pm train to Southborough (Zone 6), or find alternative transportation such as a carpool or taxi to get yourself to the start of the ride. (Remember, we're using moving trucks because there will be a new 4 bikes per train coach policy being enforced on the commuter rail)
Any excess funds raised beyond the cost of bike transportation will be donated to Bikes Not Bombs to support the work they do towards disarming literal and symbolic bombs near and far. The cost of this ticket is not tax deductible in full or in part.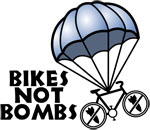 (Excess funds donated to Bikes Not Bombs)
2) This ticket is for loading your bike into a moving truck when you arrive at the loading area.
3) Loading Details: 9-10pm, Sunday April 20th, Meet at the corner of Binford Street & A Street in the Fort Point neighborhood. MAP: https://goo.gl/maps/zZ7lS
4) Loading bikes takes a long time. Please arrive between 9pm and 9:30pm with a copy of your EventBrite receipt. We will assign your bike a number and give you a matching wristband for the reunion in Southborough.
5) Once your bike is loaded onto the truck, meet up with your ride to Southborough or walk over to South Station (10 minute walk) to board the commuter rail train. Purchase your commuter rail ticket to Southborough (Zone 6) if you have not yet bought it. You can purchase commuter rail tickets from the station or on the train (Here's a map of the walk from the paring lot to South Station: https://goo.gl/maps/bYmS2)
We'll be taking the Worcester/Framingham commuter rail train. The train DEPARTS at 11pm, so be at South Station, ticket in hand no later than 10:30pm!!!   DON'T MISS THE TRAIN!
6) If for some reason you fail to collect your bike when we unload (running late, couldn't get on train...) we will return your bike (along with any others left behind) to a central location. As soon as you realize you won't be able to collect your bike, call James at 774-421-9124 and provide the truck letter and wristband number.
8) The train will arrive to Southborough Station at midnight, where we will unload the bikes in batches in the station parking lot. Look for your assigned truck and quietly wait nearby to listen for your bike's number to be called. When called, show the unloading attendant your wristband so they can verify a match.
If necessary, we may also unload at a private location nearby. Look for instruction when you arrive if you do not see your truck.
9) We have extremely limited space & resources. So PLEASE:
- Remove any panniers, baskets, milk crates, mirrors, and all other bike accessories that add to the length & width of your bike.  You can always carry these accessories on the train with you.
- We apologize we can not allow any trikes, tandems, or recumbents; we just can't get them to fit  :(
10) Lastly, if you have any other way to get you & your bike out to the starting line, we ask that you do that, and reserve these trucks for the people who really need a ride out to the start.
11) Lastly lastly, there is an independently organized Pancake Breakfast hosted by Boston Common Coffee Collective near our Boylston T Station ride finish because there is nothing better than delicious food after a 26 mile bike ride. Proceeds to this go to the Home Away Fund. Get your tickets today for pancakes, bacon, coffee, and iced tea here.
When & Where

Binford St. Parking Lot
Binford St
Boston, MA 02210


Sunday, April 20, 2014 at 9:00 PM

-

Monday, April 21, 2014 at 1:00 AM (PDT)
Add to my calendar
Organizer
Greg Hum plays the drums on his bike and loves getting people together for bike rides. BostonSoS supports and organizes off-beat underground events and happens in Boston. With the support and help of many friends, we make things like Midnight Marathon Bike Ride possible.