Midnight Classic Bike Tour - 2010 (Memphis, TN)

Multiple Dates
Event Details
Midnight Classic Bike Tour & Lunar Festival
August 2, 2010 • 10 pm - 3 am • Poplar Plaza Shopping Center
One of the city's best events, now with a much cooler starting point!
Music - People - Bicycles - Smiling Faces
Ride through the heart of Memphis on a perfect August evening with more than 1,000 fellow riders. Enjoy great music, breathe in refreshing night air, take a great bike ride and meet plenty of new friends. All for a great charitable cause! The Midnight Classic Bike Tour offers a healthy night out for cyclists of all levels. Come as teams, with your family, ride with your friends, or just come as you are. You won't be alone for long in this crowd! Join this one night event where we are all connected in the ride, the experience, and fellowship.
What kind of people will you meet? 
Folks from Mid-Town, the burbs, college students, artists, athletes, professionals, doctors, lawyers, fry cooks, firemen, and families from infants to octogenarians. This event is a blast. Probably the last event of the year where everyone still has their summer sun, attitude, and groove.
The success of this Memphis tradition is only possible with your financial support, and this year we need your help more than ever. Please help us to make this year's 11th annual Midnight Classic Bike Tour the best ever!
For More Information Call: 766-0658
Verification of College and Military ID's will be done when you pick up your packet!
Event Timeline
Early evening - Bike shops set up tents, volunteers, sponsors, and support staff start arriving.
By 10 pm the parking lot is ALIVE with people, bikes, beverages, and music by VENUS MISSION.
Save money. Order early; order often:  Early Bird discount until July 4th. Regular prices begin July 5th - Aug. 27th noon.
Walk-in and Mail-in Registration Begins July 19th. Mail-in Registration must be received by August 19th or earlier. Pick up packets at Meritan offices Monday - Friday, 9 a.m. - 4 p.m. or at the Registration Table on Ride Night.
All proceeds go to Meritan, one of the best charities around.  [501(c)3 in Memphis]
Funds from this event help support the work of Meritan in:
Finding foster families for children with special needs.
Job retraining for seniors. 
Training for people who are visually impaired.
Disability and homemaker programs.
Skilled Nursing & Physical/Occupational Therapy - Meritan Home Health - for Medicare, the VA, and individuals.
Pre-Registration Ends August 27, 2010 at noon.
In-person, Event Night Tickets will be available at Late Registration prices during the Lunar Festival between 10 pm and the race's start at Midnight!
Late Registration after 8/27/10 at noon is $40 for Adults; $20 for Children/College ID or Military ID.  Meritan's staff greatly appreciate your supporting the agency.
Support vehicles will be available all along the route.  Please thank our sponsors.
The Midnight Classic will ROLL - RAIN OR MOONSHINE!
For the latest news and information visit
www.MidnightClassicBikeTour.org
Thank You To These Midnight Bike Tour Sponsors!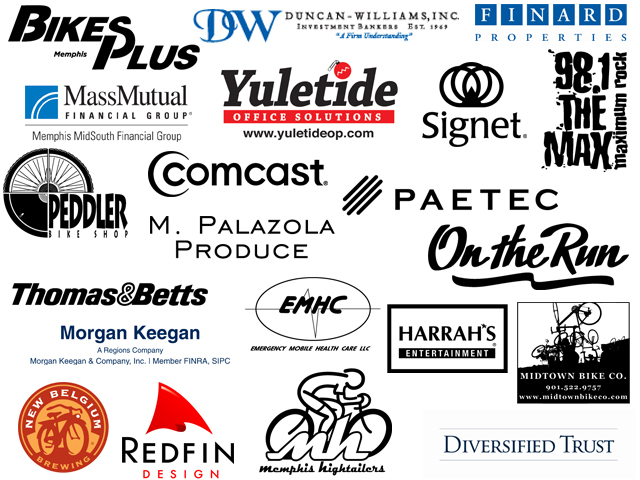 You Are Agreeing to the Terms of Participating by Purchasing a Ticket.
Registration fees are nonrefundable . In consideration of the acceptance of my entry, I the undersigned participant, for myself, my family members, heirs, administrators, personal representatives, successors and assigns herby fully release, discharge and hold harmless Meritan, The City of Memphis, Shelby County, any sponsors, owners and operators of event motor vehicles and officers, directors, employees, volunteers, and lessors of any of the foregoing persons and entities from any and all liability, whether a pre-ride, post-ride Activity, or the ride itself. I also expressly covenant with the aforementioned persons and entities not to sue any such persons and entities for any such activity, including the negligence of any such persons or entities. I certify and represent by my application for entry that my physical condition is adequate to participate safely in the Midnight Classic Bike Tour, and I hereby acknowledge that the above persons and entities have no obligation to provide medical care and have not undertaken the responsibility to do so. In the event I receive medical care as a result of a medical emergency, I hereby consent to such care and fully release the person(s) providing such care from any and all liability, whether resulting from negligence or otherwise. I authorize and consent to the publication, whether by videotape, film, newsprint, written advertisement or otherwise, of any materials containing my name or picture, and I release any sponsors and all persons acting under authority from any claims I might have due to initial or subsequent publications of any such materials or photographs. I hereby certify that I have fully read and understand the foregoing release, waiver and covenant not to sue and sign it knowingly, willingly, and voluntarily. I agree to wear a helmet at all times during the ride.
Have questions about Midnight Classic Bike Tour - 2010 (Memphis, TN)?
Contact Meritan
Where

Poplar Plaza Shopping Center
Poplar
Highland
Memphis, TN


Multiple Dates
Add to my calendar
Organizer
Meritan
Meritan provided life & health services to vulnerable people. Our staff are experts in in-home care, developmental disabilities, foster care, and aging. Meritan is not an institution, hospital or insurance company. Meritan is a charitable 501(c)3 organization. We help people live indepently. Meritan is a regional provider with service in TN, AR, GA and operates as Apelah in MS. www.Meritan.org 800.487.5207
Midnight Classic Bike Tour - 2010 (Memphis, TN)