Description
Following on from the success of our previous event "Golden Quarter Update", the MRF are pleased to confirm the date for our next seminar .... 29th January 2018 and the theme of the event will be Bringing a Hospitality Mindset to the Retail, Leisure and Hospitality businesses.
We have 3 award winning speakers who will share insights and experience about how this approach can reap benefits for not only your customers but also for your business' reputation and longevity.
Tony Elvin - General Manager for Award Winning Hotel du Vin
Anita Champaneri - Award Winning CEO of Delicious PR, Birmingham's leading PR & Events agency specialising in the city's food drink & hospitality sector.
Ian Retallick - Author of "David and Goliath: How Independent Retailers Can Take On the Giants and Win"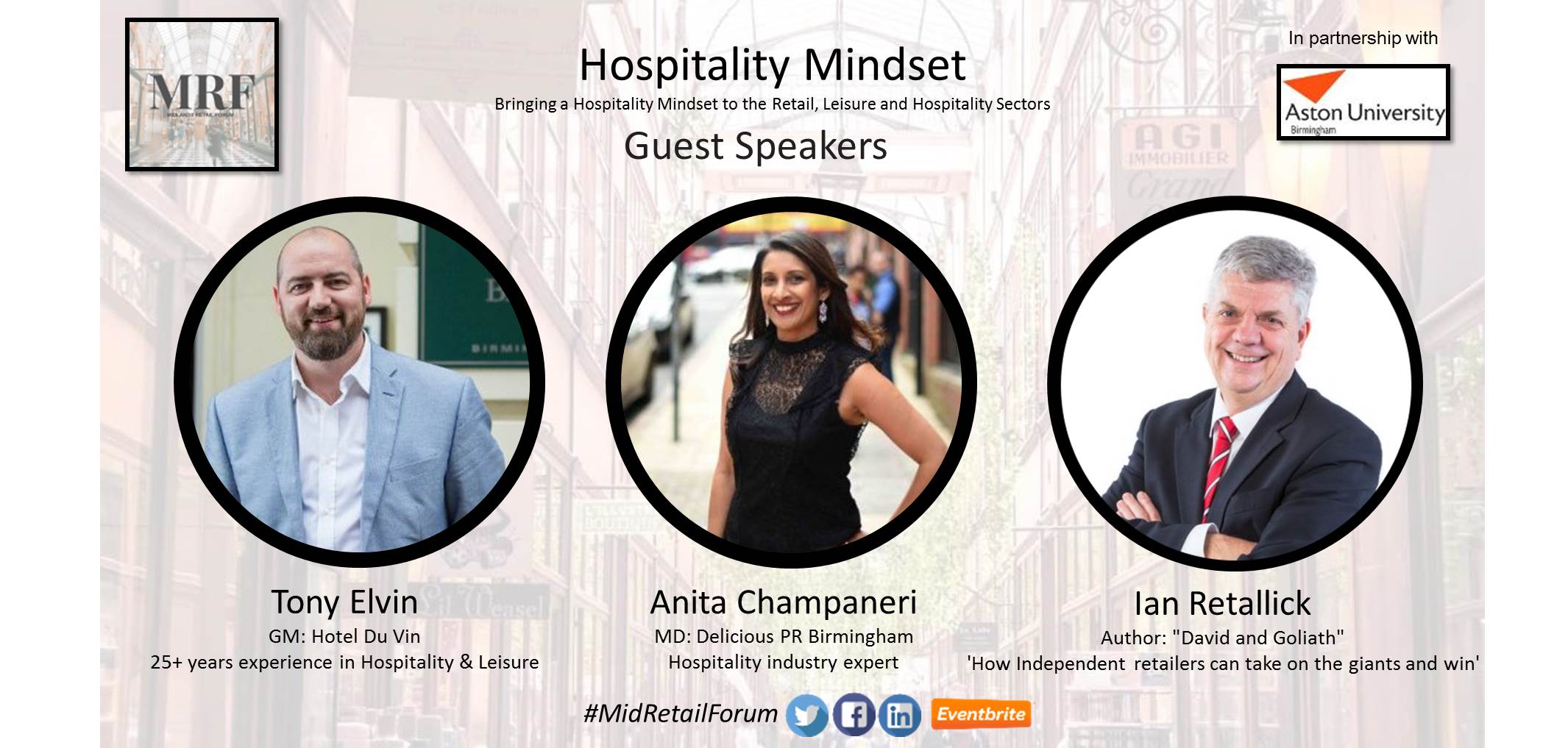 The evening will have Industry Experts sharing their knowledge and experience as well as a Q&A Panel of great Business Minds from the Retail, Leisure and Hospitality Industries.
We are pleased to announce that the conference will be hosted at Aston University:
Venue Address:
Susan Cadbury Lecture Theatre
Aston Business School Building
Aston University
Aston Triangle
Birmingham B4 7ET
There is local paid parking around and near to the university campus on Woodcock Street, Holt Street, Cardigan Street and Jennens Road.
The Agenda for the event is:
18:00 - 18:30: Registration and Networking
18:30 - 19:00: Welcome and Introduction
19:00 - 19:45: Main Speakers
19:45 - 20:10: Refreshments break

20:10 - 21:00: Panel Q&A
21:00 - 21:30: Close & Open Networking
We look forward to welcoming you to our event. In the meanwhile, join our community on Facebook and Twitter
NB: This event is for business owners and employees working at any level within the retail, leisure and hospitality sectors.