Midlands Innovation Flow Cytometry Meeting 2017

Wednesday, 11 January 2017 from 10:00 to 16:00 (GMT)
Event Details

Midlands Innovation Flow
Cytometry Meeting 2017
10AM-4PM, Wednesday 11th January 2017
School of Veterinary Medicine and Science,
Sutton Bonington Campus, University of Nottingham

 Want to learn about Flow Cytometry?
 Want to see what's new in the field?
 Want to find out  about research and  facilities within the MI Universities?

 Then come along to the Free MI Flow Cytometry Meeting 2017!
This meeting will include leading academics and commercial flow specialists from across the Midlands providing expert talks in cutting edge flow cytometry techniques and related research. There will be a young researchers segment & poster session open to all PhD Students / Research Fellows, as well as networking, trade stalls, prizes and a free lunch!!
Confirmed Speakers
Graham Pockley (Nottingham Trent University) - Flow cytometry in a translational cancer research centre: Identifying immunological biomarkers of disease
Martin Davey(University of Birmingham) - Redefining human gamma delta T cell biology using TCR deep sequencing
James Dixon(University of Nottingham) - Highly efficient delivery of functional cargoes by the synergistic effect of GAG binding motifs and cell-penetrating peptides
Jill Johnson(Aston University) - Chronic inflammation promotes the expression of mesenchymal stem cell markers by lung pericytes
Tajkia Musarrat (University of Nottingham) - Cytokine Secretion Assay and its application in rare T-cell analysis
Tracey Perry (University of Birmingham) - Developing in vitro and in vivo models to dissect the contribution of tumour-associated macrophages in diffuse large B cell lymphoma
Charlotte Rich (University of Warwick) – Understanding cell type-specific immunity Arabidopsis thaliana roots
Naeem Khan (University of Birmingham) - Mass Cytometry at the University of Birmingham
Beginners Workshop

Control and compensate your flow Mike Blundell (BioRad)

Live Demonstration: 'How to setup and run a flow cytometry experiment' Sarah Clarson & Ian Brotherick (Beckman Coulter)

Advanced User Session

Analysis of extracellular vesicles by flow cytometry Owen Hughes (Merck)

Monitoring cell death in real-time'Roy Edward (BioStatus)

Multiplexing done differently (AbCam)
.
Call for poster presentations: deadline 12th December 2016.
PhD Students and Post-Docs: Submit a title and abstract (250 word max) todavid.onion@nottingham.ac.ukfor your chance to win the Adrian Robins Young Researcher Prize sponsored by Nexcelom Biosciences
 For further information or to submit a poster abstract e-mail:david.onion@nottingham.ac.uk or your local Midlands Innovation Flow Group Member:
Andrew Devitt (a.devitt@aston.ac.uk.), Mathew Mackenzie (m.g.mackenzie@bham.ac.uk), David Cousins (dc282@leicester.ac.uk), Lettie Bishop (N.C.Bishop@lboro.ac.uk), Lucy Fairclough (Lucy.Fairclough@nottingham.ac.uk), Miriam Gifford (M.L.Gifford@warwick.ac.uk).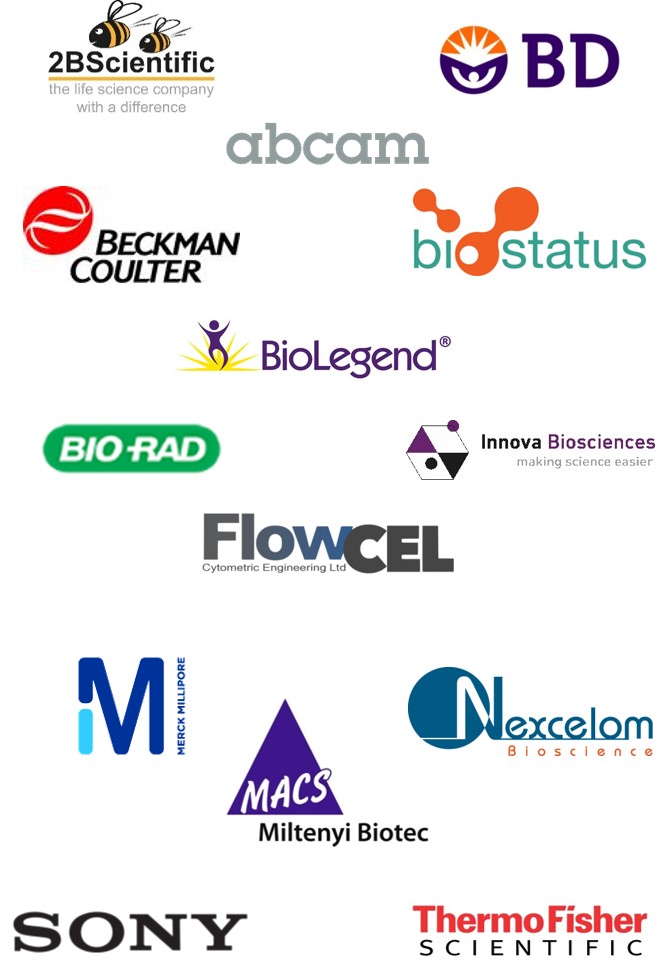 When & Where

A30 and A29
School of Veterinary Medicine and Science
University of Nottingham, Sutton Bonington Campus
LE12 5RD Leicestershire
United Kingdom


Wednesday, 11 January 2017 from 10:00 to 16:00 (GMT)
Add to my calendar
Organiser
Midlands Innovation Universities Flow Cytometry User Group
Midlands Innovation Flow Cytometry Meeting 2017