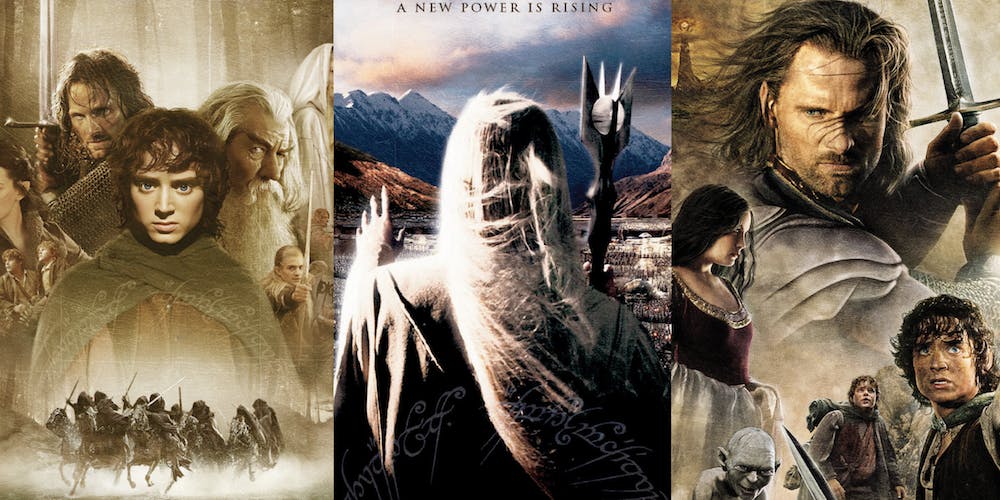 About this Event
Join us for one, two, or all three nights of director Peter Jackson's epic adaptation of the J. R. R. Tolkien trilogy and fuel up for the adventure with a utensils-free "medieval" dinner from Dusek's Board and Beer and exclusive ale from Hopewell Brewing Company! The first 25 guests per night to purchase the $30 Dinner, Beer, and Movie package will receive a commemorative Dusek's beer mug, and nightly costume contest winners will receive a collectible pair of Thalia Hall socks for the long journey home. One screening event to rule them all!
(Please note all Dinner, Beer and Movie Package tickets are sold out at this time, but Movie Only tickets are still available.)
Night 1: Tuesday, March 20
7pm - Doors and Dinner
7:30pm - THE LORD OF THE RINGS: THE FELLOWSHIP OF THE RING (2001, 178 mins, PG-13)
Night 2: Wednesday, March 21
7pm - Doors and Dinner
7:30pm - THE LORD OF THE RINGS: THE TWO TOWERS (2002, 179 mins, PG-13)
Night 3: Thursday, March 22
7pm - Doors and Dinner
7:30pm - THE LORD OF THE RINGS: THE RETURN OF THE KING (2003, 201 mins, PG-13
Dinner ticket holders will receive a "Tolkien Token" upon entry to claim their meal and beer from 7pm until 8pm. The "Middle-earth Times"-style dinner tray* curated by Michelin-starred Dusek's includes:
Smoked Turkey Leg
Potato Soup
"Lembas Bread" Baguette
Hopewell Brewing Company "Prancing Pony" Ale
*no substitutions. meals are served in the theater to be enjoyed at your seat, not redeemable in the restaurant
TH/Cinema makes proud use of Thalia Hall's state-of-the-art sound and digital projection equipment with a full bar, candy, popcorn and plenty of seating available.
Movie: $5 
Dinner, Beer and Movie Package: $30 (advance only)