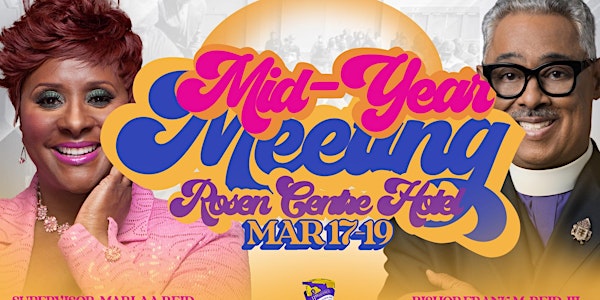 Mid-Year Meeting
Mid-Year Meeting for the 2022-2023 Conference Year of the Eleventh Episcopal District of the A.M.E. Church
When and where
Location
Rosen Centre Hotel 9840 International Drive Orlando, FL 32819
About this event
IN-PERSON REGISTRATION ONLY: The Mid-Year Meeting for the 2021-2022 Conference Year of the Eleventh Episcopal District of the A.M.E. Church.
Join Bishop Frank M. Reid, III, Supervisor Marlaa Hall Reid, and the Eleventh Episcopal District for a dynamic, power-packed, and spirit-filled 2022 Mid- Year Meeting like none other!
Registration is FREE and REQUIRED! Seating is limited and on a first-come-first-served basis. A special room rate can be secured at the host hotel and location- The Rosen Centre.
Please note the following:
PLEASE NOTE THE FOLLOWING:
~Registration is REQUIRED for ALL IN-PERSON experiences.
All virtual worshippers will be able to participate on Facebook Live, YouTube, and www.ame11th.org without needing to register. Registration is NOT required if you are not attending in-person.
~Meals are not included. Restaurants are available throughout the resort and the surrounding area
~ If you have not joined the Eleventh Episcopal District text system, please do so by texting "11STRONG" to 1-877-379-5011
-I agree that my participation confirms that I, along with all that I register, will adhere to all safety protocols and restrictions put in place by the Eleventh Episcopal District of the A.M.E. Church for the 2022 Mid-Year Meeting