Sales Have Ended
Ticket sales have ended
Please contact Taylor West at twest@marionpolkfoodshare.org or 503-581-3855 to determine if there are tickets still available. There will be a limited number of tickets available at the door for $20.
Sales Have Ended
Ticket sales have ended
Please contact Taylor West at twest@marionpolkfoodshare.org or 503-581-3855 to determine if there are tickets still available. There will be a limited number of tickets available at the door for $20.
Description
Farmers, food processors, gardeners, volunteers, and eaters: don't miss out on our biannual Food Summit! Our Willamette Valley is a bountiful agricultural center and this event will provide an opportunity learn more about local farm and food issues. All are welcome to attend!
Join us at Putnam University Center on the campus of Willamette University to engage in the exciting collaborative plans to improve the Mid-Willamette Valley food system with a focus on infrastructure and access to healthy food. Scholarships are available at registration!
Agenda:
8:30-9:00am – Registration
9:00-9:30am – Welcome & Background
9:30-10:45am – 5-Minute Community Talks
10:45-11:00am – Break
11:00-12:15pm – Topical Breakout Sessions
12:15-1:15pm – Lunch
1:15-2:45pm – Community-Based Breakout Sessions
2:45-3:00pm – Closing
The Community Presents!: In the morning attendees will hear from our own community members and learn about issues affecting the food system in this region. Presenters have five minutes to highlight their innovative efforts to create lasting change in the food system, as well as explain the broader challenges and opportunities they face within their work.
Presenters: To be announced
Breakout Sessions Topics:
Local food access for all: Farm Share Rx programs: This breakout session will focus on efforts in Marion and Polk counties to create food access for all members of the community, specifically Marion-Polk Food Shares innovative Farm Share Rx program. Through partnerships with healthcare clinics in Grand Ronde and Northeast Salem, the Youth Farm, and Osprey Farm in Willamina, patients were provided 10-weeks of free Community Supported Agriculture shares during the summer of 2017. Farm Share Rx will continue to provide fresh and local produce to community members in 2018. The session will feature several key partners in making the program successful who are experts in both the healthcare and CSA operation components of the program.

Scale Up, Buttercup: Examples of Successful Wholesale Connections Between Local Small Farmers and Buyers: Focusing on local mid-scale wholesale markets, including sales to groceries and farm-to-restaurant sales, this session will provide both farmer and buyer perspectives on how to supply the "buy local" demand outside of farmers markets and CSAs. Our panelists will outline first steps and the farm requirements for larger volume and contract sales, while sharing their experience and best practices for farms interested in this type of sales market and buyers searching for local produce suppliers. Farmers will share what they have learned about selling to wholesale and institutional markets; buyers will discuss how they purchase from and contract with area growers.

Who's picking our food? - Farmworkers in the Food System: Marion and Polk counties are rich agricultural areas with large-scale farming operations that sell on the international markets. Farmworkers play an essential, and frequently undervalued, role in our food system. Often they are tending, growing, harvesting, and packing food in the Willamette Valley that they cannot afford to buy from the grocery store. In this session, three local experts who work to support farmworkers will discuss their work, the history of farmworkers in Oregon, and how we can all support the people who help grow the food we eat every day.

Food Banks Building Communities: Emergency Food Distribution Programs as Centers of Social Change, Abundance and Neighborhood Empowerment: Food pantries play a vital role in providing access to food for individuals in Marion and Polk counties, and have historically been a significant focus of emergency programs combating hunger in our communities. More recently, food pantries have worked toward building community networks, supporting local food systems and addressing the root causes of hunger and poverty.

This panel highlights three innovative food pantries across the two-county area that are changing how pantries work, what needs they serve and what roles they play in their community. We'll explore how adopting shopping style distribution methods eases logistics and changes attitudes, how pantries can act as cultural centers to reconnect individuals with knowledge and relationships, how pantries can be strategic resource centers for vulnerable people, and how building a comfortable, communal gathering place around food can create a space for building advocacy and broader social change.

Here Now: Local Food Promotion and Where to Buy Local Food: Marion and Polk counties are full of local farmers, ranchers and food vendors, yet it is still hard to find local food. Join this workshop to learn the different ways you can access local food as a consumer, as well as learn about new initiatives happening in the area to continue promoting local food. You'll hear about the ins and outs of buying from Local Food Buying Clubs and through Community Supported Agriculture (CSA's), as well as hear about upcoming plans for the Saturday Market. This workshop will also introduce the Marion Farm Loop and share how agritourism is playing a role in local food promotion. Lastly, there will be a discussion on what other communities are doing to promote local food and how our communities might incorporate their best practices.
Cost: $15. Scholarships are available at registration! If you are a student, register as a student volunteer to gain free admission in exchange for 2-hours of volunteer service. Unlimited flexible scholarships are available at registration on a donation basis. Please note that there is a $2.89 service fee in addition to the ticket price.
Optional Farm Tour: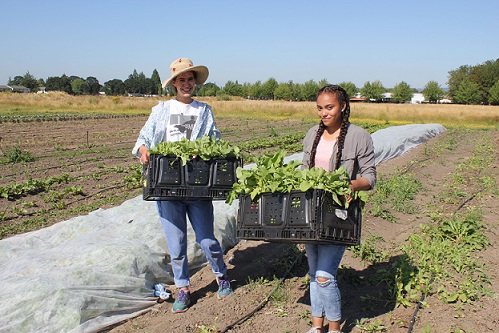 On Friday, February 2nd from 1:30pm to 3:00pm, join other attendees for a special tour and conversation with staff of Marion-Polk Food Share's Youth Farm. Tour the farm, learn about the summer youth program and gather for a causal conversation about youth in the food system. The tour is limited in number and costs an additional $5.
Questions?
Contact Taylor West, Community Food System Coordinator
twest@marionpolkfoodshare.org
503-581-3855, ext. 338
Organizer of Mid-Valley Food Summit