Mid-Autumn Lantern Festival: Tet Trung Thu

Friday, August 16, 2019 from 4:00 PM to 10:00 PM (EDT)
Event Details
We are excited to invite you to the Mid-Autumn lantern Festival! (August 16-18) Come witness the display of over thousands lanterns. Enjoy live performances by local talent, carnival games, activities for the entire family, and indulge in the delicious foods from dozens food vendors!! Did we mention the beer garden? Yes, you read correctly! Lamplighter Brewery and Democracy Brewery will be joining us this year and bringing to you great new summer flavors. 
A charity event to benefit the Vietnamese-American Community of Massachusetts, Make-A-Wish of Massachusetts and Rhode Island and the Jimmy Fund (Dana Farber Cancer Institute), the aim of this event is not only to showcase and share Vietnamese culture but expose the local business of Randolph and Boston. The success of this year's Mid Autumn Moon Festival will be attributed to the strength of the community in which we serves.

Come celebrate the Autumn moon under the light of thousands of lanterns as we fund raise for the fight against cancer and fulfilling wishes for children diagnosed with life-threatening medical conditions.
We apologize but the sky lantern releases will no longer be taking place after official meetings with the fire department. We will be issuing refunds for all purchases and apologize for the inconvenience. This will not change any other aspects of the lantern festival.

Visit our website and Facebook event page for more info and updates:
- www.MidAutumnLanternFestival.com
- Phone: (617)297-7392
- Facebook Event page: @TheMidAutumnLanternFestival
TICKETS BOUGHT FROM NOW UNTIL JULY 18, 2019 WILL AUTOMATICALLY BE ENTERED INTO OUR RAFFLE.VISIT OUR FACEBOOK AND WEBSITE FOR MORE DETAILS.
------------------------------------------
SKY LANTERNS WILL BE AVAILABLE FOR A DONTATION OF $5 FRIDAY AND SUNDAY.
LANTERN RELEASE CEREMONY WILL TAKE PLACE FRIDAY AND SUNDAY AT THE CONCLUSION OF EACH RESPECTIVE NIGHT. (9:00 PM)
------------------------------------------
SATURDAY NIGHT WILL CONCLUDE WITH A LANTERN PARADE WHERE HOME MADE LANTERNS ARE HIGHLY ENCOURAGED. (FREE LANTERNS WILL BE GIVEN TO CHILDREN 8 AND UNDER)
***Free entry and Sky Lantern for Seniors and children 8 and under***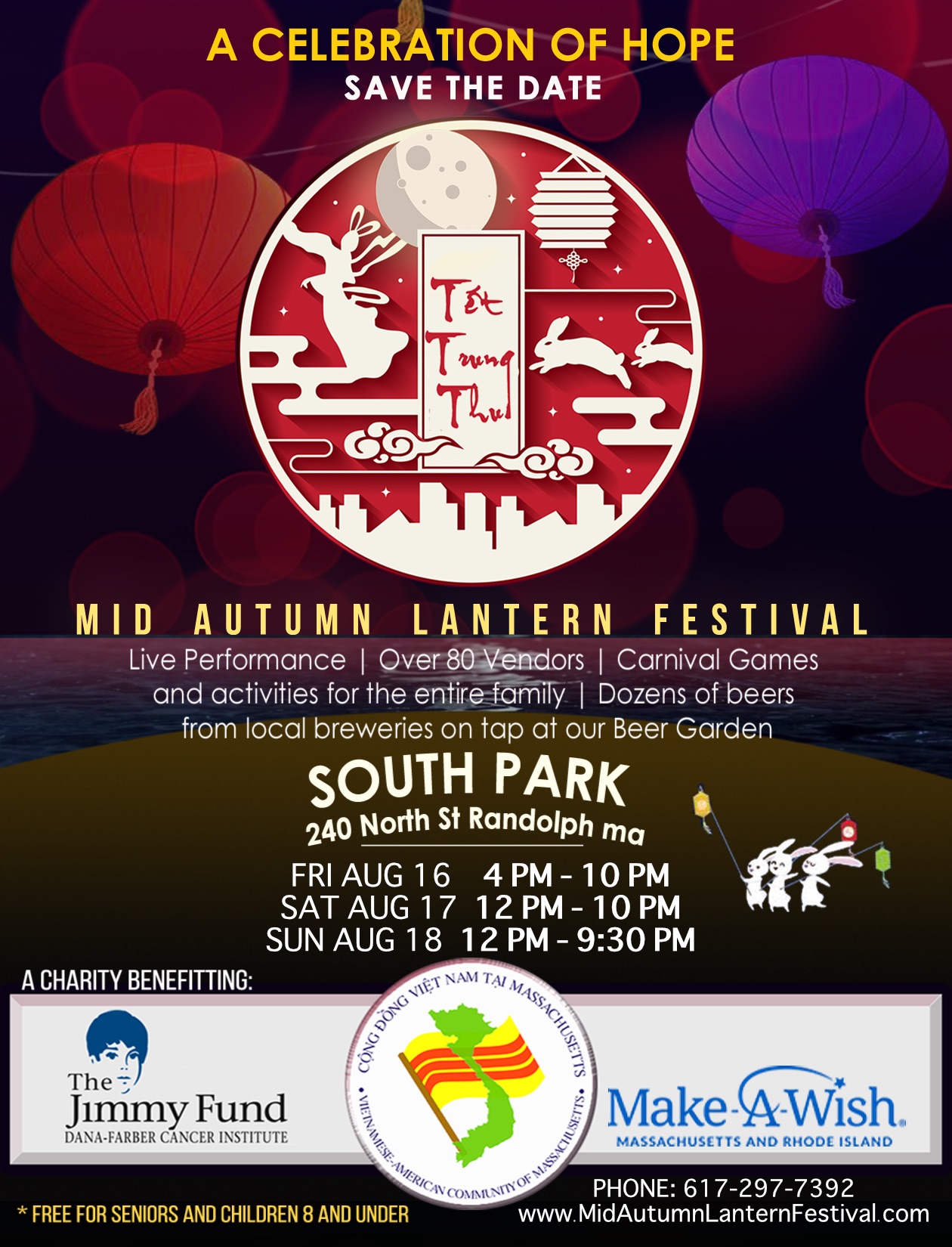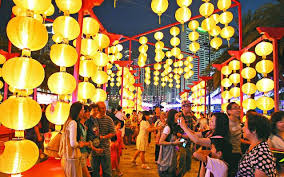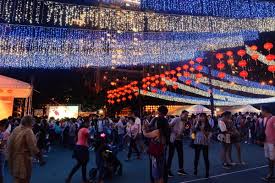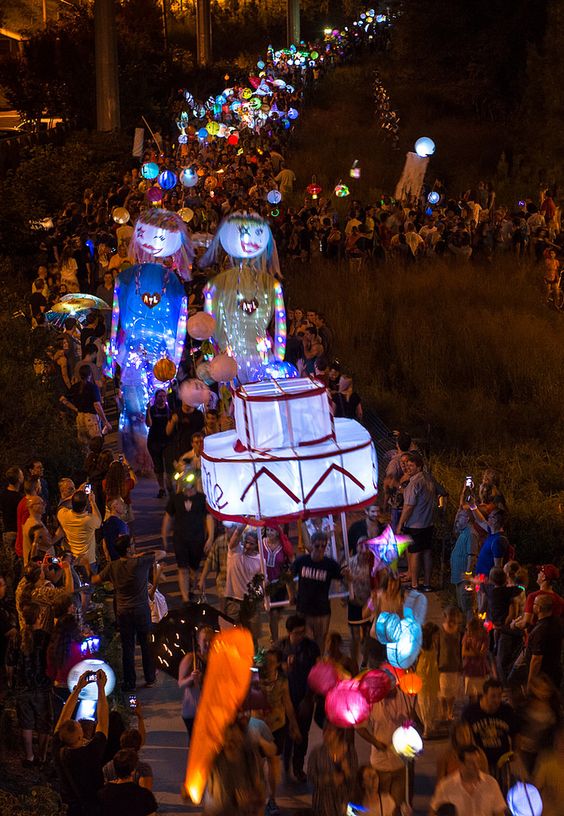 When & Where

South Park
240 North Street
Randolph, MA 02368


Friday, August 16, 2019 from 4:00 PM to 10:00 PM (EDT)
Add to my calendar
Organizer
Benefitting organizations:
What is Jimmy Fund (Dana Farber Cancer Institute)?
The Jimmy Fund solely supports Boston's Dana-Farber Cancer Institute, raising funds for adult and pediatric cancer care and research to improve the chances of survival for cancer patients around the world. Since its founding in 1948, the Jimmy Fund has raised millions of dollars through thousands of community fundraising events. The story of the Jimmy Fund is one of grassroots involvement — of thousands of people organizing bake sales, lemonade stands, runs, walks, golf tournaments, dances, and softball games to raise money for cancer research and care.
What is
Make-A-Wish (Massachusetts and Rhode Island)?
Make-A-Wish Massachusetts and Rhode Island grants wishes for children between the ages of 2 ½ and 18 diagnosed with life-threatening medical conditions to enrich the human experience with hope, strength, and joy. Each wish reflects the individuality of the child and their heartfelt desire, whether it is a back yard hockey rink, a trip to Hawaii, a meeting with a favorite athlete, or the chance to have a ballet studio at home. A wish plays a vital role. While medicine treats a child physically, a wish treats a child's emotional well-being.
Host organization Overview
What is the Vietnamese-American Community of Massachusetts?
vacmass.org
https://www.facebook.com/congdong.vnmass
Mission: Promote collaboration, protect the rights of Vietnamese Nationalist refugees, advocate for human rights and democracy for Vietnam, develop mutually beneficial relationships with state and federal government along with other ethnic communities, and promoting Vietnamese culture and heritage.
The Vietnamese-American Community of Massachusetts (VACM) serves as the umbrella organization and a formal network for 36 independent Vietnamese-American associations and organizations. They promote the interest of Vietnamese-Americans within and beyond Massachusetts, working towards human rights and democracy for Vietnam.