Mid-Atlantic Permaculture Convergence | Cultivating Self-Reliance in 2019
Description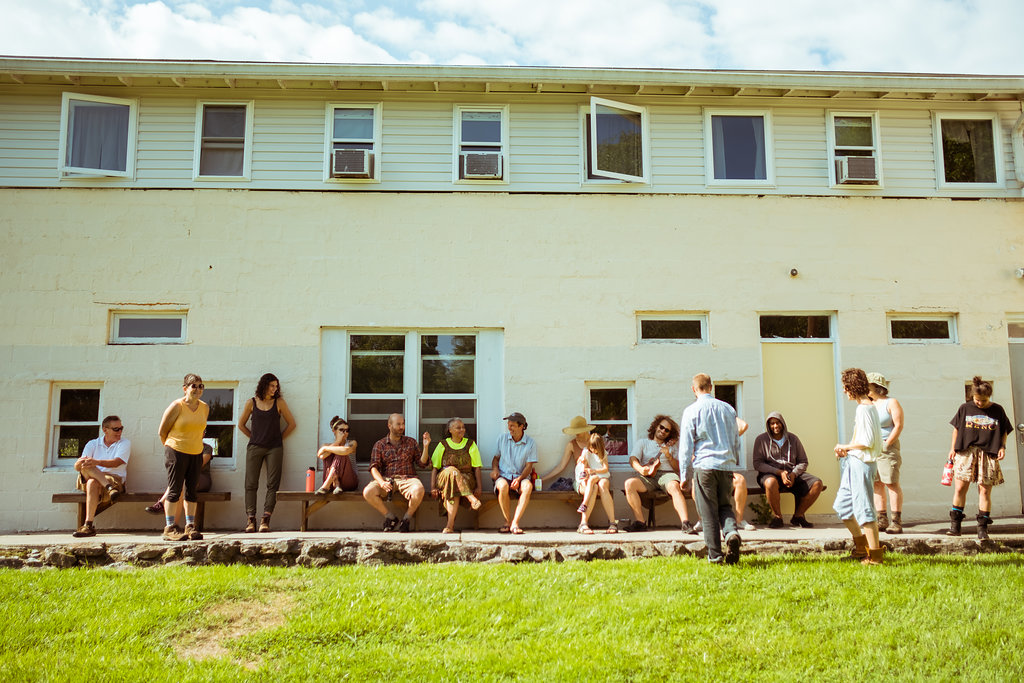 ** NOTE: TICKET SALES OFFICIALLY CLOSE ON FRIDAY, JUNE 14TH.**


The Mid-Atlantic Permaculture Convergence is a two-day festival celebrating land-based living and self-reliance. Over 20 local teachers, experts, and gurus will teach crucial skills related to food, energy, water, health, building, and community self-reliance. Come one, come all; only we can build the world we deserve.
This festival is here to cultivate inspiration and purpose, and to spread the knowledge and skills we need to understand the systems we rely on. Throughout the weekend, we will learn how to better meet our individual and community needs in ways aligned with nature and its processes. Let's come together to shift a culture of disempowerment! There is a wealth of knowledge and experience all around us, and we can thrive off of the abundance and wisdom that this eco-region already provides.
There will be live music, meditations, forest walks, sauna sessions, campfires, and more joyous activities sprinkled throughout the weekend. All types of people are welcome to attend, and scholarships are available to make sure that no one is unable to join. Come ready to learn, share, and meet amazing people from the Mid-Atlantic!
---


DETAILED SCHEDULE
There are many workshops to choose from; check out the schedule beforehand so you can choose those that you most want join!


======================
FRIDAY, JUNE 28TH
======================


3 PM: Volunteer orientation
5 PM: Dinner for teachers group
7 PM: Attendee arrivals & orientation
9 PM: Community circle, sharing of intentions & campfire


======================
SATURDAY, JUNE 29TH
======================
Sunrise walk/dance


Morning meditation offered


Breakfast


SESSION 1 | ENERGY

+ WORKSHOP 1 | Bradley Sanders from the Timber Frame Folly: Fire and Clay: Rocket Mass Heating part 1
+ WORKSHOP 2 | Keir Knoll from Sacred Roots Herbal Sanctuary: The Mathematics of Electricity
+ WORKSHOP 3 | Xavier Walter from Energy Efficient West Virginia: How to Save Money at Home via Saving Energy

** KIDS SESSION: Music-Making and Storytelling


SESSION 2 | WATER

+ WORKSHOP 1 | Michael Judd from Ecologia Design: Digging into Swales
+ WORKSHOP 2 | Brian Redmond from Tridelphia Permaculture: Building Your Own Rain Gardens
+ WORKSHOP 3 | Fred Tutman & Elaine Chiosso: The Art of Riverkeeping & Citizen Science

** KIDS SESSION: Munching through Nature Forest Walk


Lunch (bring your own or for purchase)


Q & A Session with Claymont | Learnings from an Intentional Community


SESSION 3 | HEALTH

+ WORKSHOP 1 | Hillary Banachowski from Sacred Roots Herbal Sanctuary: Affordable Healthcare: Make Your Own Herbal Remedies
+ WORKSHOP 2 | Barbara June Appelgren from Healing Arts: Self-Healing Strategies for Mental, Physical, and Emotional Health
+ WORKSHOP 3 | Ashley Davis from Tonic Herb Shop: Creating a Medicinal Polyculture
+ WORKSHOP 4 | Elisabeth Castleman: Healthy Movement Techniques

** KIDS SESSION: Capture the Flag and/or Movie Screening


PANEL: Strategies for Building Local Community Resilience and Infrastructure



Dinner


Spoken word performance by Crystal Good & live concert from the Warp Trio ensemble


Contact improve dance jam & tutorial


Late night musical performance in the woods
======================
SUNDAY, JUNE 30TH

======================
Sunrise walk/dance


Morning meditation offered


Breakfast


SESSION 1 | FOOD, PLANTS & SOIL

+ WORKSHOP 1 | Diane Blust from Sustainable Jefferson: Home Food Preservation
+ WORKSHOP 2 | Marisa Cascia from Tridelphia Permaculture: Mushroom Identification & Exploration
+ WORKSHOP 3 | Linda Bilsens from the Institute for Local Self-Reliance: The Art of Composting
+ WORKSHOP 4 | Todd McCree from Great Escape Farms: Perennial Plant Propagation
+ WORKSHOP 5 | Ben Friton from Forested: Soil Ecology

** KIDS SESSION: Herbal First Aid


Open Hour

+ Option 1: Connecting to Earth's Energy through Movement with Rabiah Al Nur
+ Option 2: Wild Foraging Walk with David Browne
+ Option 3: Tea ceremony with Andrea J


Lunch (bring your own or for purchase)


Q & A Session: What is permaculture?


SESSION 2 | HEATING & BUILDING
+ WORKSHOP 1 | Luke Bauer, Rolling Ridge Study Retreat: Natural Basket Weaving and Cordage Workshop
+ WORKSHOP 2 | Josh Evans from Rolling Ridge Study Retreat: Ancient Fire Skills & Fire Science
+ WORKSHOP 3 | Bradley Sanders, from the Timber Frame Folly: Fire and Clay: Rocket Mass Heating part. 2


Open mic reflections & share-out


6:00 pm: Goodbyes!
---
TICKETS, VOLUNTEERING, SCHOLARSHIPS & SPONSORSHIPS


** NOTE: TICKET SALES OFFICIALLY CLOSE ON FRIDAY, JUNE 14TH.**


Full Weekend Passes
Full weekend passes begin the evening of Friday, June 28th and last until Sunday, June 30th at 5 pm. They include all of the programming taking place during the Convergence.

Full Weekend Pass
Early bird: $75
After April 15th: $90
---------------------------------------
Day Passes
Day passes begin as soon as programming starts each morning, until it ends each evening. Those who purchase day passes are welcome to join for the orientation, introductions, and intention-setting that is happening the evening of Friday, June 28th with the full weekend attendees.
Saturday Day Pass
Early bird: $45
After April 15th: $60
Sunday Day Pass
Early bird: $35
After April 15th: $50
--------------------------------------
Overnight Stays
All are encouraged to stay overnight, as there will be more of a chance to build community with the other attendees and teachers. You have the option of staying indoors in a dorm room, or camping outdoors (if camping, you must bring your own tent and camp equipment).
Overnight indoor lodging: $25 per night
Overnight camping: $10 per night
--------------------------------------
Meal Passes
There will be a prepared dinner for purchase on Saturday night, as well as for breakfasts Saturday and Sunday morning. Food trucks will be present during lunchtime on Saturday and Sunday. Those not purchasing meals can bring picnic meals. Meals must be purchased one week before the event begins to account for total numbers and dietary preferences.
Breakfast: $10 per person
Dinner: $15 per person
--------------------------------------
Kids!
Kids under 15 years old will be admitted into the event for free. However, a parent or caregiver must purchase overnight stays and meal passes (if purchasing food) for each child that attends.
--------------------------------------


Scholarships are available
For those who are not able to afford the ticket price as it stands, please reach out to hello@midatlanticpermaculture.com indicating so to access a discounted ticket rate. We have specific discounts for those earning low-income wages, students, and veterans. No one will be turned away from this event due to financial reasons!
--------------------------------------
Volunteers Wanted
We are looking for 10 volunteers to support with various tasks throughout the weekend, including but not limited to clean-up, childcare, and checking people in at the welcome desk. Those who volunteer will be admitted to the event for free, and provided with free housing throughout the event, in exchange for their time and labor.
--------------------------------------
Donations & Sponsorships
Individual and organizational donations are needed to assist with the costs of this event. Individual donations are accepted at whatever amount is possible, and organizational donations are suggested at a rate of $1,000 and above. Organizations that donate will be featured on the event page and website, have the option of displaying information and products at a table throughout the weekend, and will be gifted two free tickets to the event. Please donate using the "donate" ticket option at check-out to make a donation to this event.
---
TRANSPORTATION
Claymont is located right outside of Charles Town, West Virginia, in the eastern panhandle.
By Car
Claymont is an 80-minute drive from both Washington, DC and Baltimore. It is a 3-hour drive from Philadelphia, and a 4.5 hour drive from New York City.
By Train/Bus
From Washington DC Union Station, you can catch the MARC commuter rail running westbound on the Brunswick line. The nearest stop is Harpers Ferry, which is a 15-minute taxi ride to Claymont. Pick-up from the train station may be possible; this will need to be scheduled in advance by emailing Sam at sbodkin89@gmail.com.
By Plane
Claymont is a 50-minute drive from Dulles Airport, which is the closest airport.
---
CONTACT
Please reach out to hello@midatlanticpermaculture.com with any inquiries about this event.