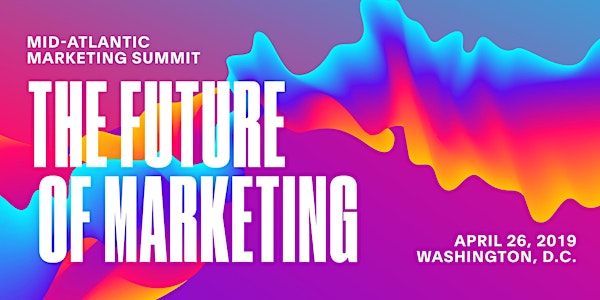 Mid-Atlantic Marketing Summit: Washington 2019
By Capitol Communicator & Potomac Tech Wire
Date and time
Friday, April 26, 2019 · 8am - 5:30pm EDT
Location
National Education Association 1201 16th St NW Washington, DC 20036
Description
WEBSITE: https://mamsummit.com
2019 is the eighth year of the Mid-Atlantic Marketing Summit DC. The summit is the go-to and most respected marketing and communications conference in the Mid-Atlantic region. The full-day event brings together hundreds of marketing and communications executives throughout the region to discuss high-level issues through a series of panels, keynotes, presentations, exhibits and networking.
The summit is co-produced by two of the most respected news organizations in the region: Capitol Communicator, the region's source for marketing and communications news; and Potomac Tech Wire, the region's source for technology news;
Themes focus on the latest ideas, technologies and trends in the ever-changing world of marketing. Topics include: metrics, talent recruitment, customer-centric, mobile, social, big data, marketing automation, online video campaigns, experiential advertising, and much more.
You should attend if you are a CMO, brand marketer, marketing executive, public relations professional, entrepreneur, investor, technologist, creative director, media planner or publisher.
Who Attends:
Over 65% are client-side and the balance are agency and service-side marketing communications professionals. Over 60% of attendees from past MAMS were senior-level executives. The following is a partial list of companies that have attended past Mid-Atlantic Marketing Summits:
11mark, 3D Technologies Ltd, 3Pillar Global, 4GreenPs, 501digital, LLC, 522 Productions, 60iMedia, A&T, AAJ Interactive Technologies, Achieva, Acquia, Acumen Solutions, Inc., Affigent, LLC, AgendaPop, Aha Media Group, AIA, AirPatrol, AKQA, Alexander & Tom, Inc, Alexandria Economic Development Partnership, Alexander and Tom, Inc., Altus Group, American Public University System, American Red Cross National Headquarters, American Solutions for Business, American University, AMi Direct, Angel, AOL, Inc, API,Apiphany, Apkudo,, Apptix, Aquent, Architektos Design, Arlington County, Arlington Healthcare Group, Aronson LLC, Art of Digital Prominence, Association of Perfrorming Arts Presenters, AT&T, Atlantic, Atlas Brew Works, Atlas Restaurant Group, Aurigma, Inc., AvalonBay Communities, Inc., Avectra, Avendi, B. Neil, Balance Interactive, Base Three, Base Three, Bates Creative, Bean, Kinney & Korman, Beddow PR Consulting, Berger Video, Best Bark Communications, Best Bark Media, BGE HOME, BH Media LLC, BIA/Kelsey, Biblical Archaeology Society, Bio-Trac Program, BizTech, Blackboard Inc, BLINQ, BLipsy & Assoc, Blue House, Blue Shamrock Communications, Blue Water, Bluetext, Booz Allen Hamilton, BOSCOBEL, Bozzuto, BrabenderCox, Bracewell & Giuliani LLP, BRAVO! Events, Brazen Careerist, Bridgeline Digital, Brightline, British Embassy, Brivo, BSI Americas, Buckley & Kaldenbach Inc., Burke & Herbert Bank, BurrellesLuce, Burwell Group, Business Transformations, Business Wire, Byles And Associates, Cadmus, Callahan & Associates, Campaigns and Elections, Candice Bennett & Associates, Capital One, Capital Post Production, CareFirst, Carousel30, Carpathia Hosting, Inc., CEB, Celerity, Centro, Cerebral Lounge, CH Potomac, CHIEF, Cision, CIT, Citizant,Citybizlist, Clare Advisors, LLC, Clarke Schools for Hearing and Speech, Clean Cuts Music, Clements Worldwide, Clepper Media Consultants, LLC, Clipper Magazine (a Gannett Company), Cloud Opx, Clurman Global Content, CMG PARTNERS, Cobalt, Comcast, Comcast Spotlight, CompuGain, Computer CORE, Compuware, Concord USA, ConnellyWorks, Inc., Consilio, Constellation New Energy, Convergent Wealth Advisors, Conversant, Cooler Heads Intelligence, CortaniMorrison Advertising and PR, CoStar Group, Coverent, CQ Roll Call,Create Digital, Creative Group, CroppMetcalfe Services, Crosby Marketing, CRT/tanaka, CSC, CSG Creative, CSOD, TRAK, Plex, & Trackmaven, Custom Fitness Concepts, CustomInk, CV Consulting, Cvent, CyberTurf Strategic Media, Cystic Fibrosis Foundation, Cyveillance, D S Simon, Daniel Merino Photography, Data Tactics Corporation, DB Consulting, DC Markets, Decision Lens, DexOne, DFT, Diamond Strategic Marketing, DigiLink, Inc., Digital Prism Advisors, DigitalGlobe, Dirxion LLC, Divvy Cloud, Dixon Hughes Goodman LLP, DLA Piper, DLT Solutions, DMI, Donna Arbogast & Associates, Dovel Technologies, Inc., DPR Group, Dreamscape Medical, DrFirst, DuPont Fabros Technology, Earth Networks - WeatherBug, EcomNets, Edge Hosting, LLC, Edison Partners, Edison Ventures, EdLogics, Edwin Remsberg Photographs, Ellucian, Emergent Element, Employment Enterprises, Inc., ENC Strategy, EnergizeGrowth LLC, Entrepreneurs' Organization, Environics Communications, eTERA Consulting, EventKloud, EventRebels, Everclear, EverFi, Evolve Communications, ExactTarget, Executech Strategic Consulting DoD National Defense iCollege, ExxonMobil, Fairfax County Chamber of Commerce, Fairfax County Economic Development Authority, Fairfax County EDA, Feld Entertainment, Fierce Markets, Fishbowl, Fleishman Hillard, FotoDC, Frameless Technologies, Frank Strategic Marketing, Freddie Mac, freedom, Friends Life Community, FrontPoint Security, Fuel Education, Gaia Group, Gannett, GED Testing Service, George Washington University, George Washington's Mount Vernon Estate, Museum & Gardens, Geostellar, Inc, GlobalSpec, Go Fish Digital, Google, Government Executive Media Group, Grab Networks, Graduate School USA, Grafik Marketing Communications, GROWTHincite, GSE Systems, Inc., GWPI, GXS, Gyro, H2M Growth, H9 Interactive LLC, hagen inc, Hanley Wood, Harmony Information Systems, Harris, Havit, HBP, Inc., Heimlich Group, Henninger Media Services, Inc., Hickory Cluster Conservancy, Higher Logic, Hinge, HireStrategy, Hireworx, Hobsons, Honeycomb Consulting, Hy.ly, ICF International, ICG, Identika, idfive, iHeartMedia, immixGroup, Inc., In The Capital, Inanda Business Marketing, Infinitive, Infoition News Services, Information Builders, Innova UEV, Innovation Network.guru, InScope International, Inside Lacrosse, Institute for Excellence in Sales, Integram, IntelliDyne, LLC, Interface Media Group, Intermarkets, Inc., Internet Advertising Bureau (IAB), Intero Advisory, Interstate Service Group, iostudio, iQ Media, Iron Bow Technologies, Iron Mountain, iyotee inc., Jackson Lewis P.C., Jensen Design, Jhpiego, JM MC, John Spaulding Photo, Juniper Networks, Just Add Firewater, JWatson Creative, KB Concepts P.R., Keppler Speakers, Kercus Holding Inc, Key Marketing Services, Kinsella Media, KiwiTech LLC, Korn/Ferry International, L-Soft international, Inc., L&R Communications, Land Trust Alliance, Larnish & Associates, Inc, Lattice Engines, Leading Authorities, LeadPeople LLC, LeapFrog Solutions, Level 3 Communications, Leverage Marketing Agency, LewisPR, Linksoft Innovate, LLC, Lio Johnson, LivingSocial, LMI, LMO Advertising, London Ink, Loudoun Economic Development, Mac Mannes, Inc., Management Concepts, Mandiant, Mark von Keszycki, Mark Wright Communications LLC, Market Connections, Inc., Market Torque, MarketBridge, Marsh & McLennan Companies, Masking Networks, McGladrey LLP, MDB Communications, Measured Results Marketing, Media Fusion Ine./NASA, memoryBlue, Merritt Group, Mervis Diamond Importers, MGAC, MiCORE Solutions, MicroTech, Mid-Atlantic Venture Association, MilkPEP, Millennial Media, Millennium Marketing Solutions, Inc., MindCruncher LLC, MNI/Time Inc, Mobiletech, Mobility Lab, Modis, Mojo, Mondo, Monumental Sports & Entertainment, MorganFranklin Consulting, mPortal, MRI, , MSBD, Inc., MyerConnex, N.E.W. Customer Service Companies, NADA, NADART, National Gallery of Art, National Geographic, National League of Cities, National Lutheran Communities & Services, National Parks Conservation Association, NavigationArts, Navistar Defense, Navy Federal Credit Union, NCG Media LLC, NCI, nclud, LLC, NDG Communications, NeoSystems, Neovera, net2E, NetApp, NetPlus, NetStrategies, Netuitive, Inc, NeuroTrax, Neustar Information Services, NEWS USA, Newseum, NewsiT LLC, Next Level Branding, Nexus Systems, NII Holdings, NIKA, nitrocreative, Nitto, Northern Virginia Media Services Belvoir Eagle, Quantico, Nova Technology Partners, Ntava, NXC North America, O'Keefe Communications, O2 Lab, Inc., O3 World, Octane Public Relations & Advertising, OmniStudio, OpenConcept Systems, Inc., Optoro / BLINQ, Orchestro, ORI, Outside GC, outsourceIT, Pappas Group, Parature, Paxfire, PCI, Pew Research Center, PGCFCU, Phase2 Technology, Pitney Bowes Software, Plan B Technologies, Inc., PlowShare Group, Pondera International, PR Newswire, Producers, Production Solutions, Profiles, Prominence, Qmulos, Quantitative Software Management, Inc., QUOIN, Inc., Quote My Source, R&K Solutions, R2integrated, RainedOut, Raytheon Trusted Computer Solutions, RDA Corporation, RDC Public Relations, LLC, Real Magnet, Redmon Group Inc., RegReady, REHAU Construction LLC, Renegade Communications, Resonate, Reston Limousine, Revecent, RFP Associates, Right Source Marketing, Riverbed, Robbins Gioia, Robert H. Smith School of Business, Roberts Mlotkowski Safran & Cole, PC, Rocket Fuel, Rose Financial Services, RP3 Agency, RR Donnelley, RTCS, RyanSharkey, LLP, Rybbon, Sage Communications, SageWater, Sales Engine Media, Salesforce.com, Sapling Pictures, Sawmill Marketing Public Relations, School of Management, George Mason University, Schule Media & Marketing, Inc., Scott Circle, Search Technologies, Semper Fi Fund, Sensis, ServiceNow, SES Government Solutions, Shentel, ShowGizmo, Sierra Nevada Corp, Silverback Strategies, Inc., Siteworx, LLC, SkillsUSA, Slice Communications, Smith & Harroff, SNVC, Social Media Explorer, Social Radar, Social@Ogilvy/OgilvyPR, Softchoice Corporation, Software AG Government Solutions, Solar Electric Power Association, SolarWinds, Solution Street, Solutions Marketing Group, Sonatype, Spacenet, Spark Experience Design, SpeakerBox Communications, Spectra Global, Speedpro Imaging Northern Virginia, Sphere of Influence, Spree Commerce, Spurrier Media Group, SSi Consulting, Starfish Retention Solutions, Stevenson University, STG, Inc., Stonerose, Storyfarm, StoryTech Consulting LLC, Strategic Communications Group, Strayer University, Streetsense, Success in the City, SureFire Social, Susan Davis International, T&L, Tallan, Target Marketing Group, Tech Wire Media, Technology Rivers / Hireworx, Telcordia Operations Solutions, TelecomHUB, Tellenger, Inc., TENPEARLS, Teradata, The Advisory Board Company, The Alden, The Alim Foundation Inc., The American Institute of Architects, The Associated Press, The Borenstein Group, Inc., The BOSS Group, The Bounce Group, The Bozzuto Group, The Chronicle of Higher Education, The Council of Insurance Agents & Brokers, The Duke & the Duck, The Gigawatt Group, The Great Courses, The HUBConnects Meetup, The Hughes Group, The Nature Conservancy, The Prudential Insurance Company of America, The Roan Group, The Robin Bowers Co, LLC, The Sutter Group, The Teaching Company, The Treatment and Learning Centers, The Washington Examiner, ThinkFoodGroup, ThreatConnect, Three Gypsy's & Associates, Three Pillar Global, threespot, TimeLife, TKSS, LLC, TMP Government, TorchLight Hire, Townhall, Travel Channel, Trees for the Future, TRSA, U.S. Trust, UMUC, Undertone, University of Maryland, Smith School of Business, URAC, Urgent Message, US Bank, USA TODAY, USDA, USTelecom Association, V! Studios, Valhalla Partners, ValueClick Media, Varick Media Management, Varner Communications, VelocityMarketing.com, Venturehouse Group LLC, Verisign, Video Blocks, Vincent Roa Group, LLC, Virginia SBDC, Virginia Tech, EMBA Program, Virtacore, Vitamin T, Voice-Over Artist, Voter Gravity, W2 Communications, Washington Business Journal, Washington Post, Washingtonian Custom Media, Watkins Meegan LLC, WaveLength Analytics, WBA Research, WeatherBug, WebbMason, WebMechanix, WeddingWire, Weiss PR, Welz & Weisel Communications, WeMedia, West Street Productions, WhatCounts, Whereoware, White and Partner, , Wicked Sage, LLC, williams whittle, WillU2, WMC Global, World Bank Group, Worldwide ERC, Wunderman, XO Communications, Xtone, Inc., YaSabe, Young Marketing, Zansors, Zippy Shell, Zolon Tech, Zoomph, ZoomSafer