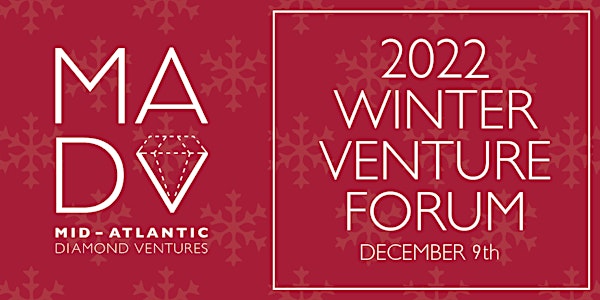 Mid-Atlantic Diamond Ventures Winter 2022 Virtual Venture Forum
Join MADV as we present regional startups and have the opportunity to network with colleagues, entrepreneurs, and investors!
About this event
We are excited to announce the MADV Winter 2022 Virtual Venture Forum is set to take place on Friday, December 9th, 2022.
We will be featuring early-stage ventures from a variety of industries including technology, life sciences and consumer products. These startups have been working with our MADV coaches to deliver high-impact video presentations followed by a very interactive venture expo, where you will be able to meet and speak to the entrepreneurs and to each other.
Our Winter Venture Forum, since Virtual, will still be FREE to attendees!
***************************
Mid-Atlantic Diamond Ventures (MADV) is an independent organization that assists emerging, technology-based companies in their effort to build sustainable businesses by better positioning them for funding while increasing value at an early and crucial stage. MADV utilizes coaching sessions to prepare qualified companies for investments; helps ensure that investment materials are comprehensible, defensible and compelling; and provides input around critical aspects of entrepreneurship and scaling. Entrepreneurs that successfully complete these coaching sessions are invited to present their company at our quarterly venture forums, attended by accredited individual investors, angel groups, and venture capitalists. At these events, entrepreneurs engage one-on-one with potential investors.
To date, over 400 Mid-Atlantic companies have presented at MADV and have raised more than $640 million. MADV is located at the Temple University Fox School of Business and sponsored by prestigious service firms, major angel constituencies, as well as, local economic development groups.
Log-in information will be sent closer to the event.